Clothing optional resorts in the Caribbean are an increasingly popular option for vacationers who wish to explore a different kind of vacation experience. These resorts offer a range of amenities and services that cater to those who prefer to go without clothes or partially clothed, as well as those who are more comfortable wearing clothing.
Most of these resorts are typically found on private islands or beaches, providing guests with maximum privacy and freedom to enjoy their holiday as they please, while still being close to other local attractions such as restaurants, bars, and activities. All-inclusive packages are often available at these resorts, offering guests access to a host of facilities such as swimming pools, spas, gyms, and restaurants, as well as all the beach and water activities one could wish for.
At clothing optional resorts, guests are free to wear whatever they feel comfortable in, except in areas such as restaurants where hygiene regulations require clothing. For those who do choose to go nude, they should remember to abide by the common etiquette and respect the fact that not everyone may be comfortable with public nudity. This includes avoiding staring or making loud comments about others, using a towel to sit on, and respecting the 'prude' area of the resort.
There are a number of resorts in the Caribbean that offer some form of clothing optional policy, from those that have separate areas for nudity to those that are fully clothing optional. Examples include the Breathless Montego Bay Resort & Spa in Jamaica and the Grand Lido Negril Au Naturel All-Suite-Resort in Jamaica.
Experience the Freedom and Fun of Clothing Optional Resorts In The Caribbean!
The Caribbean is one of the best places to go for a clothing optional vacation. With its warm, tropical climate and stunning beaches, it's easy to see why so many people choose to visit these resorts.
Couples Sans Souci, Clothing optional Resort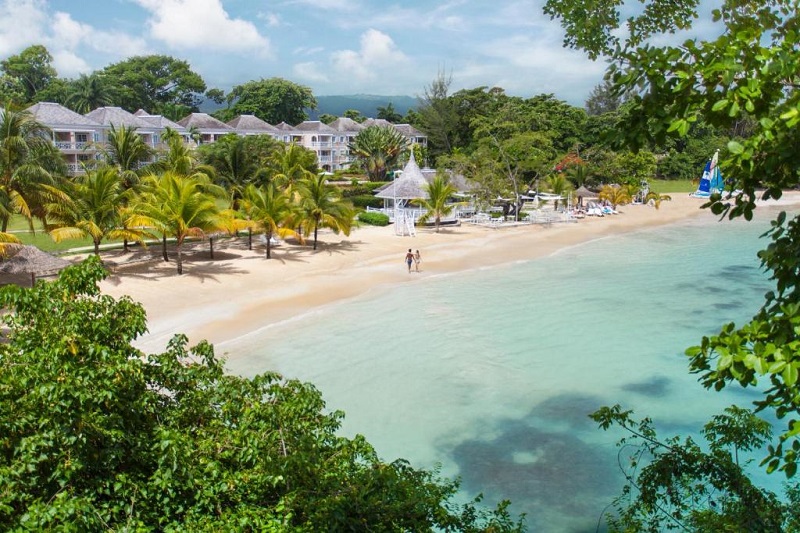 The Couples Sans Souci is clothing optional resort located in Ocho Rios, Jamaica. This luxurious property offers beautiful white sand beaches, a wide range of amenities, and plenty of activities to keep guests entertained.
Guests at Couples Sans Souci can enjoy a private, clothing optional beach called Sunset Beach, which is larger than the main beach and has plenty of loungers set up under palapas. There's also a dedicated pool with a swim-up/walk-up bar, underwater tables, a stone grotto, and an adjacent hot tub. The resort hosts a range of activities, from early-morning tours for non-nudists to lawn games for those looking for a more liberated experience.

Couples Sans Souci offers the perfect retreat for those seeking a peaceful, adult getaway – with three restaurants, four bars, four pools, two beaches, and an abundance of activities, it's the ideal spot for going au naturel.
Sandals Ochi Beach All Inclusive Resort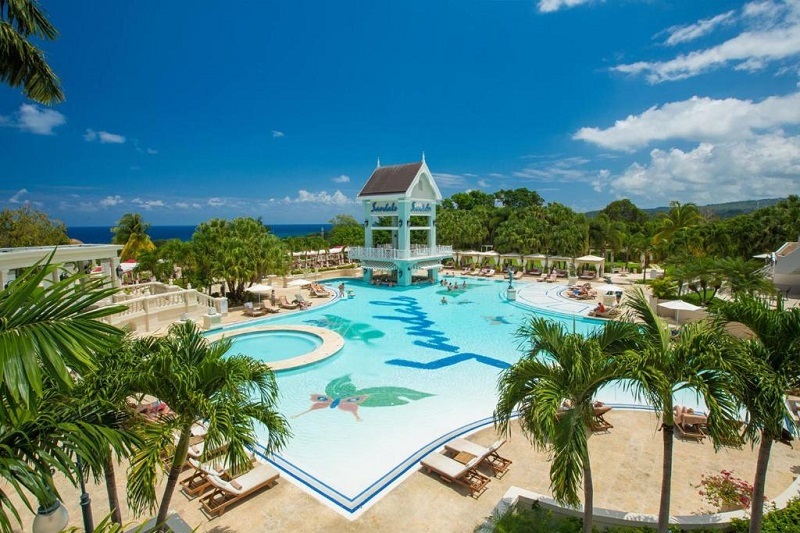 Sandals Ochi Beach Resort is the perfect destination for couples looking to enjoy an intimate, clothing optional getaway. Located on Main St, Ocho Rios, Jamaica, this adults-only resort offers guests a luxurious retreat from the everyday.
At Sandals Ochi Beach, couples can take advantage of the all-inclusive amenities and services. From private beach cabanas to five-star restaurants and bars, every detail has been thoughtfully designed to help make your stay as comfortable and relaxing as possible. There are also plenty of activities and entertainment options available, so you can spend your days lounging by the pool or exploring the beautiful surroundings.
The resort is also proud to offer guests a clothing optional beachfront experience. Whether you choose to go nude or not, you'll be able to enjoy the sun and sand in complete privacy. With its picturesque views, white-sand beaches, and crystal clear waters, a day at Ochi Beach is sure to be one that you won't soon forget.
Aside from the incredible sights and activities on offer, why not take a magical journey to Dunn's River Falls, the Ocho Rios Blue Hole and more? Island Routes has got you covered with unforgettable catamaran cruises, bamboo rafting, river tubing, blue hole experiences, and all-day powerboat adventures. Come and explore!
This paradise is designed specifically for couples celebrating their honeymoon or anniversary. It is the perfect Caribbean getaway for those looking for a romantic and relaxing escape. With its luxurious amenities and clothing optional atmosphere, it's the perfect spot for a romantic Caribbean getaway.
Clothing Optional Resorts Caribbean
Sandals Royal All Inclusive Couples Only Resort
The Sandals Royal All Inclusive Resort is the perfect resort for couples looking for a romantic getaway. Located in Jamaica, this adults-only resort has earned several awards, including World Travel Awards 2013's Top All-Inclusive Resort in the Caribbean, and U.S. News & World Report's Best Hotels in the Caribbean 2020 Award. The resort is also known for its excellent butler service, making it the perfect destination for those serious about relaxation and luxury.
The resort offers a luxury experience with its all-inclusive packages. Guests can take advantage of the resort's many amenities, such as a world-class spa and fitness center, fine dining options, an assortment of watersports and activities, and much more.
What sets the Sandals Royal Plantation apart from other resorts is its clothing optional policy. Couples can choose to spend their days in a relaxed atmosphere wearing only their swimsuits or nothing at all. The beach and pool areas are both designated clothing optional areas, providing couples with plenty of privacy and freedom.
The staff at the Sandals Royal Plantation are friendly and attentive, and will go out of their way to make sure your stay is comfortable and enjoyable. From taking care of your every need to providing helpful advice on sightseeing and activities, the staff will ensure you have an unforgettable vacation.
Overall, Sandals Royal Plantation is the perfect place for couples to escape and relax together in the Caribbean. With its luxurious amenities, award-winning service, and unbeatable location, this all-inclusive resort is the ideal choice for a romantic getaway.
Temptation Cancun Resort – Adults Only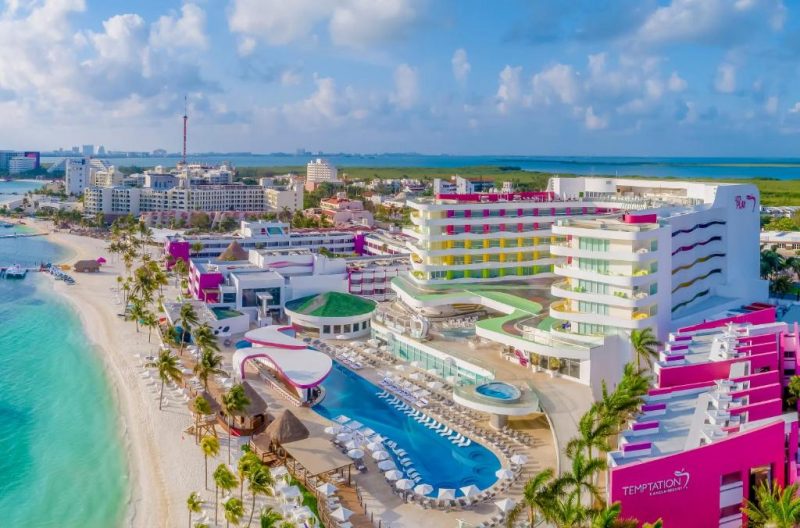 The Temptation resort is a unique and exciting destination for adults only (21 and over). With its vibrant and passion-infused, topless-optional environment, the Resort has become the playground for grown-ups.
In addition to luxurious accommodations, the Resort also offers an all-inclusive experience. Valet parking, welcome cocktail & refreshing towels, all meals (breakfast buffet, lunch and dinner), round-the-clock a lá carte food & beverage service including gourmet restaurants, "Show Cooking" and international buffets, daytime & late night snacks, 24-hour room service are all included in the price. Guests can also make use of the exclusive features such as an additional 5% off plus a free bottle of sparkling wine upon arrival every time they stay with us.
At Temptation Resort, guests can enjoy the excitement of waking up in one of their magnificent rooms and suites, participate in special events, theme nights and spa treatments, dine at various restaurants and bars, and explore the fun-filled playgrounds. Whether you are single or part of a couple, this adult-centric experience is sure to be unforgettable.
With its luxurious amenities and breathtaking views, it's no wonder why this resort has become one of the most popular destinations in Cancun. Whether you're looking for a romantic getaway or a fun-filled vacation, Temptation Cancun is sure to provide you with an unforgettable experience.
Copacabana Hotel And Suites
When it comes to clothing optional resorts, the Copacabana Hotel And Suites is one of the best. Adults only are allowed to enjoy the freedom of being able to wear what they want, without judgment.
Copacabana is an ideal destination for open-minded singles and swingers of all ages, who are looking for an adults-only experience in Jaco Beach, Costa Rica. This three-pearl property has 33 rooms and suites, and plans to expand, as well as two pools – one clothing optional and one where nudity is required. With its convenient location just steps away from the beach and close to the Teatro Jaco, Neo Fauna and Fly and Fish Costa Rica, there's plenty to see and do in the area.
The hotel offers a wide range of amenities, including free WiFi, 2 outdoor pools, 2 restaurants, a swim-up bar, a poolside bar and a roundtrip airport shuttle. Furthermore, guests can make reservations for massage services and spa treatments by contacting the property prior to arrival.
Grand Lido Negril: Caribbean Clothing Optional Resorts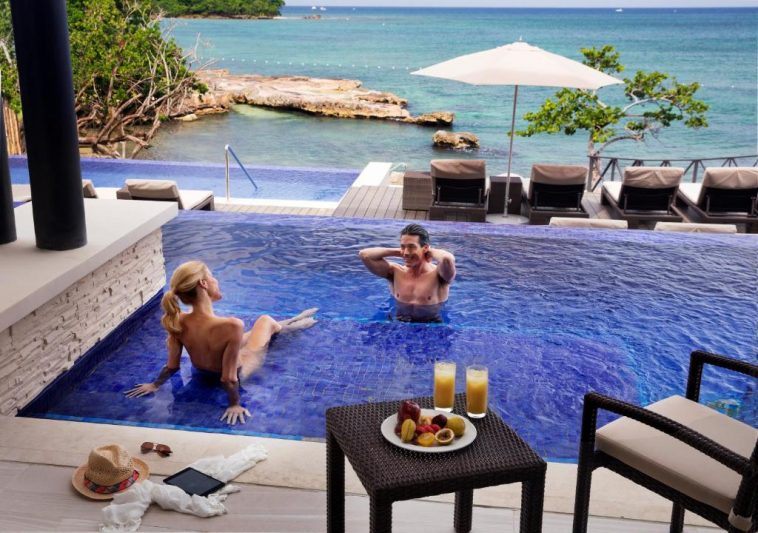 For those seeking a more upscale experience, Grand Lido Negril offers an elegant clothing-optional setting. Nestled on Seven Mile Beach, this resort exudes luxury and sophistication, making it perfect for couples looking to rekindle their romance. Imagine strolling along the resort's clothing-optional beach, where the soft, golden sands are met by the gentle caress of the Caribbean Sea. As the sun dips below the horizon, the resort's commitment to naturism is celebrated through captivating events and activities.
A few things to keep in mind:
Avoid getting into debt, especially if you're planning a vacation.
Find a reputable travel agent who is familiar with the Caribbean, or a local travel agency or boutique hotel owner.
Don't just book your room, book your entire package. It may cost you a little more upfront, but in the long run, it will be worth it.
Book a private room if you're planning on having more than two guests.
If you're visiting during hurricane season, book your resort as early as possible.
Consider bringing your own supplies.
Take advantage of free activities while you're on vacation.
If you're on a tight budget, don't forget to bring a credit card.
These resorts offer a unique and liberating experience for those who are looking to embrace their natural selves and enjoy a truly carefree vacation.
Conclusion
Clothing-optional resorts in Jamaica and the Caribbean offer a unique and liberating vacation experience. Whether you're seeking adventure, romance, or a chance to connect with nature, these resorts provide a safe and welcoming environment for all. So, shed your inhibitions and embark on a journey of self-discovery and relaxation at one of these extraordinary destinations.