Road trips in Malaysia are as diverse as the country itself. From the stunning scenery of the Cameron Highlands to the bustling city of Kuala Lumpur, there are many road trips worth exploring in Malaysia. Here, we have 12 road trips in Malaysia planned out for you. Note that most of the trip starts from Kuala Lumpur but you can twist the plan however you want to suit your schedule.
From Kuala Lumpur – 12 Best Road Trips In Malaysia
Bukit Tinggi – Fraser's Hill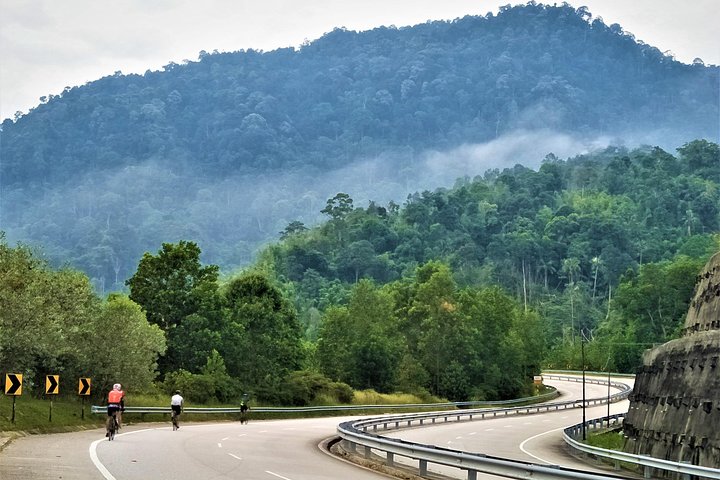 (3 hours) From Kuala Lumpur take a 1-hour car ride to Bukit Tinggi. For your first adventure in Bukit Tinggi, make your way to the most popular attraction – Colmar Tropical French Village. It's a hidden gem to get away from the busy city life and to feel like you're strolling around a 16th-century French village. If you're up for an adventure, make your way to the Colmar Adventure Park for some activities such as flying fox and paintball.
After strolling at the French village, you can also experience the Japanese village which is a few minutes' hikes away from Colmar Tropical. There is a botanical garden and a rabbit park in the village. Immerse yourself in the Japanese culture by trying on a kimono and participating in a Japanese tea ceremony. After a great time at Bukit Tinggi, you can stay the night and recharge for the next day's adventure.
Wake up early but with enough sleep to drive for another 2 hours up to Fraser's Hill. You can take great photos of the English-styled bungalows and beautiful scenery. Try some activities at The Paddock such as archery and horse-riding. Take some time to explore the highland rainforests with a network of trails – Bishop Trail, Hemmant Trail, Pine Tree Trail, and many more.
Kuala Lumpur – Kampar – Ipoh (2 hours 40 minutes)
Make a stop at Kampar before your journey to Ipoh for a quick bite. They have delicious food such as the famous Kampar Chee Cheong Fun. After satisfying your tummy, you can make a quick stop to visit Kellie's Castle located at Bat Next, you can make your way to Ipoh after a good stroll at Kellie's Castle. Ipoh is popular with nature and cultural hot spots such as Qing Xin Ling and Ganung Lang. It's also perfect for a weekend getaway with loads of activities, cafes to hang out, and mouthwatering local cuisines' Gajah, Perak. It only takes around half an hour from Kampar. Kellie's Castle was an unfinished castle that is now made into a tourist attraction.
Indo-Saracenic Revival style with exquisite tiles, bricks, and marbles. Highlights of the castle will be the spooky wine cellar located underground and the rooftop where visitors can sit and enjoy the beautiful views of the surrounding area.
You should plan your stay in Ipoh to enjoy the hot springs in The Lost World of Tabun for a good night's sleep. You can spend the next day food hunting and strolling around Ipoh city to immerse yourself in their laid-back and friendly culture. Remember to have a good dinner in Ipoh before making your way back!
Kuala Lumpur – Taluk Intan – Angkor Island (4 hours)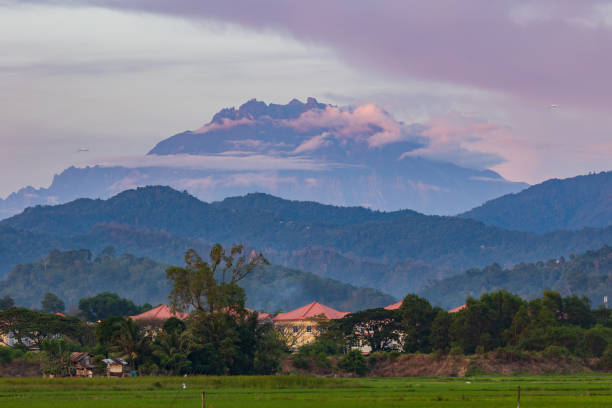 The journey from Kuala Lumpur to the Lumet Jetty will take about 3 hours and the ferry to Angkor Jetty will take 35-45 minutes. You can make a quick pit stop at Taluk Intan, a small town with a rich history of ancient landmarks and friendly townspeople. Visit the Leaning Tower of Taluk Intan, a Malaysian version of the Leaning Tower of Pisa to get fun and creative photos After visiting the Leaning Tower of Taluk Intan, it'll be in time for lunch.
There are a few must-try, so you decide what you want to eat – Abdullah Mastan Ghany for mee rebus, M. Ghulam Rasul for nasi kantar, and Liew Kee for Chee Cheong Fun. Once you're done with your hearty meal, continue your journey to Angkor Island. Don't worry, you can park your car at the parking lot provided at Lumet Jetty for a small fee. You'll have a great island escape at Angkor Island with the relaxed atmosphere and amazing views.
If you're used to fasting and busy city life, going to Angkor Island will slow you down for good. Wondering what you can do in Angkor Island? First and foremost, you must visit the beaches – choose to take a walk by the beach, or if you're up for some adventures, sign up for snorkeling, kayaking, jet-skiing, or parasailing.
If you're a foodie, visit the seafood restaurants that serve the freshest seafood. To enrich your experience with nature, check out the jungle trails at Titi Ganung and Taluk Secadas Hill. The nightlife in Angkor Island is great too, explore the island for some good bars along the beaches. Book a resort online, have a good sleep and before you leave the island, explore more beaches and there, you have the best weekend trip.
Kuala Lumpur – Kuala Selangor – Sekihan (1 hour 30 minutes)
Sekihan has gained popularity in recent years BUT why not spice up your weekend trip by making a short stop at Kuala Selangor. Kuala Selangor is a small historical town with a lot of attractions you can visit such as the Traditional Games Museum, Historical Museum, Melawati Fort, and Melawati Hill where you can observe silver-tail monkeys. A must-see attraction is the fireflies located in the mangrove swamps along the banks of the Selangor River. Kampung Kuantan or Firefly Park Resort are the two places where you can book a tour for a night boat ride to observe the twinkling fireflies. You can choose to stay the night at Kuala Selangor or Sekihan depending on your schedule.
Many love the picturesque scenery in Sekihan, bright green paddy fields that will look so great in photos. Besides that, if you're a city person, you might want to visit the fishing village where you'll be able to witness the lives of the fishermen. Speaking about dreams, we all have dreams don't we? You should make a wish at the Sekihan wishing tree that has thousands of red ribbons with written wishes – one of the main attractions in Sekihan. If you're looking to relive your childhood of flying kites at your kampung. You can visit the beach for some kite-flying where you can purchase a kite from the local vendors.
Kuala Lumpur – Seremban – Port Dickson (1 hour 30 minutes)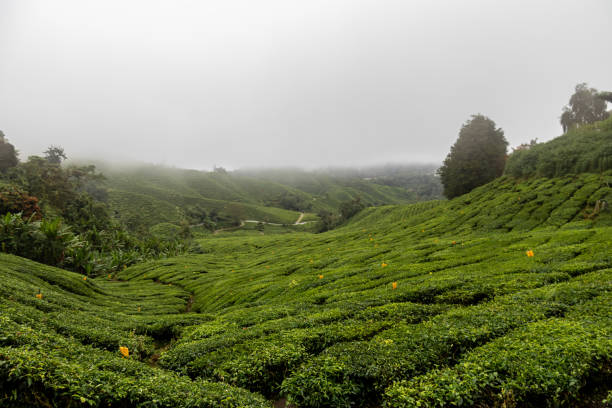 It will take around 1 hour for you to reach Seremban. Visit the Seremban Cultural Complex to learn about Negeri Sembilan culture and heritage as well as the Minangkabau architecture. You can take stunning photos of the architecture of the complex. Another main attraction in Seremban is their popular ostrich farm. You can interact with them and be amazed by their large ostrich eggs. It's a great place for your kids to learn and take photos. For lunch, you must try the Seremban Siew Pao, Curry Laksa, Beef Noodles, Gulai, Rendang and Sambal Gesek – staple condiment in Negeri Sembilan.
After lunch, continue your journey for about half an hour to Port Dickson. Remember to book amazing accommodation earlier where you can overlook the sea. Take some rest before visiting the Army Museum where you will get to learn Malaysia's military history. Your photos will turn out super cool! If you have extra time, visit the Taluk Kembang Fish Center, marine conservation, and aquarium. Home to various marine life such as sea horses, clownfish, and coral reefs. Bonus – the entrance fee is free!
Remember to keep track of the time to catch the sunset at Pantai Cahaya Negeri. Wake up early the next day to enjoy the sea breeze at Blue Lagoon Beach. You'll be able to spot some squirrels, monkeys, and other animals while strolling the beached trip by visiting the Cape Rachad, a hilly cape that will lead you to the Cape Rachad Lighthouse. It's a great spot for bird watching and you'll be able to see a panoramic view of the bays and coastline.
Kuala Lumpur – Cameron Highlands (3 hours 10 minutes)
Are you tired of the heat in Malaysia? We got your back! Make your way to Cameron Highlands, Pahang to cool yourself down from the stress and your body heat, of course.
A must-not-miss activity is to go strawberry picking. Choose from a few strawberry farms to go to. Tour the Boh Tea Plantation, enjoy the lush greenery, and learn how Boh Tea is grown and harvested. You can also choose to order of cup of tea at their tea shop while overlooking the beautiful green terraces of the plantation. If you're a big fan of pretty flowers, plan your time to visit the rose garden and lavender garden where you can indulge in some unique desserts such as lavender ice cream. There are plenty of activities and places to visit in Cameron Highland but you can also choose to just walk around your resort and relax in the perfectly cool weather.
Kuala Lumpur – Genting Highlands (1 hour)
If you like fun rather than a slow nature trip. Pack your bags and plan your journey to Genting Highlands! The indoor theme park – Stropolis is super fun and some rides will get your adrenaline going. Do you like shopping? Or do you like shopping at discounted prices? Genting Premium Outlets is the right place for you. They offer a variety of brands with a generous amount of discount. You'll shop till you drop! Besides, you can choose to go for glamping – glamorous camping at GLAMZ, Genting. You get to enjoy nature's breeze and chill while looking at the sky above you, just letting time pass by. If you have a higher budget, opt for jacuzzi glamping, you will not regret spending the money for a great time.
Kuala Lumpur – Johor Bahru (4 hours)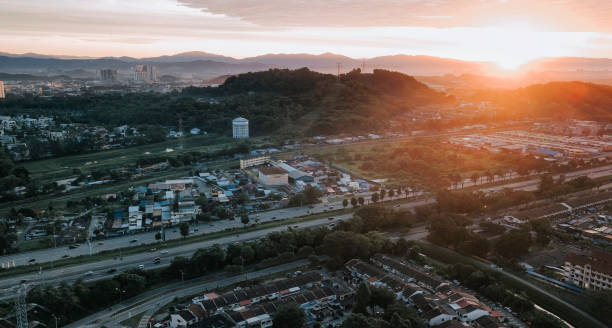 Are you thinking to yourself, watts? There are actually things to do at Johor Bahru? Well, truth is, there are plenty of them. Let's start off with a kid-friendly activity, especially for those who are planning a trip with their little ones. Visit a LEGO theme park at Legoland filled with fun games and rides for your child(ren). If Legoland is not your cup of tea, make your way to the Angry Birds Theme Park with daily performances as well as rides and arcades that are Angry Bird-themed. For another family-friendly night activity, book a boat tour to watch fireflies at Kota Tinggi Firefly Park or Firefly Valley Leisure Park. It's shopping time! Spare a few hours to pamper yourself at the Johor Premium Outlets. Shop for local and international brands at a cheaper price compared to normal outlets at shopping malls.
Kuala Lumpur – Malacca (2 hours)
Malacca is well-known as The Historic State with a unique history that attracts many tourists up to the present day. A must-visit is the A 'Amosa Fort, even though only a small gatehouse of the fortress is the only remain now. Flocks of people still visit the fort as it is historical.
Take a ride in the Taming Sari Revolving Tower which is 110 meters high. You'll be amazed at the mesmerizing view of Malacca as the tower ascends to the top and stops for 5 minutes for you to appreciate the view.
Next on the list is Jonker Street, it's a gathering of people all around the world with the same interest – to get amazing deals and mouthwatering food. Enjoy the lively night market on Saturday with unique street food and vintage pubs along the street. Walk around to find your favorite pub to settle down and have a great night! You can walk around Stadshus, one of the popular attractions in Malacca. There is a History & Ethnography Museum that you can visit. Try out the trishaw ride in Malacca to have a better look at the streets and a personal guide to tour you around Malacca There are plenty of historical landmarks for you to explore. So, take your time and filter a few out for your weekend trip.
Ipoh – Taiping – Penang (2 hours)
Start your journey from Ipoh to Taiping which will take 45 minutes to reach. Visit Taiping Lake Garden. Take a stroll around the garden and you'll discover interesting things. If you're an animal lover, spare some time to visit the Taiping Zoo and you'll have so much fun learning about the different species of animals in the zoo Another popular attraction will be the Antung Coffee Mill where you get to learn and watch the production of the coffee.
Besides, you get to try a variety of coffee and buy some as souvenirs. Penang Island is well-known for food and as a holiday destination for the locals – mainly because of the beaches. As Penang is always full of tourists, they made sure to have many great places for Insta-worthy photos for you to visit. Check out here where to go during your time in Penang. Food-wise, make sure you try out the amazing food courts in Penang which it consists of many hawker stalls in one place. Staple foods in Penang are Char Kuei Teow, Oyster Ouelette, Cendol, Curry Me, Penang Laksa, Rojak, Nasi Kandra, and street food!
Penang – Alor Setar – Kuala Perlis (2 hours 30 minutes)
From Penang, drive to Alor Setar for about 2 hours. Visit the stunning Zahir Mosque, the architecture and intricate design of the building is beautiful. Also, visit one of the most gorgeous clock towers – the Big Clock Tower at Dataran Alor Setar to take some good photographs. If you would like to experience the Ey view of Alor Setar, explore the Alor Setar Tower. You can pay a fee for the observation deck or dine in their restaurants and visit the souvenir shop. If you're a super person, don't worry Alor Setar has it all.
Google what's around you for some good supper spots. The next day, drive to Kuala Perlis for a seafood feast. Remember to take some pit stops to enjoy the beautiful long stretch of paddy fields. You can also take some photos before continuing your journey. Visit the Al Hussain Mosque, a floating mosque with a beautiful landscape. You can also enjoy the view of the ocean from the mosque.
Kota Bharu – Kuala Terengganu (2 hours 30 minutes)
Kuala Terengganu is the royal capital of Terengganu with many attractions for tourists to explore. Visit the majestic Crystal Mosque which features a grand structure that is made of steel, glass, and crystal. You won't be able to take your eyes off the stunning architecture. To learn more about the historical part, explore Kota Lama Deyong Remember to try out Terengganu's specialties –