Fall is a magical season. It's a spectacle of nature, an explosion of vibrant colors that paint the landscape in hues of red, orange, and yellow. The cooling weather and shorter days beckon us to savor each moment and create lasting memories. This post will take you on a journey to 15 magnificent destinations that offer the best fall experiences, from breathtaking foliage views to unique cultural events. Let's embark on this autumnal adventure together.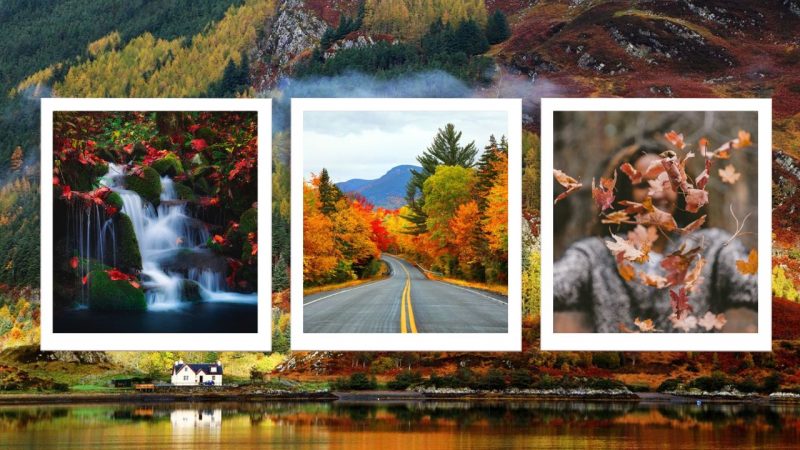 Understanding the Charm of Fall
Why do we find fall so charming? It's when nature puts on its most dramatic show, transforming green forests into colorful palettes. The air grows crisp, the sun sets earlier, and there's a sense of nostalgia and tranquility that pervades everything. Fall is the perfect time to explore new places, experience scenic beauty, and immerse ourselves in diverse cultures and traditions. Moreover, traveling during fall usually means fewer crowds, lower prices, and a more relaxed pace – making it an ideal season for creating unforgettable memories.
The Importance of Creating Lasting Memories
Through travel, we create lasting memories that enrich our lives. These memories become stories we share with loved ones, treasured moments that bring us joy, warmth, and connection. Exploring new places, immersing ourselves in unique experiences, and stepping out of our comfort zones helps us grow as individuals and deepens our understanding of the world. So, let's discover these 15 great fall destinations and start creating those precious memories!
Stowe, Vermont: Great Fall Destinations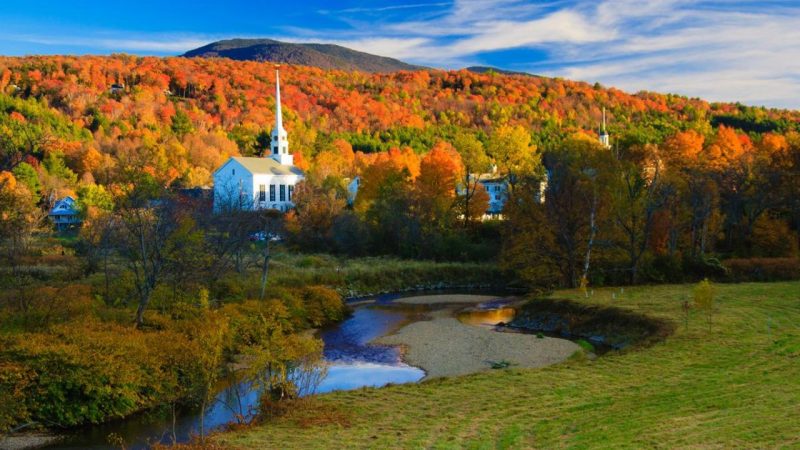 What Makes Stowe a Great Fall Destination?
Our first stop is the picturesque town of Known as the 'Fall's Color Capital', Stowe is a paradise for leaf-peepers. The Green Mountain range offers panoramic views of stunning fall foliage, while the historic downtown area charms visitors with its quaint shops and cozy cafes. A drive along the scenic Mount Mansfield Auto Toll Road or a hike on the Stowe Pinnacle Trail will provide unforgettable autumn vistas.
One of the foremost attractions of Stowe in the fall is its breathtaking foliage. The town's lush forests and rolling hills come alive with vibrant hues of red, orange, and gold, creating an awe-inspiring panorama. Visitors can explore this vibrant display of nature by embarking on scenic hikes or leisurely drives through the surrounding countryside. Whether you're an avid photographer or simply looking for a serene escape, the fall foliage in Stowe will leave you captivated.
Moreover, Stowe's small-town charm and welcoming community amplify the appeal of this fall destination. The town's picturesque village center exudes quintessential New England charm, with its quaint boutiques, cozy cafes, and historic architecture. Engage in a leisurely stroll down Main Street, where friendly locals and fellow travelers greet you with warm smiles.
For outdoor enthusiasts, Stowe offers an array of activities that perfectly complement the autumn season. Hiking and biking trails meander through the woods, providing opportunities to immerse oneself in nature's splendor. The nearby Stowe Mountain Resort offers thrilling activities like zip-lining and gondola rides, allowing you to take in the fall foliage from lofty heights.
Kyoto, Japan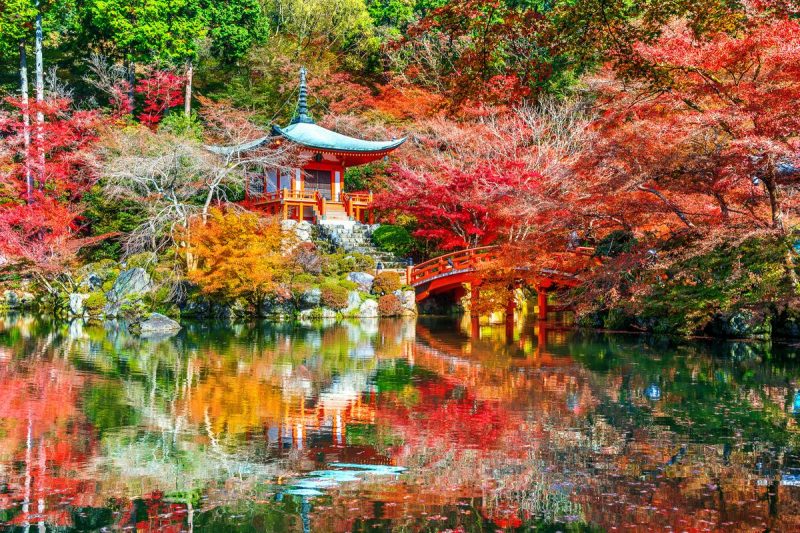 What Makes Kyoto a Great Fall Destination?
Next, we travel to Kyoto, Japan. In autumn, Kyoto's beautiful temples and gardens become even more enchanting with vibrant maple leaves. The Kiyomizu-dera Temple and Eikando Zenrinji Temple are particularly famous for their stunning fall colors. Don't miss the chance to participate in 'momijigari', or autumn leaf viewing, a beloved Japanese tradition that dates back centuries.
Kyoto, often regarded as the cultural heart of Japan, boasts a rich tapestry of traditions that come alive during the fall months. One can't help but be entranced by the sight of crimson and golden foliage that envelops ancient temples and shrines, such as Kinkaku-ji and Tofuku-ji. The natural beauty of Kyoto during autumn is a testament to the city's harmonious relationship with its surroundings, offering visitors a serene respite from the hustle and bustle of modern life. This blend of culture and nature is precisely what sets Kyoto apart as a destination where tradition and the environment coexist seamlessly.
But Kyoto's allure during the fall isn't limited to its natural beauty. The city's cultural calendar is brimming with events and festivals, each providing a deeper insight into "omotenashi," or the spirit of hospitality. Attendees of the Jidai Matsuri, a historical procession that showcases Kyoto's rich heritage, will experience firsthand the warmth and welcoming nature of its people. This embodies the essence of Kyoto as a destination that not only shares its traditions but also invites travelers to be part of its cultural tapestry.
The interplay of koyo and omotenashi creates an unparalleled experience for visitors, making it a place where the past meets the present in the most enchanting way possible. Whether you seek the beauty of changing leaves or the warmth of a welcoming community, Kyoto has it all, making it a destination that resonates with travelers seeking an unforgettable autumn adventure.
Paris, France: Great Fall Destinations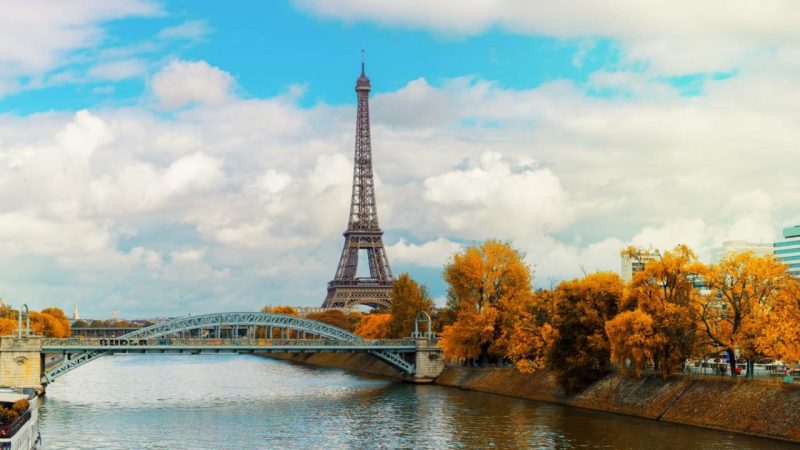 What Makes Paris a Great Fall Destination?
We now head to the romantic city of Paris, France. As the leaves change color and a crisp breeze fills the air, Paris takes on a whole new charm. The city's charming streets are lined with cozy cafes and bistros, perfect for sipping on a warm cup of coffee or indulging in some delicious French pastries. The famous Champs-Elysees avenue transforms into a picturesque autumn wonderland, making it the ideal spot for a leisurely stroll. Additionally, fall in Paris means fewer crowds and shorter lines at popular attractions, allowing visitors to truly immerse themselves in the city's rich history and culture.
The City of Love, as it is affectionately known, undergoes a mesmerizing transformation during the autumn months. The enchanting Eiffel Tower is adorned with warm-hued foliage, casting a romantic aura over the entire city. Cafés along the Seine River offer cozy settings to savor a cup of rich coffee or indulge in delectable pastries. Paris' charm becomes even more pronounced in the fall, making it a must-visit destination for couples seeking an intimate getaway.
The city's world-renowned museums and galleries, such as the Louvre and Musée d'Orsay, beckon art enthusiasts with special exhibitions and events. Strolling through the Jardin des Tuileries or Montmartre's quaint streets while the leaves turn to shades of amber and crimson is a sensory delight. Paris' cultural tapestry is woven more vibrantly in the fall, ensuring that visitors have a multifaceted experience, making it perfect for those seeking both relaxation and enrichment.
Banff National Park, Canada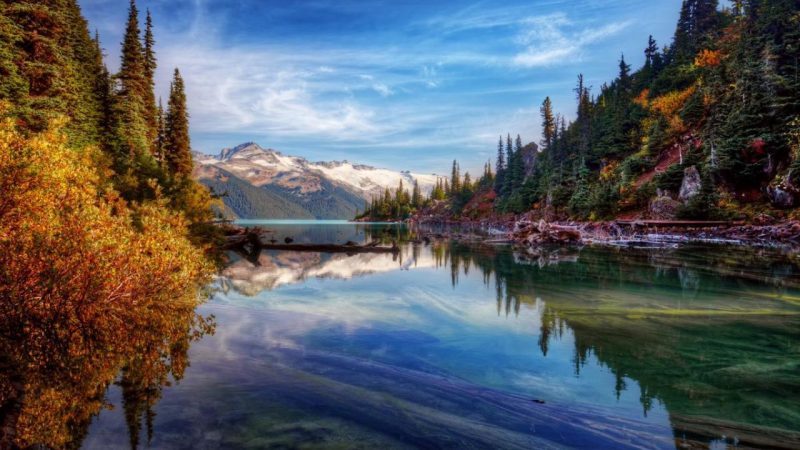 What Makes Banff National Park in Canada a Great Fall Destination?
Our journey continues to Banff National Park in Canada. This awe-inspiring natural wonder turns into a riot of colors in fall, with golden larch trees set against the backdrop of snow-capped mountains and crystal-clear lakes. Hiking trails like the Larch Valley and Sentinel Pass offer breathtaking views of the fall colors. Wildlife enthusiasts may also spot grizzly bears fattening up for winter hibernation.
First and foremost, Banff National Park's fall foliage is a sight to behold. As the temperature drops and the days grow shorter, the lush forests of the park burst into a kaleidoscope of reds, oranges, and yellows. The picturesque landscapes are an absolute paradise for photographers and nature enthusiasts alike. The changing colors create a mesmerizing backdrop for hiking and wildlife viewing, making it an ideal time to spot elusive creatures such as elk, moose, and even grizzly bears as they prepare for the impending winter.
Moreover, Banff's fall weather offers a comfortable escape from the summer heat and winter chill. The crisp, cool air invigorates the senses while still allowing for enjoyable outdoor activities. Hiking trails become less crowded, and the serene atmosphere is perfect for a leisurely stroll around Lake Louise or a tranquil canoe ride on Moraine Lake, where the reflective waters mirror the surrounding mountains and fall foliage.
For those seeking a more active adventure, Banff National Park offers a multitude of recreational opportunities. From thrilling mountain biking trails to invigorating rock climbing experiences, the park's rugged terrain presents a playground for outdoor enthusiasts. And don't forget the unparalleled scenic drives along the Icefields Parkway, where every bend in the road reveals a breathtaking vista.
Lake St Clair National Park in Tasmania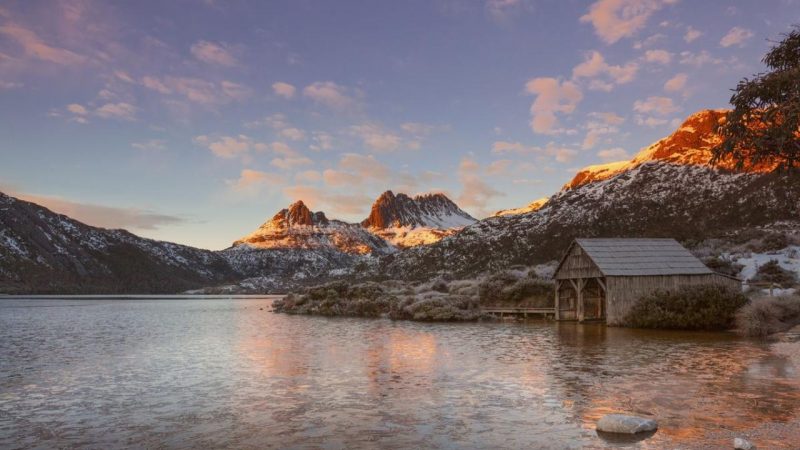 What Makes Lake St Clair National Park a Great Fall Destination?
Next, we visit the Cradle Mountain-Lake St Clair National Park in Tasmania, Australia. Though it's springtime in Australia when it's fall in the Northern Hemisphere, the park's deciduous beech trees turn a brilliant gold during this period, offering a unique 'fall' experience. The Dove Lake Circuit is a popular trail for enjoying the spectacular scenery. This pristine wilderness area offers a unique blend of natural beauty and outdoor adventure, making it a must-visit spot for those seeking an unforgettable autumn experience.
One of the key attractions of Cradle Mountain-Lake St Clair National Park during the fall season is its breathtaking foliage. As the temperatures begin to drop, the lush greenery of the park transforms into a vibrant tapestry of red, orange, and golden hues. The sight of the deciduous beech trees, also known as fagus, turning various shades of red is a true spectacle. Photographers and nature enthusiasts flock to the park during this time to capture the stunning beauty of the changing leaves.
Beyond its stunning foliage, the park offers a plethora of outdoor activities that cater to all levels of adventure seekers. Hiking enthusiasts can explore a network of well-marked trails that wind through the park, providing breathtaking vistas of Cradle Mountain, glacial lakes, and cascading waterfalls. The iconic Overland Track, which stretches for 65 kilometers, offers a challenging yet rewarding trek through the heart of the park.
For those looking for great fall vacations, the park's serene lakes are perfect for boating, kayaking, and simply enjoying the tranquility of the surroundings. Additionally, wildlife enthusiasts will be delighted by the opportunity to spot native animals like wombats, wallabies, and the elusive Tasmanian devil.
Aspen, Colorado: Great Fall Destinations in USA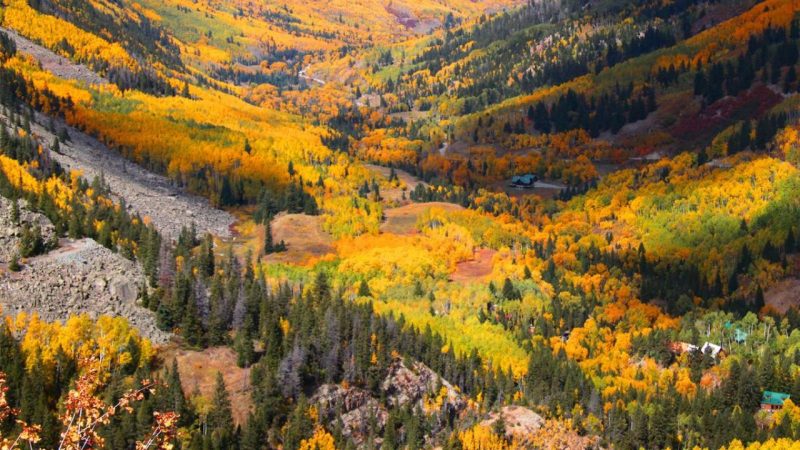 What Makes Aspen a Great Fall Destination?
Our next stop is Aspen, Colorado one of the best best fall destinations in the us. Named after the aspen trees that turn a vibrant yellow in fall, this mountain town offers unbeatable fall foliage views. One of the standout features of Aspen in the fall is its mesmerizing foliage. The surrounding forests burst into a kaleidoscope of reds, yellows, and oranges, creating a breathtaking natural canvas. Visitors can immerse themselves in the enchanting scenery by embarking on hikes along the numerous trails that crisscross the area. Photographers and nature enthusiasts will find endless opportunities to capture the beauty of the season.
Furthermore, Aspen's charming downtown area remains lively even after the summer crowds have dissipated. The town's world-class restaurants, boutique shops, and cultural events continue to thrive. Autumn in Aspen offers the perfect opportunity to savor delicious seasonal dishes made with locally sourced ingredients and to explore the unique craftsmanship of the area's artisans.
For outdoor enthusiasts, Aspen's fall season is a playground for adventure. Mountain biking and horseback riding are popular activities during this time of year, allowing visitors to traverse the stunning landscape while enjoying the mild weather. Additionally, fishing in the crystal-clear waters of nearby rivers and lakes is a peaceful and rewarding experience for anglers of all levels.
What makes Aspen, Colorado, a great fall destination is its harmonious blend of natural beauty, cultural richness, and outdoor recreation. The vibrant foliage, lively downtown, and a plethora of outdoor activities all come together to create an unforgettable fall experience. Whether you seek relaxation or adventure, Aspen offers the perfect backdrop to celebrate the splendors of the season.
Munich, Germany: Great Fall Destinations in Europe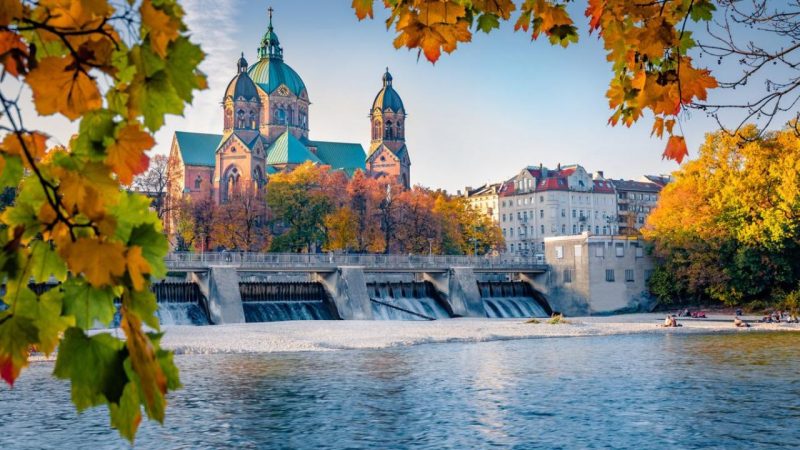 What Makes Munich a Great Fall Destination?
We continue to Munich, Germany, where fall signifies the arrival of Oktoberfest. This world-famous event offers a cultural feast of traditional Bavarian music, delicious German food, and, of course, lots of beer. In addition, Munich's English Garden offers beautiful autumn colors and serene walking paths.
First and foremost, the city's picturesque landscapes come alive with vibrant autumn colors during this season. The lush English Garden, one of Europe's largest urban parks, is a must-visit. As the leaves turn golden and rustling sounds fill the air, it's a paradise for nature enthusiasts and photographers alike.
But it's not just about the scenery; Munich also offers a rich cultural experience. The Oktoberfest celebration, known worldwide, kicks off in late September and continues through early October. Visitors can immerse themselves in the Bavarian culture, savor traditional dishes, and savor the finest German beers in a festive atmosphere.
Furthermore, Munich boasts a plethora of museums and galleries that are perfect for rainy fall days. The Pinakothek der Moderne, for instance, houses an impressive collection of contemporary art, while the BMW Museum showcases the evolution of automotive engineering. These cultural attractions provide a glimpse into Munich's artistic and technological heritage.
Scottish Highlands: Best Fall Destinations in Europe
What Makes Scottish Highlands a Great Fall Destination?
Next, we travel to the Scottish Highlands. Autumn transforms this region into a beautiful mosaic of gold, red, and orange hues. Try a scenic drive along the North Coast 500 route or a whiskey tour in one of the traditional distilleries. The historic Urquhart Castle on the banks of Loch Ness offers fantastic fall views as well.
One of the standout features of the Scottish Highlands in the fall is the spectacular display of colors that blankets the landscape. The lush green hillsides transform into a mesmerizing palette of reds, oranges, and golds as the deciduous trees shed their leaves. This natural phenomenon, known as the autumn foliage, creates a visual spectacle that is simply breathtaking. Whether you're an avid photographer looking to capture the perfect shot or a nature enthusiast eager to immerse yourself in the vibrant surroundings, the Scottish Highlands in autumn offers a sensory feast like no other.
Beyond its picturesque landscapes, the Scottish Highlands also boast a rich cultural heritage. Travelers can explore ancient castles, such as Eilean Donan and Urquhart Castle, which are steeped in history and offer a glimpse into Scotland's medieval past. Additionally, the Highlands are known for their traditional music, dance, and cuisine. Sampling hearty dishes like haggis and enjoying live ceilidh music at local pubs are experiences that allow visitors to connect with the authentic culture of the region. These cultural immersions make a fall trip to the Scottish Highlands not just visually stunning but also culturally enriching.
The Scottish Highlands in the fall are a truly magical destination. With its captivating autumn foliage, rich cultural heritage, and cozy accommodations, it offers a unique blend of natural beauty and cultural experiences. So, whether you're seeking a romantic getaway, a cultural adventure, or simply a tranquil escape, the Scottish Highlands should be on your travel radar for an unforgettable fall experience.
Shenandoah National Park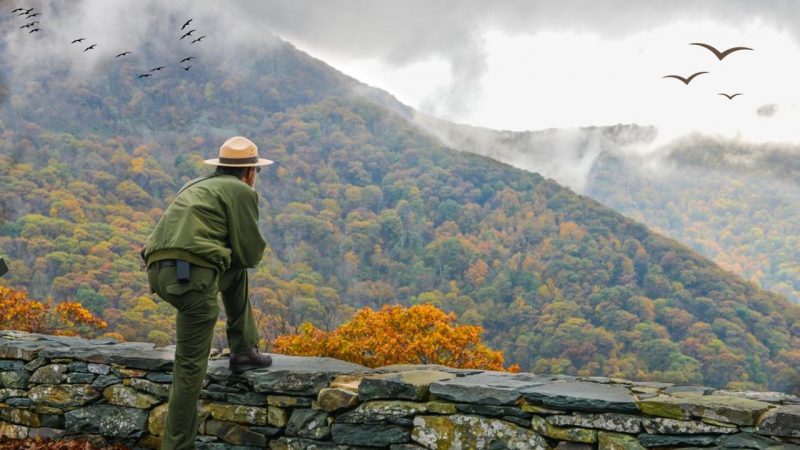 What Makes Shenandoah National Park a Great Fall Destination?
We now head to the Shenandoah National Park in Virginia one of the great fall destinations in usa. Famous for its Skyline Drive, a 105-mile long scenic road that winds along the Blue Ridge Mountains, the park is a fall color paradise. Hiking trails like the Old Rag Mountain or Whiteoak Canyon offer wonderful opportunities to soak in the autumn beauty.
As the leaves transition from their lush greens to warm shades of red, orange, and gold, the park transforms into a surreal landscape. It's no wonder that visitors from near and far flock here to witness this natural spectacle. Shenandoah National Park's appeal as a fall destination lies in its stunning autumn foliage, diverse hiking options, and incredible photographic potential.
Furthermore, the park's extensive network of hiking trails caters to explorers of all skill levels. Whether you're an experienced hiker seeking a challenging ascent or a family looking for an easy, leisurely walk, Shenandoah has the perfect trail for you. As you meander through the woods, you'll be surrounded by the crisp, cool air and the rustling leaves underfoot, creating a sensory experience like no other.
Photography enthusiasts also find Shenandoah National Park to be a treasure trove of opportunities. The kaleidoscope of colors, combined with the park's abundant wildlife, provides a photographer's dream canvas. From capturing the elegance of deer grazing in meadows to framing the breathtaking views from overlooks, the park offers endless possibilities for those seeking to capture the essence of fall.
Queenstown, New Zealand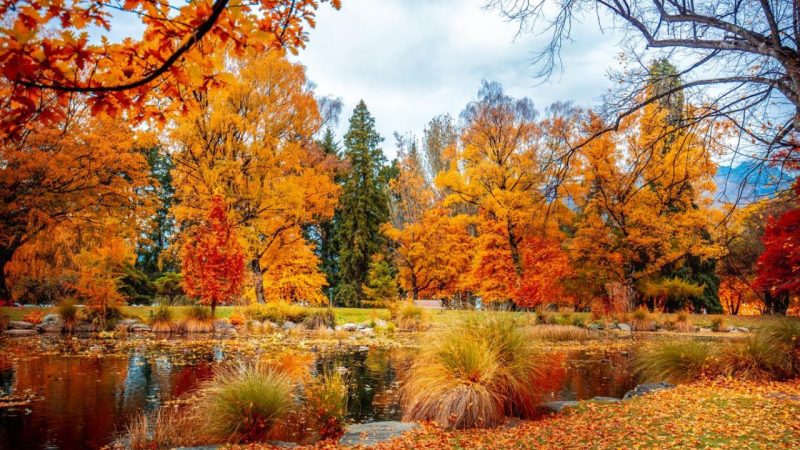 What Makes Queenstown, New Zealand a Great Fall Destination?
Our journey takes us next to Queenstown, New Zealand. Since seasons are reversed in the Southern Hemisphere, Queenstown sees its fall in April and May. During this time, the city's mountains, vineyards, and lakeside trees are ablaze with autumn colors. Activities like hot air ballooning and wine tasting tours enhance the fall experience.
With its crisp, cool air and vibrant foliage during the autumn months, Queenstown becomes an inviting haven for travelers seeking an escape from the ordinary. From the iconic Queenstown Gardens to the picturesque Lake Wakatipu, every corner of this charming town is a postcard-worthy masterpiece, making it an excellent destination for nature enthusiasts and adventure seekers alike.
For those craving adventure, Queenstown doesn't disappoint during the fall season. Remarkable fall foliage serves as the perfect backdrop for activities such as hiking, mountain biking, and bungee jumping. As a seasoned traveler, you'll find the town's myriad of outdoor adventures, including the famous Skyline Gondola, Shotover Jet boat rides, and the serene Milford Sound cruise, to be both thrilling and awe-inspiring. Moreover, Queenstown's vibrant dining scene, offering delicious local cuisine, is a testament to its diverse culture and provides the perfect opportunity to savor regional delicacies while taking in the autumn views.
To make the most of your fall excursion to Queenstown, remember to plan ahead. Opt for accommodation with stunning views of the autumn foliage, and consider exploring nearby attractions like Arrowtown and Glenorchy, which offer their own unique autumn charm. Whether you're a nature enthusiast or an adventure junkie, Queenstown's irresistible allure during the fall season ensures a memorable experience that you'll cherish for years to come.
Acadia National Park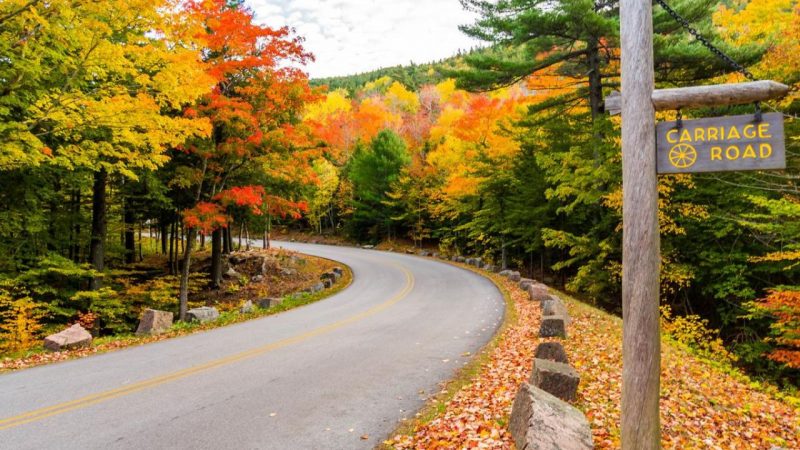 What Makes Acadia National Park a Great Fall Destination?
We continue to Acadia National Park in Maine. Known for its stunning fall foliage, the park offers hiking, biking, and driving routes to enjoy the autumn spectacle. The 27-mile Park Loop Road and the summit of Cadillac Mountain provide some of the best fall views.
As the seasons shift and the crisp autumn air fills the atmosphere, Acadia stands out amongst the rest for one compelling reason – its breathtaking autumn foliage. Witness the park's transformation into a vibrant canvas of fiery reds, warm oranges, and golden yellows, weaving together a picturesque landscape that will leave you in awe. Whether you choose to trek through the park's winding trails or cruise along the scenic Park Loop Road, you will be immersed in stunning vistas that epitomize the stunning beauty of fall.
As the leaves change and the air turns crisp, Acadia National Park transforms into a playground of endless possibilities for fall adventurers. From thrilling hikes and heart-pumping bike rides, to tranquil kayaking and daring rock climbing, this destination has something to satisfy every outdoor enthusiast. With over 120 miles of winding trails, including the famous Jordan Pond Path and the adrenaline-inducing Precipice Trail, the park offers endless exploration opportunities.
But the excitement doesn't stop there – the park's picturesque coastline invites visitors to embark on scenic boat tours and keep an eye out for the diverse wildlife that calls this place home. With nature as your canvas and the autumn season as your backdrop, Acadia National Park is the ultimate playground for fall thrill-seekers.
Not only does Acadia National Park offer a perfect balance between tranquility and accessibility, but it also boasts a unique blend that is unmatched by any other destination. Despite being a hot spot for tourists, this gem of a park still manages to exude an air of serenity and seclusion, especially during the breathtaking autumn months. With its vast expanse, visitors are able to discover their own hidden corners and fully immerse themselves in the calming embrace of nature.
And for those who crave comfort and convenience, fear not – Acadia is easily reached via well-maintained roads and offers a plethora of nearby accommodations, from rugged camping sites to cozy cabins nestled in the heart of the wilderness. So whether you're a star-gazer or a cabin-dweller, Acadia has everything you need to satisfy your wanderlust and soothe your soul.
Istanbul, Turkey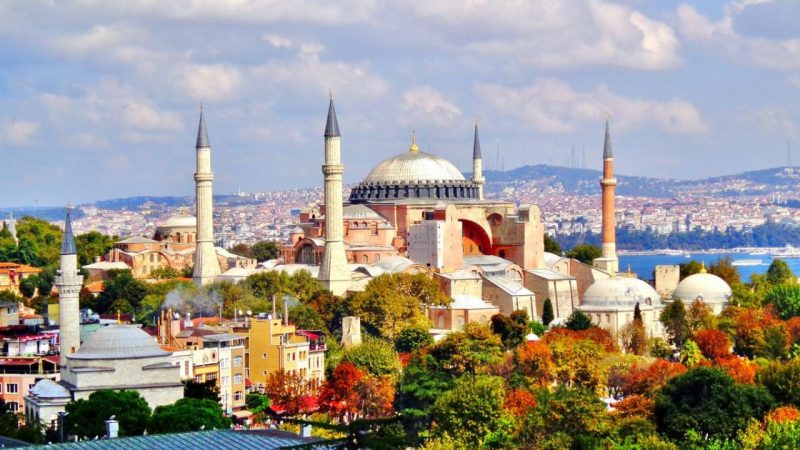 What Makes Istanbul a Great Fall Destination?
Our next destination is the vibrant city of Istanbul, Turkey. Fall brings a comfortable climate to explore this historic city. Visit the grand Hagia Sophia and the stunning Blue Mosque, stroll along the Bosphorus, or explore the colorful Grand Bazaar. The city's parks, like Emirgan Park and Yildiz Park, also offer beautiful autumn colors.
As the scorching summer heat retreats, Istanbul reveals its true charm during the fall season. The milder temperatures beckon visitors to immerse themselves in the city's enchanting streets and iconic landmarks without the stifling discomfort of extreme heat. Indulge in the savory flavors of traditional Turkish cuisine at cozy outdoor cafes or take leisurely strolls along the picturesque Bosphorus, basking in the refreshing autumn breeze. Fall in love with Istanbul as it embraces you in its cool and inviting embrace.
Experience the vibrant cultural scene of Istanbul in the fall, where the city comes alive with a bustling array of events and festivities. From the renowned Istanbul Biennial, showcasing cutting-edge contemporary art, to the prestigious International Istanbul Film Festival, drawing in artists and filmmakers from all corners of the globe.
The city also boasts a diverse range of music festivals, featuring an eclectic mix of genres and performances. Don't miss out on the chance to immerse yourself in the lively atmosphere and bask in the cultural splendor of Istanbul during this spectacular season.
As autumn envelops Istanbul, its ancient sites and renowned landmarks exude a special enchantment. The city boasts iconic attractions like the magnificent Hagia Sophia, grand Topkapi Palace, and majestic Blue Mosque, all of which are amplified by the stunning backdrop of fall foliage.
Exploring these architectural wonders and delving into the city's rich history becomes a truly captivating experience during this season. Lose yourself in the bustling energy of the world's oldest and largest covered market, the Grand Bazaar, where you can marvel at the intricate artistry of Turkish carpets, fragrant spices, and traditional handicrafts while taking a leisurely stroll.
Great Smoky Mountains National Park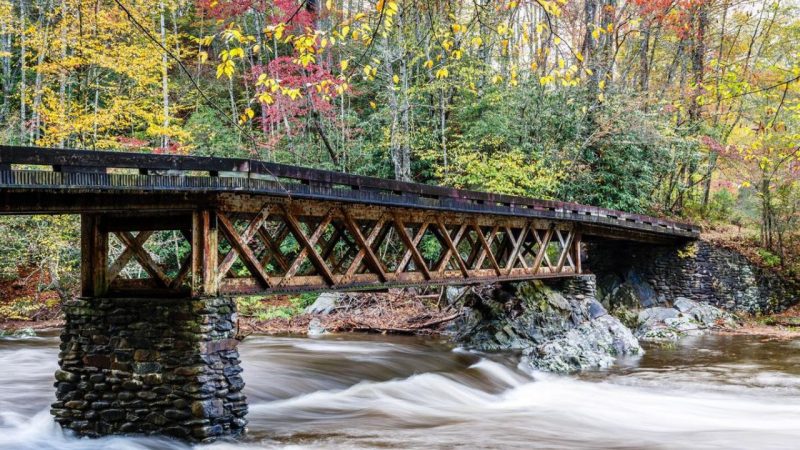 What Makes Great Smoky Mountains a Great Fall Destinations?
We now head to the Great Smoky Mountains National Park on the border between North Carolina and Tennessee. This park is one of the best places in the U.S. to see fall foliage, with over 100 species of trees turning into a kaleidoscope of colors. Popular viewpoints include Clingmans Dome, the park's highest peak, and the scenic Newfound Gap Road.
One of the key attractions of Great Smoky Mountains National Park in the fall is the breathtaking display of colors that blankets the landscape. As the temperatures drop and daylight hours decrease, the leaves of deciduous trees transform into a vivid tapestry of red, orange, and yellow hues. This natural phenomenon, known as "leaf-peeping," draws countless tourists to the park each year. The park's dense forests of maple, oak, and hickory trees provide an unparalleled opportunity for photographers and nature lovers to capture the beauty of the season.
Beyond its scenic beauty, the park is also a haven for wildlife enthusiasts. In the fall, animals such as black bears, white-tailed deer, and wild turkeys become more active as they prepare for the upcoming winter months. Birdwatchers can spot migratory birds passing through the area, adding to the park's allure. With over 19,000 documented species, the Great Smoky Mountains offer a remarkable diversity of wildlife, making it a must-visit destination for those who appreciate the natural world.
Additionally, the park boasts a rich cultural heritage that adds depth to the visitor experience. It is home to historic cabins, churches, and other structures that reflect the lives of early Appalachian settlers. The preservation of these historical sites allows visitors to step back in time and gain insight into the region's past. Fall brings a sense of nostalgia to the park, as the crisp mountain air and changing leaves create an atmosphere reminiscent of days gone by.
Lake Bled, Slovenia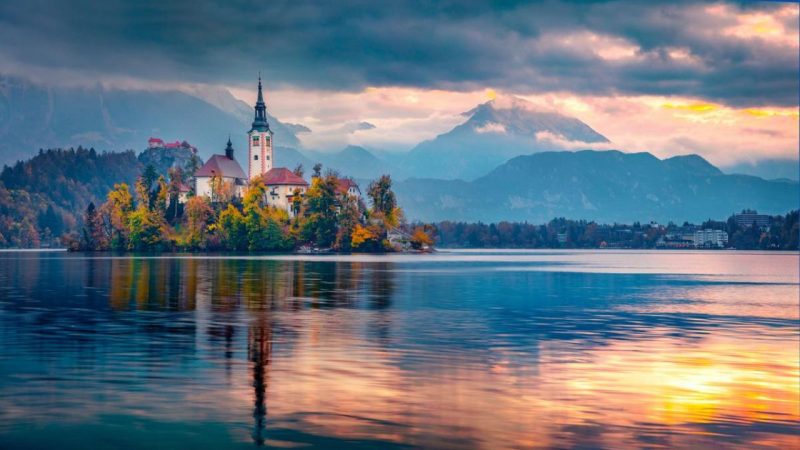 What Makes Lake Bled a Great Fall Destination?
Our journey continues to Lake Bled, Slovenia. This fairy-tale lake, with its iconic island church and medieval castle perched on a hill, becomes even more magical in fall. The surrounding forest's changing colors reflect beautifully on the lake's surface. A walk around the lake or a boat ride to Bled Island will provide unforgettable autumn views.
One of the key factors that contribute to its appeal is the breathtaking scenery that surrounds the lake. The clear blue waters of Lake Bled are framed by towering mountains, adorned with vibrant shades of red, orange, and yellow leaves during the fall season. This stunning backdrop creates a captivating and romantic atmosphere that is perfect for couples seeking a romantic escape.
Moreover, Lake Bled offers a wide range of outdoor activities that are perfect for fall enthusiasts. Visitors can take leisurely strolls along the scenic lake promenade, rent a traditional Pletna boat to explore the lake's island, or embark on a hiking adventure through the Triglav National Park, which becomes a tapestry of autumn colors during this season. Nature lovers will also appreciate the opportunity to witness the changing foliage while enjoying the crisp, cool air.
In addition to its natural beauty, Lake Bled is renowned for its rich cultural heritage. The iconic Bled Castle perched atop a cliff overlooking the lake is a testament to the region's history and offers a glimpse into medieval life. Visitors can explore the castle's museum, enjoy panoramic views of the lake from its terrace, and even participate in medieval-themed events that take place throughout the year.
Another highlight of Lake Bled is the traditional cream cake, known as "kremšnita," which is a delightful culinary experience not to be missed. Savoring this delectable treat at one of the lakeside cafes while taking in the fall scenery is a memorable experience that encapsulates the essence of this enchanting destination.
Jiuzhaigou Valley, China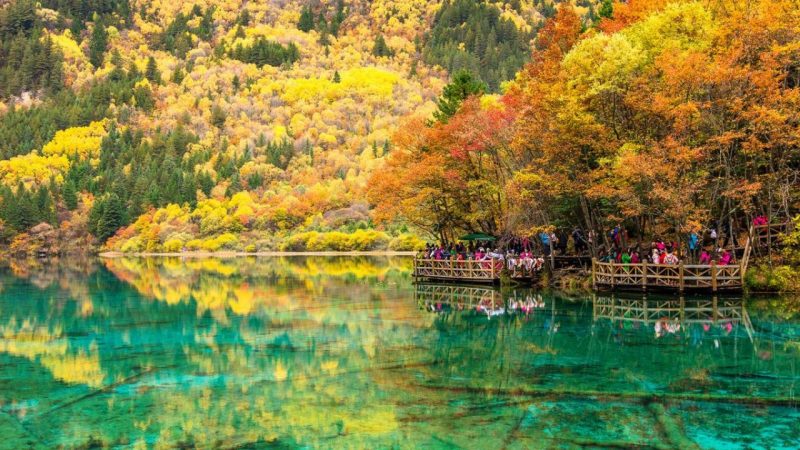 What Makes Jiuzhaigou Valley, China a Great Fall Destinations?
Our final stop is one of the great fall destinations, Jiuzhaigou Valley in Sichuan Province, China. This UNESCO World Heritage Site is famous for its multi-colored lakes, snow-capped peaks, and lush forests. In fall, the scenery becomes even more spectacular with vibrant autumn colors. The most popular spots to view fall foliage are Long Lake and Five Flower Lake.
One of the key factors that make Jiuzhaigou Valley an exceptional fall destination is its vibrant seasonal transformation. As autumn approaches, the lush greenery of the valley undergoes a dramatic change, with deciduous trees adorning the landscape in brilliant shades of red, orange, and gold.
The stunning contrast between the deep blue lakes and the fiery foliage creates a picturesque scene that is nothing short of awe-inspiring. This seasonal shift not only provides visitors with an unparalleled visual feast but also offers ideal conditions for outdoor activities like hiking and photography.
Jiuzhaigou Valley's accessibility has improved significantly in recent years, making it easier for travelers to explore its natural wonders. With well-maintained roads, a local airport, and a range of accommodation options, visitors can now experience the valley's beauty with convenience and comfort.
Furthermore, the region's commitment to sustainable tourism ensures that its pristine environment remains preserved for generations to come. This harmonious blend of accessibility and environmental consciousness enhances the appeal of Jiuzhaigou Valley as an exceptional fall destination.
Conclusion
Recap of the Great Fall Destinations to Create Lasting Memories
In this post, we've journeyed through 15 incredible destinations that offer unique and breathtaking experiences in fall. From the vibrant foliage spectacle in Stowe, Vermont, to the cultural feast of Oktoberfest in Munich, Germany; from the serene autumn beauty of Kyoto, Japan, to the magical fall colors of Jiuzhaigou Valley, China – each destination offers its own charm and opportunities for creating lasting memories. So pack your bags, embrace the spirit of adventure, and embark on your unforgettable fall journey. Happy travels!