Discover exhilarating adventure activities in Dubai, including dinner in the sky, desert safaris, dune bashing, indoor skiing at Ski Dubai, and high-speed quad biking. Dubai offers a thrilling experience for adventure enthusiasts.
Unleash Your Inner Daredevil: Must-Try Adventure Activities in Dubai!
Ultimate Dining Experience in Dubai: Dinner in the Sky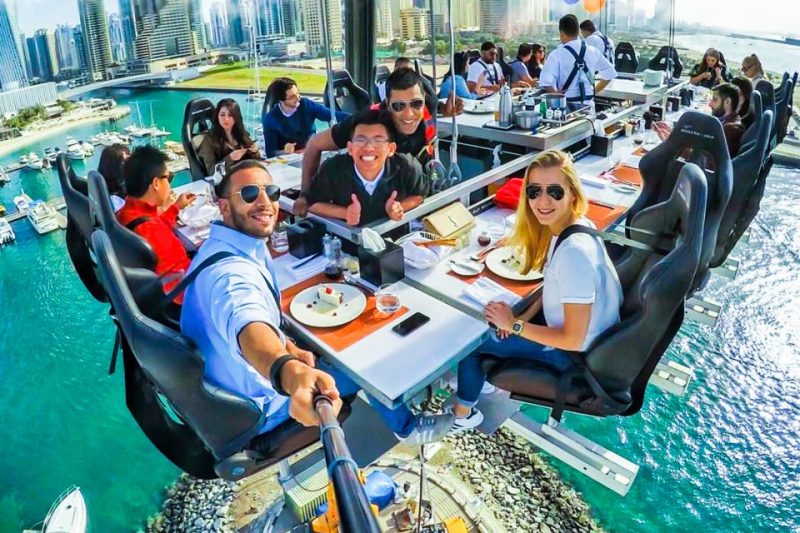 One such extraordinary adventure that has captured the attention of globetrotters and thrill-seekers alike is the "Dinner in the Sky" experience. "Dinner in the Sky" is a unique and exhilarating gastronomic concept that takes fine dining to new altitudes. Suspended high above Dubai's iconic skyline, this experience allows you to enjoy a gourmet meal while strapped into a comfortable seat at a specially designed table that dangles from a crane. It's dining like you've never seen before – a combination of breathtaking views and delectable cuisine.
The Michelin-Starred Chefs
One of the defining features of "Dinner in the Sky" is the caliber of chefs responsible for curating the exquisite menu. Michelin-starred chefs from around the world are invited to showcase their culinary expertise. Their carefully crafted dishes are a harmonious fusion of flavors, promising an unforgettable dining experience that transcends the ordinary.
The menu at "Dinner in the Sky" is a testament to culinary innovation. It offers a variety of gourmet options, catering to different palates and dietary preferences. From succulent steaks to seafood delights and vegan delicacies, every dish is a work of art. Each course is paired with fine wines and beverages, enhancing the overall gastronomic journey.
Dietary Considerations
"Dinner in the Sky" takes great care to accommodate dietary restrictions and allergies. Guests are encouraged to notify the staff in advance, ensuring a seamless dining experience for everyone.
Quad Biking: Adventure in Dubai's Red Dunes
When it comes to experiencing the thrill of Dubai's desert landscape, there's no shortage of options.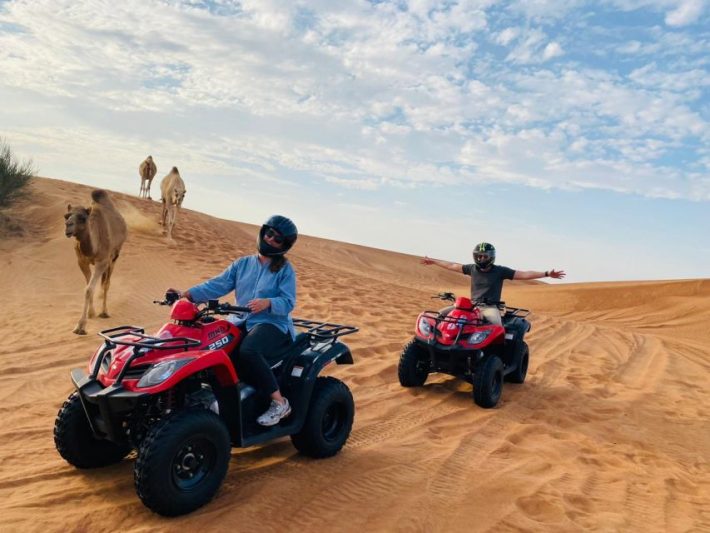 Exploring the Red Dunes
Dubai's Red Dunes are renowned for their mesmerizing beauty and the endless opportunities they offer for adventure seekers. This desert excursion takes you to these magnificent dunes, where you'll embark on a journey like no other.
Quad Biking: Conquer the Sands
Kickstart your desert adventure by revving up your adrenaline on a powerful quad bike, Quad Biking Dubai is the way to go. The fleet of top-of-the-line vehicles ensures a thrilling ride as you navigate the challenging terrains of the Red Dunes. Feel the rush of wind against your face as you conquer the sands, all while taking in breathtaking panoramic views.
A Culinary Oasis: BBQ Delights
After an action-packed day in the desert, you will be invited to indulge in a sumptuous BBQ feast prepared by skilled chefs. This culinary oasis in the heart of the dunes offers a delightful blend of international and traditional Arabian flavors. Savor tender grilled meats, aromatic rice, and a variety of mouthwatering dishes under the starlit desert sky.
Capturing Memories
We understand the importance of preserving your memories, and that's why the expert photographers are on hand to capture every moment of your desert adventure. Leave the photography to us, so you can fully immerse yourself in the experience.
Discover the Ultimate Flyboarding Experience in Dubai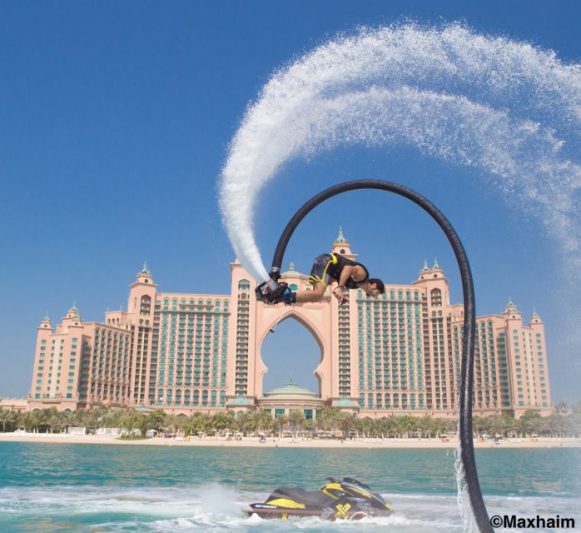 Flyboarding is a sensational water sport that combines the elements of jet skiing, wakeboarding, and acrobatics, providing participants with a unique and awe-inspiring experience. In Dubai, flyboarding has gained immense popularity, and for good reason. Here's why you should consider trying it:
Soaring Above the Crystal Waters
Imagine soaring high above the crystal-clear waters of the Arabian Gulf, propelled by powerful water jets beneath your feet. Flyboarding in Dubai allows you to do just that. The expert instructors will guide you through the basics, ensuring your safety and helping you make the most of this exhilarating adventure.
Awe-Inspiring Views of Dubai's Skyline
As you soar above the water, you'll be treated to breathtaking views of Dubai's iconic skyline. From the majestic Burj Khalifa to the Palm Jumeirah, you'll have the perfect vantage point to capture stunning photographs and create memories that will last a lifetime.
Suitable for All Skill Levels
Whether you're a seasoned water sports enthusiast or a complete beginner, flyboarding in Dubai is accessible to all skill levels. The professional instructors will tailor the session to your abilities, ensuring that you have a fantastic experience, regardless of your prior experience with water sports.
Desert Safari Experience in Dubai: Thrilling Adventure Activities in Dubai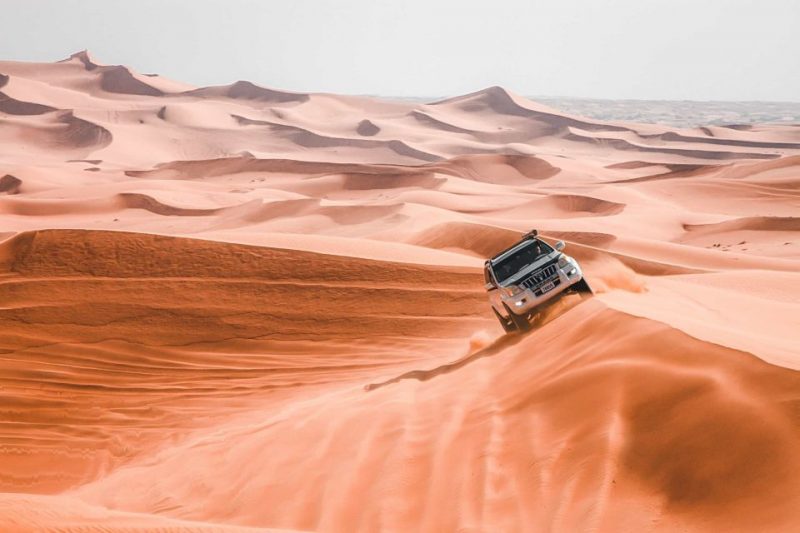 An unforgettable adventure in the heart of Dubai's magnificent deserts.
A Desert Safari in Dubai is the quintessential adventure for any visitor. Climb aboard a 4×4 vehicle and set off on a rollercoaster ride across the undulating sand dunes of the Arabian Desert. One of the highlights of ther safari is the heart-pounding dune bashing experience. You'll be chauffeured through the undulating sand dunes in a robust 4×4 vehicle, expertly maneuvered by the skilled drivers. Feel the adrenaline surge as you conquer the towering dunes, creating unforgettable memories and Instagram-worthy moments.
Scenic Views
As you navigate through the desert, you'll be treated to panoramic vistas of the golden sands stretching as far as the eye can see. The serene and awe-inspiring beauty of the desert is the perfect backdrop for an epic adventure.
Thrilling Rides: Best Outdoor Activities in Dubai
Besides dune bashing, the safari also includes thrilling rides on quad bikes, adding another layer of excitement to your journey. Glide over the soft sands, feeling the wind in your hair as you explore the desert's hidden treasures. Find more details of packages at Oasis Palm Tourism Desert Safari.
Bedouin Camp
At sunset, we'll arrive at Bedouin-style camp nestled deep in the desert. Here, you can immerse yourself in the rich heritage of the Arabian culture. Enjoy traditional Arabic coffee, shisha, and an enchanting belly dance performance under a starlit sky.
Authentic Cuisine
Savor a sumptuous feast of traditional Arabian dishes, carefully prepared by the expert chefs. From aromatic kebabs to fresh salads and mouthwatering desserts, the menu offers a true taste of Arabian hospitality.
Ski Dubai: Your Ultimate Indoor Snow Park Experience in Dubai
The Magic of Ski Dubai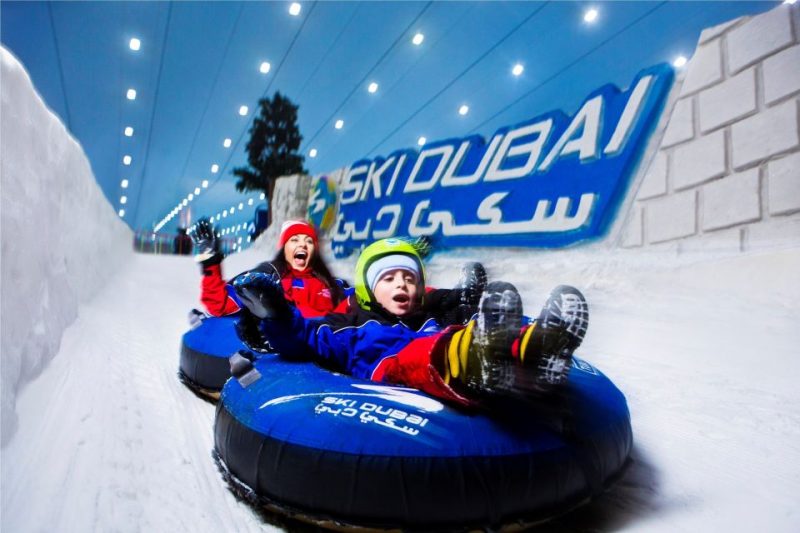 Endless Winter Wonderland
Ski Dubai is a marvel of modern engineering, where you can escape the scorching desert heat and step into a winter wonderland that knows no bounds. Spread across 22,500 square meters, this magnificent snow park is housed within the Mall of the Emirates, making it easily accessible to visitors from all over the world.
Thrilling Activities
At Ski Dubai, adventure and fun await at every corner. Whether you're a seasoned skier or a complete beginner, the park offers an array of activities to cater to all skill levels. From skiing and snowboarding on the perfectly groomed slopes to the adrenaline-pumping Snow Bullet, which lets you zipline through the park, there's something for everyone.
Meet the Penguins
One of the most unique attractions at Ski Dubai is the chance to meet and interact with adorable penguins. The Snow Penguins at Ski Dubai offer an educational and delightful experience, where you can learn about these fascinating creatures, watch them swim gracefully, and even pose for pictures.
Planning Your Visit
Ticket Options
To ensure you make the most of your visit to Ski Dubai, it's essential to plan ahead. Ski Dubai offers various ticket options, including single entry passes and combo packages that include snow park access, ski or snowboard lessons, and interactions with penguins. Booking tickets online in advance can save you time and money.
Dressing for Success
Since Ski Dubai maintains a temperature of -4 degrees Celsius, it's crucial to dress appropriately. Don't worry if you don't have your snow gear; the park provides jackets, pants, boots, and even gloves as part of your admission. However, it's a good idea to layer up with thermal clothing for added warmth and comfort.
Exploring Dubai from the Skies: A Mesmerizing Hot Air Balloon Experience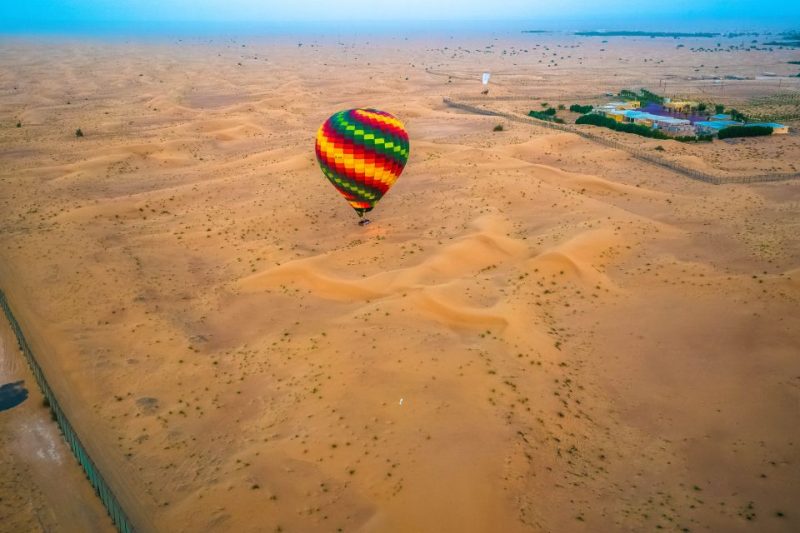 Witness the Sunrise Like Never Before
Dubai, with its stunning desert landscapes, offers a captivating backdrop for a hot air balloon adventure. As you ascend into the sky just before dawn, you'll witness a breathtaking sunrise that paints the desert in vivid hues of orange and pink. This magical moment is nothing short of a visual masterpiece, making it a photographer's dream come true.
A Bird's-Eye View of Iconic Landmarks
As your hot air balloon gently glides above the Dubai desert, you'll have the opportunity to marvel at some of the city's most iconic landmarks from an entirely new perspective. The Burj Khalifa, the world's tallest building, stands majestically in the distance, and the Palm Jumeirah, a man-made wonder, sprawls out beneath you like a palm-fringed oasis.
The Dubai Hot Air Balloon Experience
Expert Guidance and Safety
Safety is paramount when embarking on a hot air balloon adventure, and the Dubai Hot Air Balloon Flight experience ensures your well-being throughout the journey. Highly trained pilots with years of experience will guide your balloon, offering both expertise and peace of mind.
A Tranquil and Serene Flight
Unlike the bustling streets of Dubai below, your hot air balloon ride offers a serene and tranquil experience. The only sounds you'll hear are the occasional bursts of the burner firing up and the gentle whoosh of the wind. It's an escape from the city's hustle and bustle, a serene oasis suspended in the sky.
Exclusive Group Sizes
The Dubai Hot Air Balloon Flight experience typically caters to smaller groups, ensuring an intimate and personal adventure. This exclusivity allows you to have a more personalized experience and ample space to capture the moments that will last a lifetime.
The Dubai Hot Air Balloon Flight experience is an unparalleled adventure that allows you to explore the beauty of Dubai from a unique vantage point. With the captivating sunrise, iconic landmarks, expert guidance, and an intimate, tranquil flight, it's an experience that promises memories to last a lifetime.
Conclusion: Must-Try Adventure Activities in Dubai!
Dubai is not only a city of lavish extravagance but also a playground for adventure seekers. From conquering the golden dunes in a Desert Safari to mastering the desert terrain on a quad bike, and from defying gravity with flyboarding to soaring through the sky with a skydiving adventure, Dubai offers a wealth of thrilling activities for the adventurous at heart. So, gear up and get ready to embark on an unforgettable journey of adrenaline and excitement in this dynamic city.