Enjoy a picturesque Dubai Marina Dhow Cruise. Glide along the stunning skyline, relish a sumptuous buffet, and experience traditional Arabian hospitality on a beautifully illuminated dhow. A perfect blend of culture, food, and breathtaking views awaits you on this memorable cruise.
It's a particularly exciting prospect to go on a dhow cruise on the Dubai Marina because it's a juxtaposition of ancient wooden vessel mixed with a fully artificial water reservoir and canal that serves as a resource for the rest of the city. A juxtaposition of old and new. This article is your comprehensive guide to this unforgettable experience.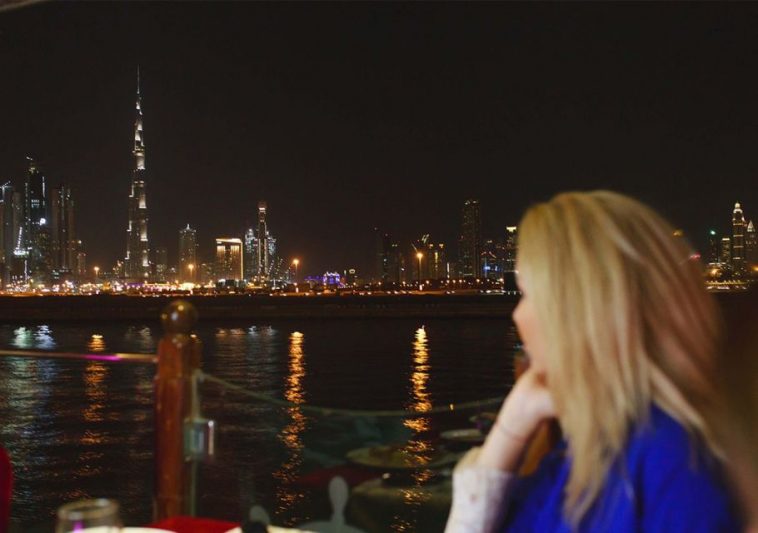 Discover the Charms of Dubai Marina
Dubai Marina, with its blend of an ancient wooden vessel navigating through a modern, artificial water reservoir and canal, is a captivating juxtaposition of old and new. This unique setting serves as the backdrop for your romantic escapade.
Why It's the Perfect Romantic Experience
Romance, for many, involves sharing special moments together – be it fine dining in Paris with a view of the Eiffel Tower or embarking on a thrilling jungle safari in Africa. It's about creating lasting memories together, a declaration of love.
A dhow cruise at Dubai Marina epitomizes romance. It's akin to Dubai's version of the love boat, an experience shrouded in mystery and brimming with uniqueness, adding a tantalizing spice to your journey.
The mystique lies in the fact that most Western tourists have never heard of a dhow, let alone sailed on one. It's not your typical ferryboat, even though it serves the same purpose of transporting passengers across water. Additionally, the romantic allure is heightened by the royal treatment you'll receive on board.
Visit Dhow Cruise Marina for the best romantic dhow cruise dinners in Dubai.
Crafting Unforgettable Moments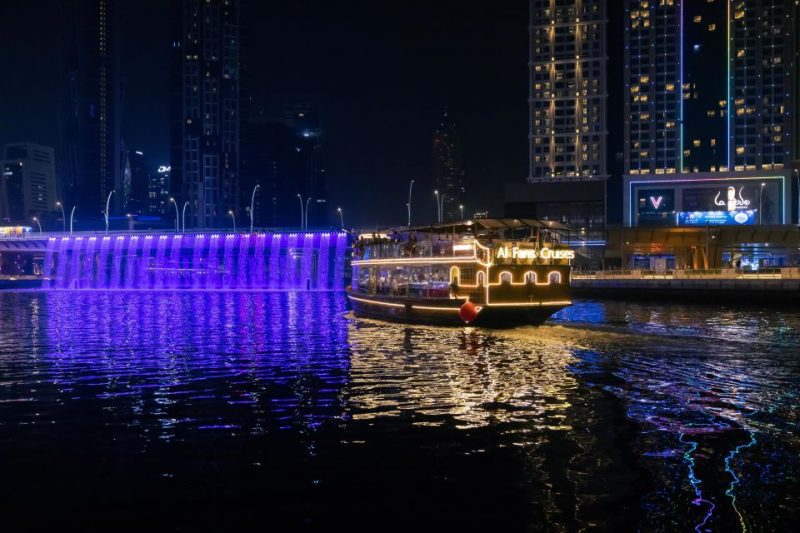 The royal dhow itself is a masterpiece of craftsmanship, a stunning vessel that gracefully glides through the Dubai Marina, evoking the ambiance of a Venetian gondola ride in Italy. Dining on this vessel with your partner is an experience that etches itself into your memory forever.
Dinner cruises commence at 7:00 PM and extend until 11:00 PM, offering a delightful array of amenities and activities:
A warm welcome with juice or coffee accompanied by dates.
A leisurely 2-hour cruise set to mesmerizing music.
An international buffet for your dining pleasure.
Refreshing beverages, including mineral water and soda.
First Impression that Count
The dedicated staff and crew aboard the dhow understand the significance of first impressions. They go above and beyond to exemplify Arabian hospitality, ensuring that you and your partner are treated like royalty.
To enhance your experience, the dhow offers a little something extra with its dinner and a show package. You may be treated to magic shows, elaborate dance performances, or a variety show featuring thrilling acts.
Arabic hospitality takes center stage, with the staff catering to your every whim. They are committed to making you feel at ease, swiftly dispelling any awkwardness associated with first encounters. Whether you're sharing a romantic moment with your partner or enjoying quality family time with your spouse and children, rest assured that you'll be well taken care of.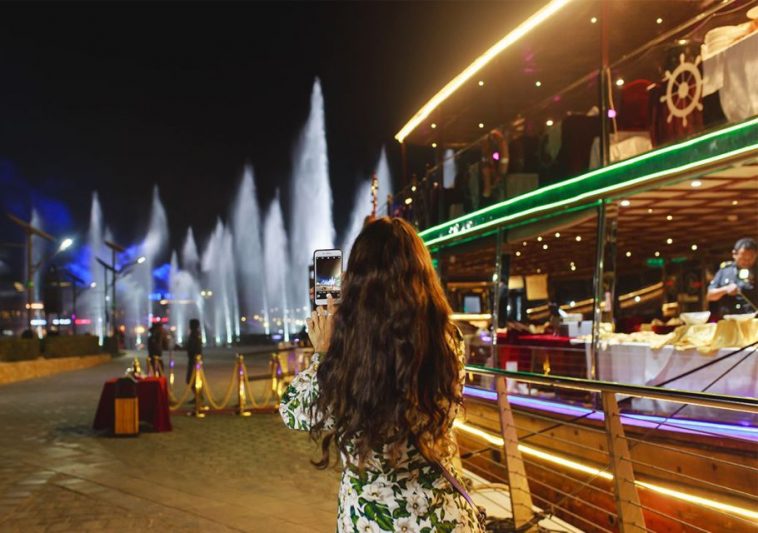 Embracing the Essence of Romance
Romance, as defined by the dictionary, is a sensation characterized by mystery and excitement, closely linked to love. It encompasses wooing a cherished partner with whom you share a strong attraction, or engaging in courtship behaviors. While on the dhow, you can bask in the ambiance of this romantic, Valentine's-like feeling.
Consider it your love boat to happiness, in the midst of the modern marvel that is Dubai. The city itself is an enchanting courtship, wooing you with its myriad attractions – from gifts and fine dining to luxurious transportation and unforgettable sights. Dubai, in its entirety, beckons you to create a tapestry of romantic memories that will last a lifetime.
Exploring the Dubai Marina Dhow Cruise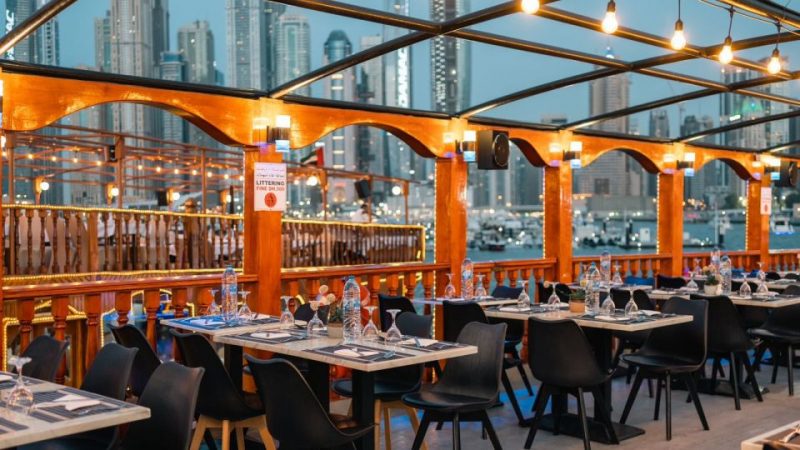 Cruise Options
There are various options to choose from when it comes to Dubai Marina Dhow Cruises. Whether you prefer a romantic dinner cruise or a daytime adventure with family and friends, there's a cruise package that suits your preferences.
Duration
The cruises typically last for two to three hours, providing ample time to take in the sights, savor your meal, and enjoy the entertainment.
Booking and Tickets
To ensure you secure your spot on this extraordinary journey, it's advisable to book your tickets in advance. Most operators offer convenient online booking options, allowing you to plan your experience seamlessly.
Ideal Time to Go
The best time for a Dubai Marina Dhow Cruise is during the evening, as you can witness the city's transformation as it lights up. However, daytime cruises are also available for those who prefer a different perspective of the city.
FAQs
What is the cost of a Dubai Marina Dhow Cruise?
Prices vary depending on the cruise package and operator. On average, expect to pay between AED 130 to AED 300 per person.
Is the Dubai Marina Dhow Cruise suitable for children?
Yes, these cruises are family-friendly and offer entertainment suitable for all ages.
Can I book a private Dubai Marina Dhow Cruise for a special occasion?
Absolutely! Many operators offer private cruises that are perfect for celebrations and romantic evenings.
Are vegetarian and vegan meal options available?
Yes, most cruise operators offer a variety of dietary options, including vegetarian and vegan meals. Be sure to inform them of your preferences when booking.
What is the dress code for a Dubai Marina Dhow Cruise?
The dress code is smart casual. However, for themed cruises, there may be specific attire recommendations, so it's advisable to check with the operator.
Can I take pictures during the cruise?
Yes, you are encouraged to capture the stunning views and memorable moments during the cruise.
Conclusion
Dubai Marina Dhow Cruise offers an unparalleled experience of Dubai's opulence and charm. Whether you're a tourist looking to explore the city or a resident seeking a unique evening out, this cruise promises a remarkable journey. Savor the flavors, enjoy the entertainment, and create lasting memories aboard these floating palaces.