About Maafushi Island
Maafushi is an island off the coast of Male, Maldives with something for everyone. Here are my personal picks of the best things to do on Maafushi island. The Maafushi island is one of the local islands in Kaafu atoll with 1km in length and 265meters in width. Maafushi Island is one of the best holiday destinations in the Maldives.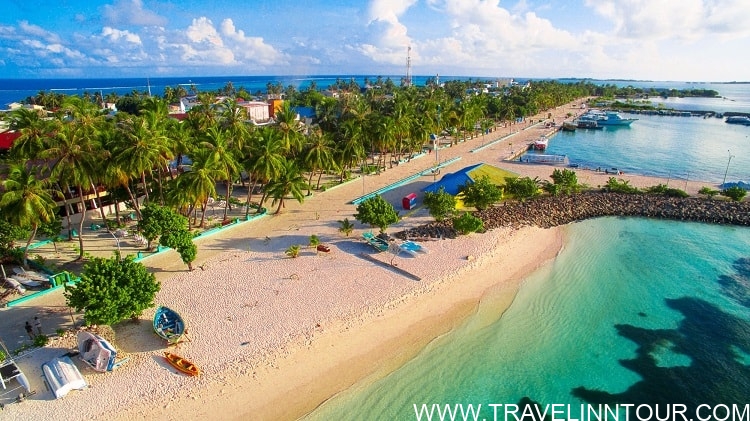 This little island only has one harbor, one bank, one hospital, one prison, one police office, and two or three schools. All the roads here are still with the sands, no need car or motorcycle to see the island, just walk, all places are within walking distance. On your right and left you will see the stands for an excursion to Maafushi.
You can go snorkeling with the sharks and the dolphins; stand-up paddleboard out in the ocean (it's a ton of fun); or you can go night fishing with a local fisherman (super exciting and a lot of fun).
They can arrange romantic dinners for you and your significant other. As an example, if you book a half-day package for $ 25, it includes two-point snorkeling with fish and turtle, dolphin watching, who knows you can swim with dolphins too.
Most travelers go to bikini beach, because local people, 100 % Muslim in Maafushi island. You can only wear a bikini on the bikini beach, but on the resort or private island is up to you.
If you are a nature lover then this is the place that you must visit at least once in your lifetime.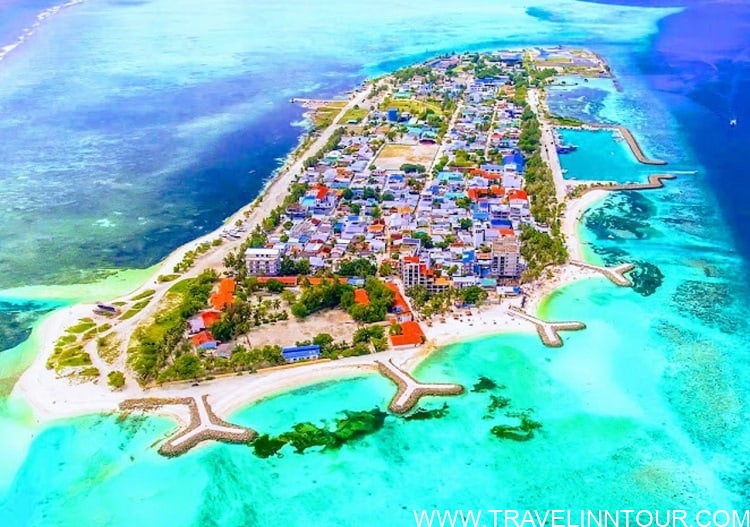 Best time to visit Maafushi Island?
Maafushi is a year-round destination. The peak season is December to April. It's warmest in the winter months, but if you like the idea of swimming in the sea in winter, you're in luck.
The sea is pretty warm and calm. The average sea temperature is 29 Celsius (84 Fahrenheit). The dry season can be very hot, with temperatures of 32 Celsius (90 Fahrenheit). The islands are very exposed to the sun. So you'll need to take good sun cream with you.
Internet and Wifi
Maafushi has fast and reliable internet and wifi service through U.S. satellites. Most hotels and resorts have these modems already installed, so you can use them to get online. If not, getting an internet connection in Maafushi Island is not hard. All you need is a 4G LTE data SIM card from a local mobile phone provider.
Here are some of the best things to do on Maafushi Island:
What to do on Maafushi Island? There are activities on this island that only the locals know about. And that's the way it should be. After all, if you want to have a splendid vacation, you don't want to spend your time learning about the place, you want to DO the things you've been dying to do.
Water activities are a major attraction for the tourists in Maafushi and a lagoon with crystal clear blue waters and white sand makes it a perfect place for snorkeling, swimming, and other water sports.
1: Go Snorkeling: Explore The Marine Life
Water sports are a major draw for the tourists who visit Maafushi, and the clear turquoise waters and white sandy beaches make it a wonderful place for snorkeling, swimming, and other water sports. There are lots of colorful tropical fish, stingrays, manta rays, eagle rays, octopus, parrotfish, cuttlefish, and many other varieties of sea creatures. You can snorkel or scuba dive to explore these creatures up close and personal.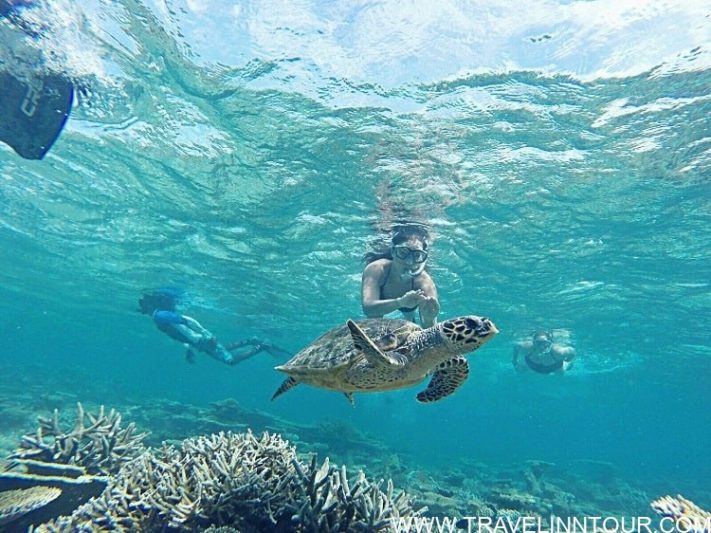 December and April, during these months, the sea is relatively calm and the visibility is very good. If you want to swim with whale sharks, then you should make your trip between June and October.
2: Kite Surfing & Wind Surfing at Maafushi Island
The main reason people visit this island is for its white sandy beaches, crystal clear water, and warm hospitality of the locals. But what most people don't know is there are some of the best wind and kite surfing conditions in the world on this island. There are no dangerous waves here, just long flat open ocean swells that are perfect for learning to kitesurf.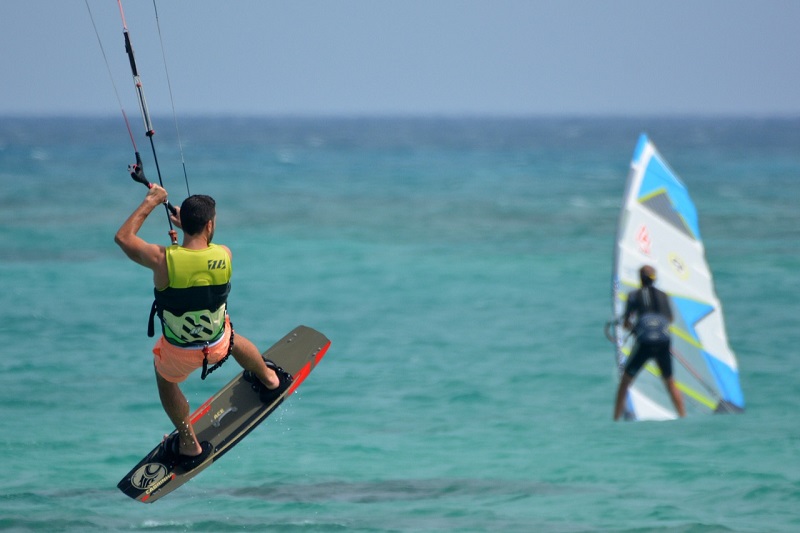 If you're looking for an adrenaline rush, look no further than Maafushi Island. This small island in the Maldives is a kite surfer's and wind surfer's paradise, with winds blowing consistently and waves crashing ashore. Whether you're a beginner or an experienced surfer, there's something for everyone.
4: Parasailing Experience – Make Your Vacation Memorable
Visitors to the Maldives can enjoy a parasailing experience while on Maafushi Island. The clear blue waters and the white sand beaches make for a perfect backdrop while parasailing.
Parasailing is an adventure sport that involves climbing into a harness suspended from a parachute and being pulled up into the air on a long rope by a boat or other such vehicle. Parasailing is extremely popular in the Maldives, which is one of the top ten countries for this activity. Before the parasailing begins, an instructor will give you instructions about how to operate the parasail. The first thing you must do is step into the harness so that it fits properly.
The thrill of jumping off a boat into the azure waters below will be an exciting experience that you will remember for a lifetime.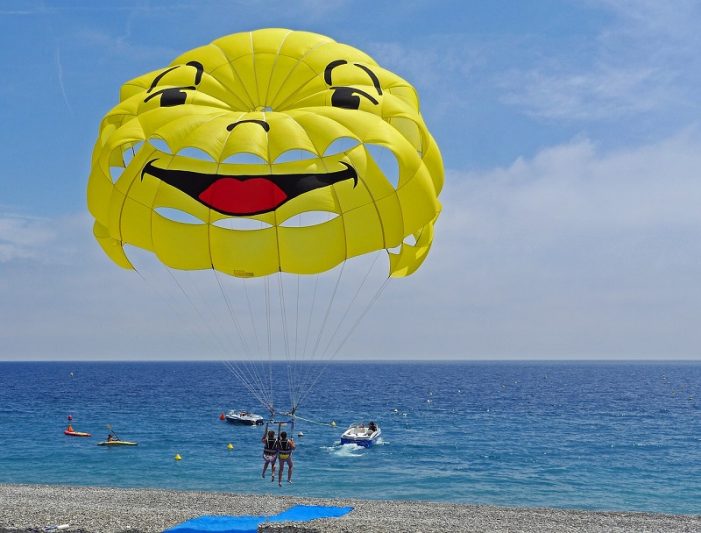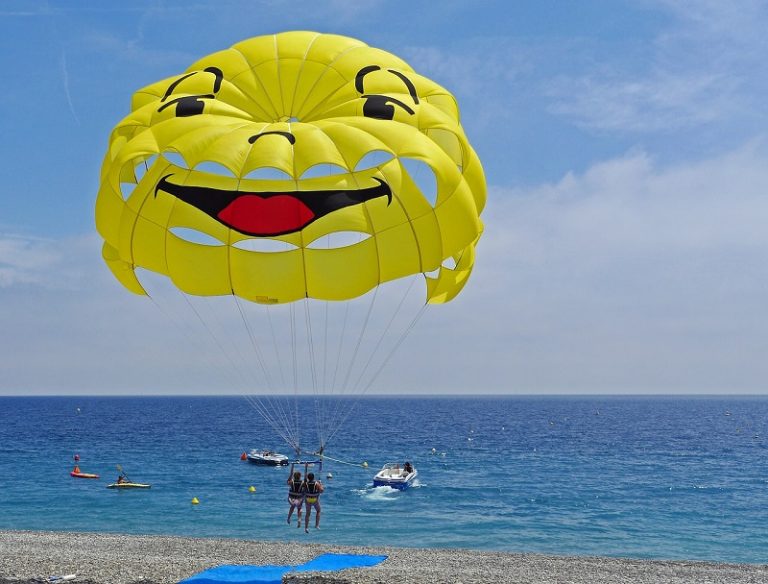 5: Beach Photoshoot at Maafushi
The Maldives is known for its beautiful beaches, and a photoshoot at Maafushi is a great way to take advantage of the natural scenery. With crystal-clear water and white sand beaches, it's easy to capture stunning photos in this tropical paradise.
Choosing a good place to do your photoshoot is half the fun of a vacation to the Maldives. There are lots of backdrops to choose from; all you need is a camera and an adventurous spirit. A beach photoshoot at Maafushi is a must-do for any traveler looking to capture the beauty of the islands.
6: Romantic Beach Dinner
An intimate beach dinner under the stars is the perfect way to end a day of exploring the beautiful Maafushi Island. As the sun sets, enjoy a romantic meal with your loved one while the waves crash ashore.
The cool breeze and the gentle sound of the ocean will make this the most relaxing and enjoyable part of your entire vacation. A candlelit dinner gives you the chance to be alone together, with no distractions and no one to disturb you.
7: Sandbank Tours
After a brief safety briefing, your boat will depart the pier on Maafushi Island and take you to various areas of this beautiful island. You will have approximately 2 hours to explore the crystal clear waters and see the many varieties of sea life. Snorkeling equipment, cold beer, and soft drinks are included in the sandbank tours. This is a must-do excursion when visiting the islands.
You will find a vast area of fine white sand, a sea of sandy islands, and a stunning coral reef. This place is a paradise for a variety of colorful tropical fish. This excursion is great for those who want to enjoy a lot of snorkeling.
8: Wakeboard & Water-Ski
For thrill-seekers looking for an adrenaline rush, Maafushi Island in the Maldives is the perfect destination. Wakeboard and water-ski on the clear blue waters, or take a dive into the coral reefs. With white-sand beaches and turquoise waters, Maafushi is a paradise waiting to be explored.
This unique island has long been a favorite of divers but has recently become a hot spot for wakeboarders and water skiers. The island's many bays and coves are perfect for beginners and experts alike. If you're new to wakeboarding or water-skiing, you can take lessons on the beach, then practice your skills in the bays and coves.
9: Dolphin Safari
This tour provides you an opportunity to watch the magnificent Bottlenose Dolphins in their natural habitat. The private speedboat transfers you from Maafushi to the reef where a guide and small crew are waiting for you. For an hour, enjoy dolphin sightings, both in the open ocean and swimming along the reef. There is also a chance of encountering sea turtles. This is by far the best way to enjoy seeing the dolphins on a private boat with your friends or family.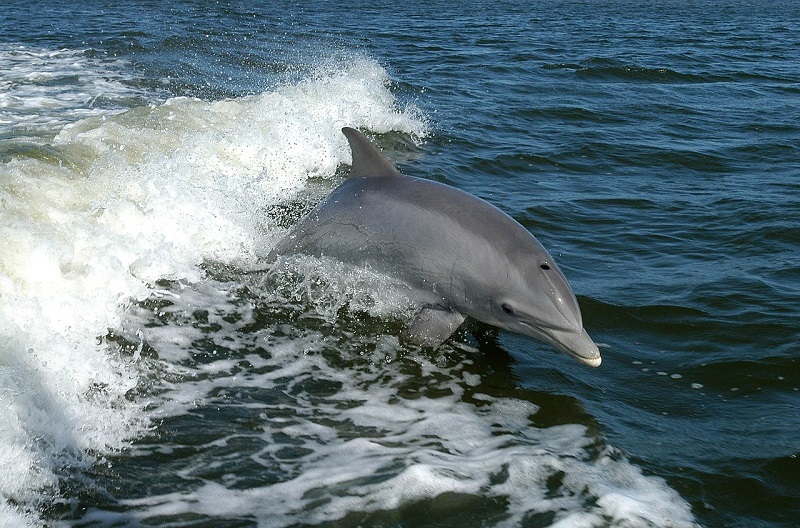 10: Snorkel With Nurse Sharks
Looking for an unusual and exciting activity to do on Maafushi Island? Snorkeling with nurse sharks is a unique experience that offers a different perspective of these fascinating creatures. These docile creatures are a popular tourist attraction and make for a fun and unique experience.
Diving with nurse sharks will give you a great experience to observe them in their natural habitat. They are a perfect alternative for those seeking to get close to a shark without the risk of being injured.
11: Visit Bikini Beach
Bikini Beach is the most important tourist hub on the island and it is located in the northwest part of the island. Here, you're free to wear your favorite swimwear and enjoy the sea. This area is also the most crowded part of the island, as it's frequented by tourists who love the sun and the sea.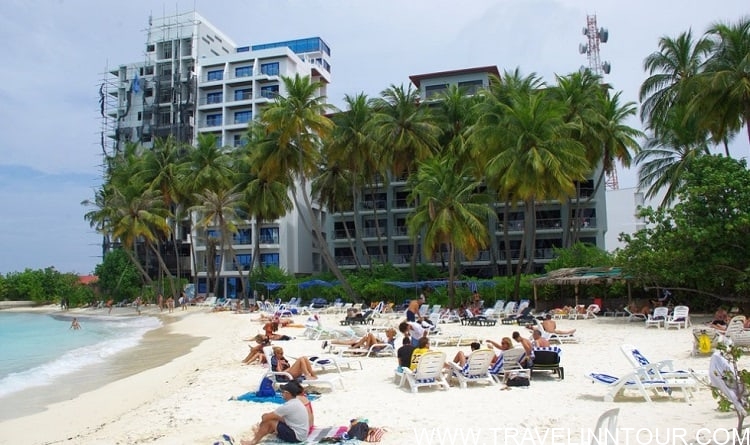 Hotels Maafushi Island: Romantic Hotels On Maafushi Island, Maldives
Hotel
Stars
Discount
Price before and discount
Select dates

COMO Cocoa Island

★★★★★

-29%

1 628

1 154

Naladhu Private Island Maldives

★★★★★

-41%

3 546

2 084

Rihiveli Maldives Resort

★★★

-43%

401

229

Adaaran Club Rannalhi

★★★★

-24%

488

370

Biyadhoo Island Resort

★★★

-15%

213

180
This part of the beach is the most popular spot on the island for visitors – you'll find hotels, souvenir shops, juice bars, food shops, and even a couple of small grocery stores. In Maafushi there really isn't much "nightlife" other than the handful of juice bars and restaurants that serve up exotic seafood, but occasionally you'll find a small party happening.
If you're looking to taste some a*lc*ohol, the best way to do so is by boarding one of the floating bars that are located just off the coast of Maafushi. These cruise boats come equipped with an onboard bar and live music, making for a fun and festive atmosphere.
In conclusion, Maafushi is a small island paradise that offers visitors an unspoiled tropical experience and is perfect for backpackers, honeymooners, diving enthusiasts, and anyone looking for a peaceful getaway. It has a couple of great hotels on the island plus other options for independent travelers. We hope you choose to visit this beautiful island.
Save It On Pinterest