Yosemite National Park is a world-renowned destination known for its stunning natural beauty, diverse wildlife, and iconic landmarks. In this blog post, we'll provide you with the ultimate 1 day Yosemite itinerary, including tips, trails, and must-see sights.
Spend a day in Yosemite National Park and experience the breathtaking beauty of one of the most iconic parks in the United States. Whether you're a first-time visitor or a seasoned traveler, this guide will help you make the most of your time in Yosemite National Park.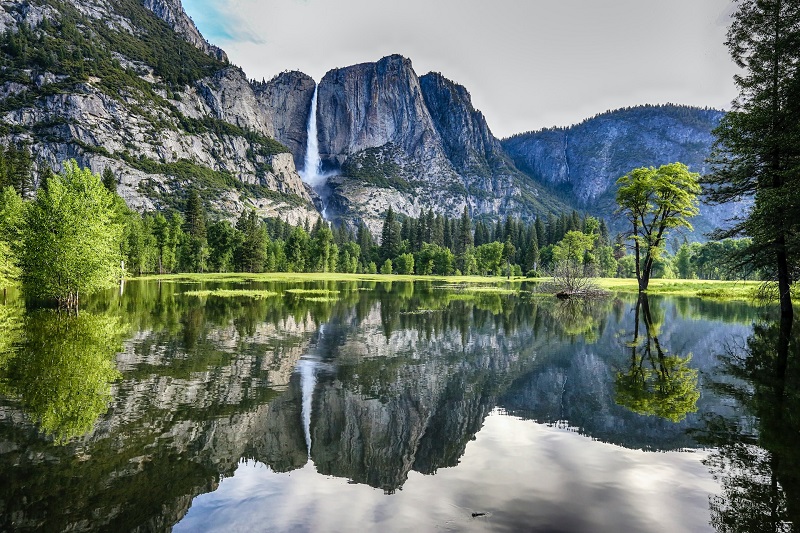 How Many Days Do You Need In Yosemite?
Yosemite National Park is a stunning destination with endless opportunities for exploration and adventure. But how many days do you need to really experience everything that Yosemite has to offer? With so much to see and do, it's difficult to decide exactly how long your trip should be.
The answer depends on what type of activities you plan to pursue, as well as the amount of time you have available. You can experience the stunning beauty of Yosemite in just one day. But generally, most people find that three to four days is enough time to explore the beauty of Yosemite and take in all of its wonders.
However, if you really want to get the most out of your visit, we suggest planning five to seven days in order to fully experience Yosemite's grandeur.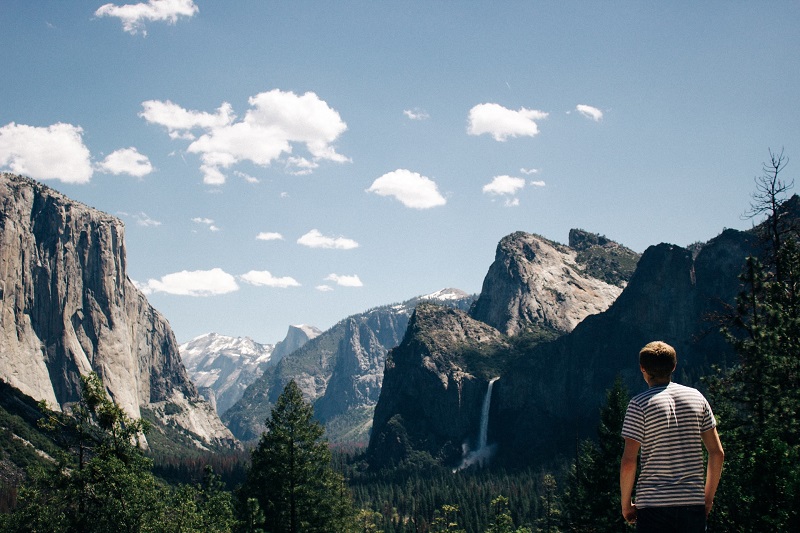 Why Visit Yosemite National Park?
Yosemite National Park is a must-visit destination for anyone who loves the great outdoors. This park offers visitors a chance to experience some of the most breathtaking natural wonders in the world, including soaring granite cliffs, cascading waterfalls, and ancient sequoia trees. Apart from its exquisite landscape, Yosemite is also the perfect abode for a myriad of wildlife, from black bears and coyotes to mule deer and bighorn sheep.
Whether you're a hiker, photographer, birdwatcher, or just looking for a relaxing getaway, Yosemite has something for everyone. So pack your bags, grab your camera, and get ready for an unforgettable adventure in one of the most beautiful places on earth!
Planning Your Yosemite Day Trip
Getting to Yosemite National Park
Yosemite National Park is located in central California, about 200 miles east of San Francisco and 300 miles north of Los Angeles. The park is easily accessible by car, with several major highways leading into the park.
If you're driving from San Francisco, take Highway 120 east to the Big Oak Flat Entrance. If you're coming from Los Angeles, take Highway 41 North to the South Entrance. If you're flying into California, the closest airports to Yosemite are San Francisco International Airport and Fresno Yosemite International Airport.
Parking and Transportation Options
Parking in Yosemite National Park can be challenging, especially during peak season from June to September. To avoid crowds and find a good parking spot, plan to arrive early in the morning or late in the afternoon.
Discover the majestic landscape of Yosemite National Park in a short amount of time with the free shuttle bus. The shuttle offers rides from Yosemite Valley to Mariposa Grove, Tuolumne Meadows, and Glacier Point, connecting you to the most popular areas of the park. For an unforgettable journey, explore Yosemite Valley by car. For those who don't have their own vehicle or rental car, the park service also offers a shuttle that stops at the Yosemite Valley Visitor Center, Yosemite Lodge, and Upper Pines Campground.
Best Photo Spots in Yosemite – 1 Day Yosemite Itinerary
Yosemite National Park is home to some of the most beautiful and iconic photographic spots in the world. From cascading waterfalls to towering cliff faces, Yosemite offers countless opportunities for photographers to capture amazing shots. Whether you are looking to take breathtaking landscapes or stunning wildlife photos, there's something for everyone in Yosemite.
Some top photo spots include Glacier Point, Tunnel View, El Capitan, Half Dome, Yosemite Falls, and Olmsted Point. With so many incredible sites to explore, Yosemite is an ideal destination for any photographer looking to capture the beauty and grandeur of nature.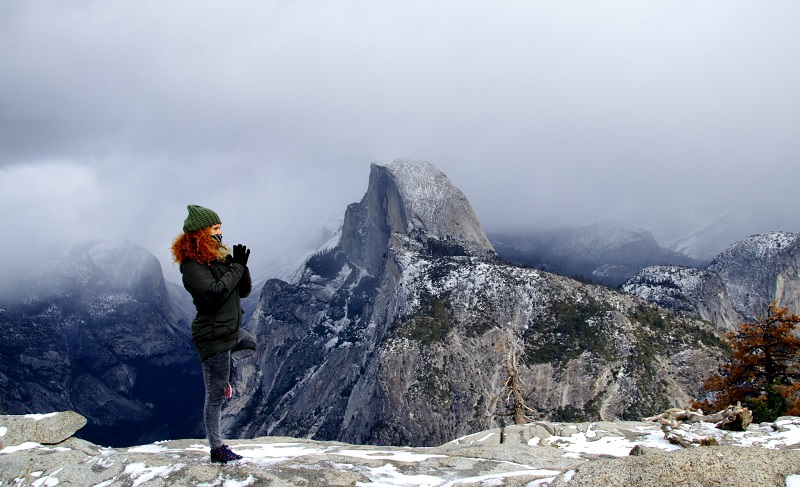 Can You Drive Your Car through Yosemite National Park?
yes, you can Explore Yosemite National Park's majestic beauty by taking the wheel of your own car! Glide through the awe-inspiring scenery and take in the mesmerizing sights. There are plenty of opportunities for sightseeing, from valleys to waterfalls, granite walls, and towering peaks. You'll be able to experience the wonders of nature up close and personal, while still having the convenience of being able to get around quickly and easily with your car. Just make sure to obey all park regulations: speed limits, designated stopping areas, and any posted warnings. Enjoy the journey!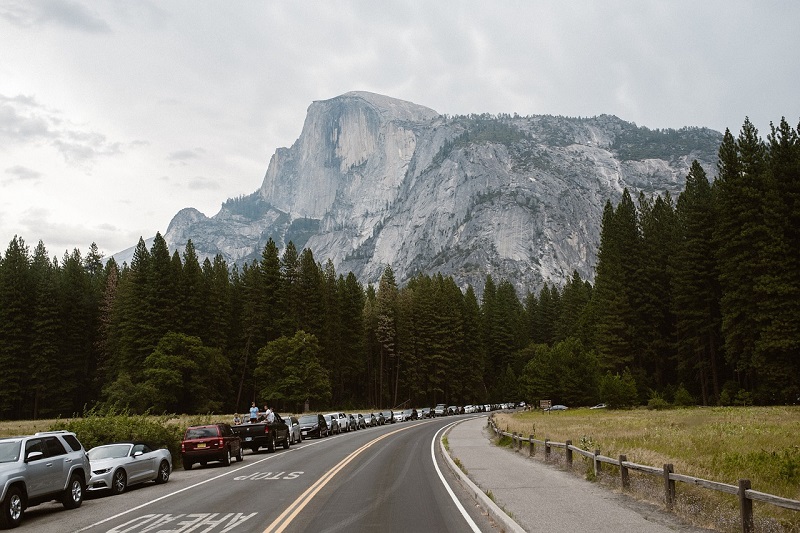 Guided Tours and Walking Tours – 1 Day Yosemite Itinerary
Explore Yosemite National Park and experience all it has to offer with a guided tour! With a variety of tours ranging from hiking, photography, and wildlife viewing, you're sure to have a unique, immersive experience. For those who'd like to explore on their own, there are also self-guided walking tours available, such as the one for Yosemite Valley and Lower Yosemite Falls.
Must-See Sights in Yosemite
Yosemite Valley Visitor Center
The Yosemite Valley Visitor Center is the perfect launch pad for your day adventure in Yosemite! Stop by for maps, brochures, and all the information you need from the friendly park rangers – plus, find out all about the incredible history and geology of the area! The visitor center also offers several exhibits and films that provide an introduction to Yosemite National Park.
Sentinel Dome and Taft Point
Behold the majesty of Yosemite National Park, home to two of the most breathtaking vistas on the planet – Sentinel Dome and Taft Point. Sentinel Dome is a high point hidden among the clouds, affording you a breathtaking panoramic view of the landscape below. Meanwhile, Taft Point stands out on a sheer ridgeline, offering awe-inspiring views of Yosemite Valley and its dramatic vertical cliffs.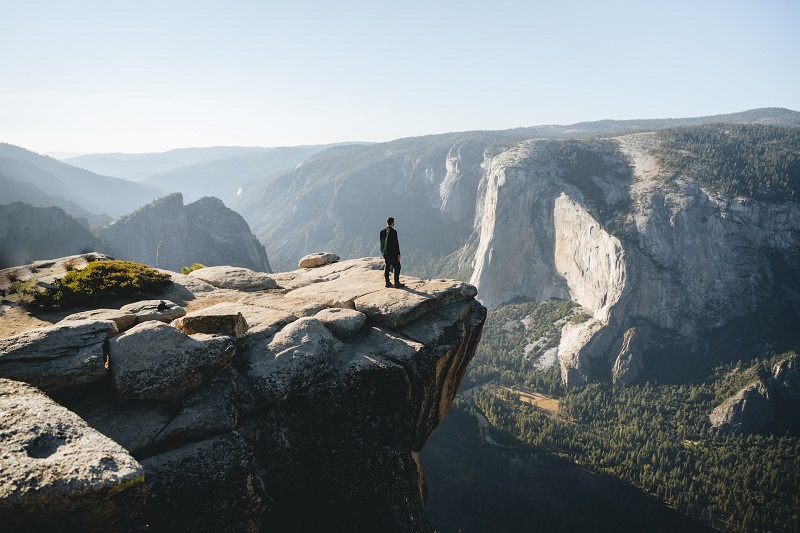 Glacier Point Road
Take in the majestic panorama of Yosemite Valley and the surrounding mountains as you drive down Glacier Point Road, one of the most scenic routes in Yosemite National Park! Be sure to pass by iconic landmarks like Bridalveil Fall, Tunnel View, and, of course, Glacier Point for an unforgettable journey.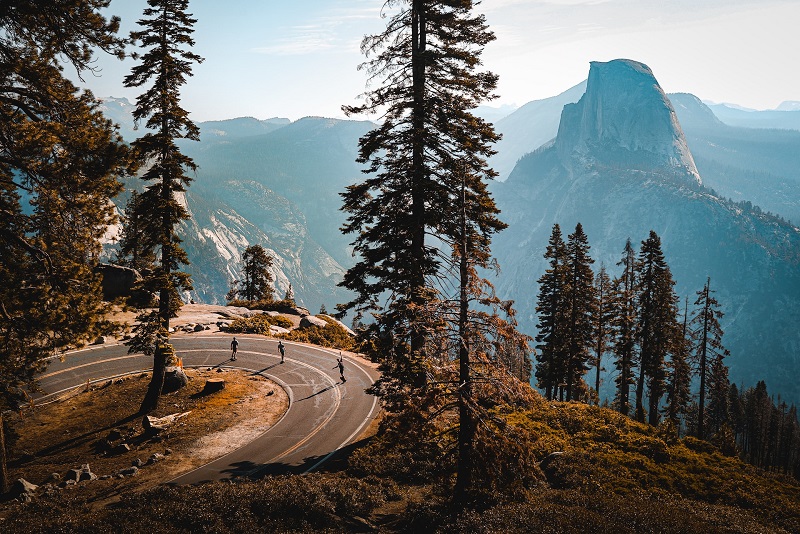 Bridal Veil Falls
Yosemite is home to one of the most breathtaking sights in the world: Bridal Veil Falls. This majestic waterfall plunges 188 meters from the granite cliffs, creating a stunning view. The mist created by the falls often creates a rainbow in the sunlight, and the roar of the water can be heard for miles around. Visitors flock each year to Yosemite to witness the beauty of Bridal Veil Falls, and many find it to be an unforgettable experience.
Yosemite Falls
Visiting Yosemite Valley and catching a glimpse of its majestic Yosemite Falls is a must! This magnificent waterfall plunges over 2,500 feet down the cliffside, and its beauty is best admired during the spring and summer months when it is flowing at its fullest. A short and flat hike will take you to Lower Yosemite Falls Vista Point, where you can admire the incredible view from the wooden bridge. Make sure to add Yosemite Falls to your tour of the park!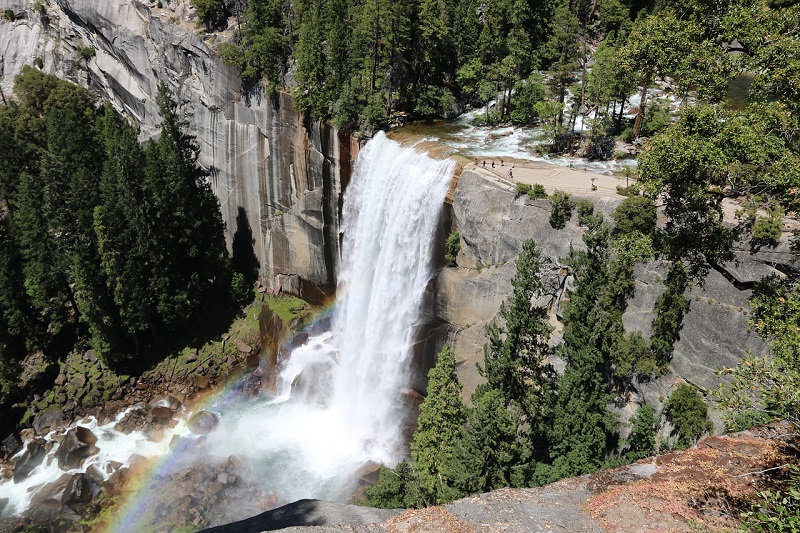 Most Famous Tunnel View
Tunnel View is Yosemite's most famous view, providing a breathtaking panorama of the iconic Yosemite Valley. From this vantage point, visitors can take in the majestic El Capitan and Half Dome, along with Bridalveil Fall and the other incredible features that make Yosemite an outdoor paradise. Whether it's your first visit or your hundredth, Tunnel View offers a breathtaking experience that will stay with you for a lifetime.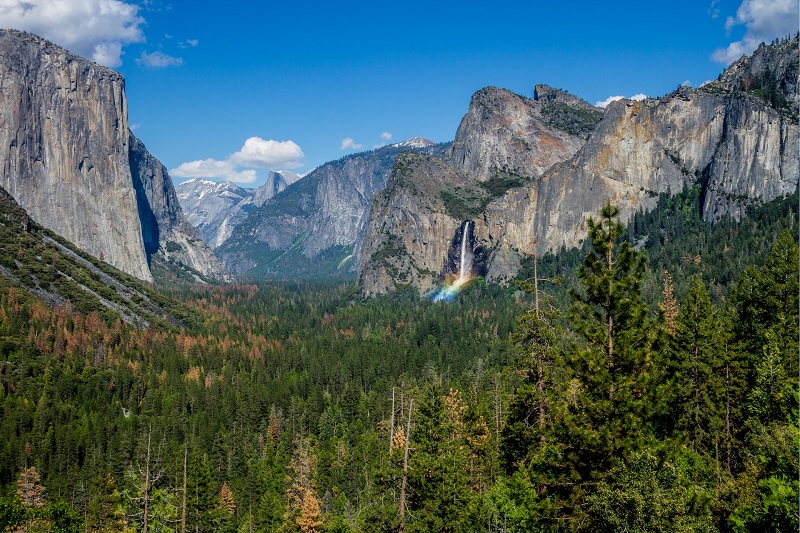 Hiking Trails in Yosemite – 1 Day Yosemite Itinerary
Half Dome Trail
One of the most iconic hikes in Yosemite National Park, the Half Dome Trail, takes you to the summit of the park's most famous landmark. This challenging 16-mile round-trip hike features steep switchbacks, breathtaking views, and the infamous cable route, where hikers use cables to ascend the final 400 feet to the summit. A permit is required for this hike, and it is not recommended for those with a fear of heights or inexperienced hikers.
Mist Trail
The Mist Trail is a popular hike that leads you past two of Yosemite's most impressive waterfalls: Vernal Fall and Nevada Fall. The 3-mile round-trip hike to Vernal Fall or the 7-mile round-trip hike to Nevada Fall features steep inclines and slippery granite steps, but the stunning views are well worth the effort. Be prepared to get wet from the spray of the waterfalls!
Bridalveil Fall Trail
This short and easy 1.2-mile round-trip hike takes you to the base of Bridalveil Fall, one of the first waterfalls you'll see when entering Yosemite Valley. The trail is paved and suitable for all fitness levels, making it an excellent option for families with young children.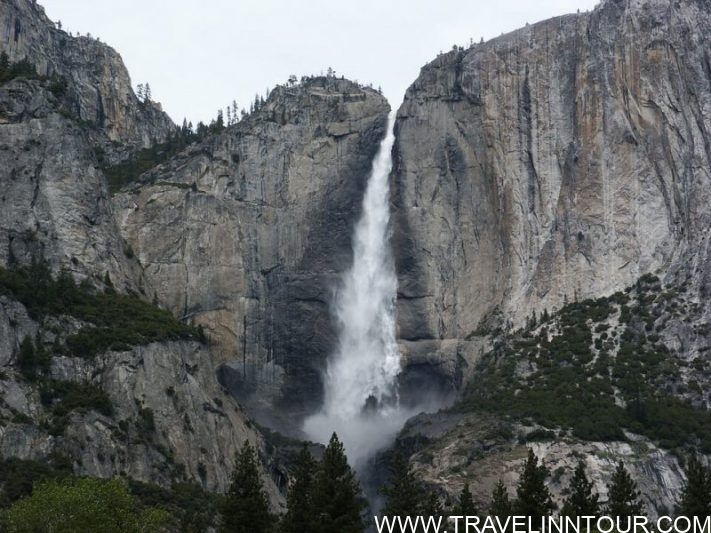 Vernal and Nevada Falls Trail
For those looking to experience both Vernal and Nevada Falls, the Vernal and Nevada Falls Trail is an excellent choice. This 6-8 mile loop hike takes you past both waterfalls, offering beautiful views of Yosemite Valley and the surrounding mountains. The trail is moderately difficult, with some steep inclines and uneven terrain.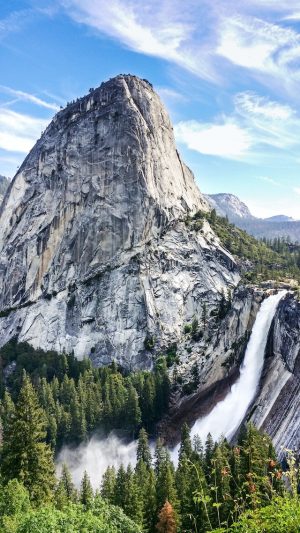 Yosemite Valley Hiking Tour
Explore the beauty of Yosemite Valley with an exciting hiking tour! You'll get to experience the stunning views of El Capitan, Half Dome, and other iconic granite cliffs while trekking along trails that will take you through meadows filled with wildflowers. Along the way, you'll have the chance to see a variety of wildlife, from black bears to mule deer.
The knowledgeable guides on the tour will help you make the most of your experience, teaching you about the history and geology of the area as well as providing tips for safe and enjoyable hikes. With breathtaking views and educational insights, this tour is sure to be an unforgettable adventure.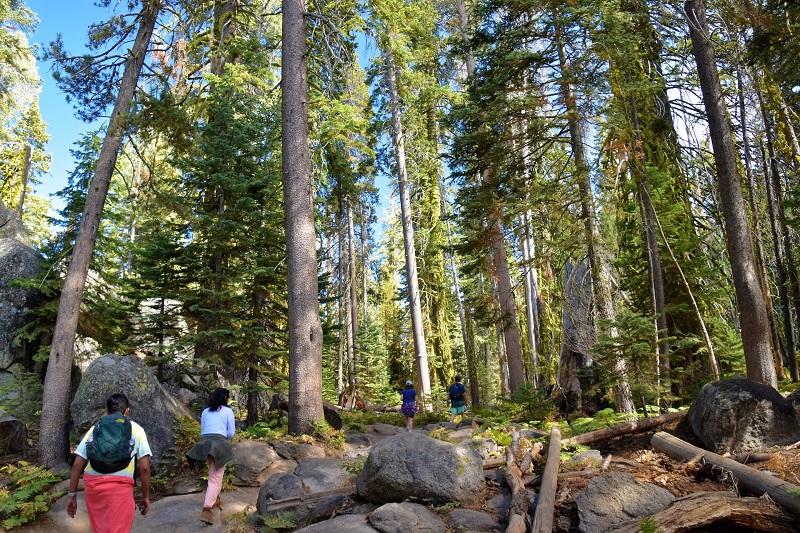 Climbing on El Capitan
Climbing El Capitan is a challenge for even the most experienced climbers. Located in Yosemite National Park in California, this 3, 000-foot granite monolith has long been considered one of the world's most difficult rock climbing challenges.
With routes ranging from relatively easy to incredibly difficult, El Capitan offers something for everyone who is willing to take on the challenge. For those looking to push their limits, El Capitan has hosted some of the most impressive feats of rock climbing in history. Whether you are an experienced climber or just starting out, tackling El Capitan is an unforgettable experience that will test your skills and determination.
Yosemite Camping Trips
Yosemite camping trips offer outdoor enthusiasts the opportunity to explore some of the most breathtaking natural landscapes in the world. From majestic mountains and lush meadows to cascading waterfalls and towering sequoias, these camping trips are sure to provide an unforgettable experience.
With a wide variety of campsites to choose from, visitors can find the perfect spot for their next adventure in Yosemite National Park. Whether it's a family getaway or a solo quest into nature, a camping trip to Yosemite is an experience you won't soon forget.
Tips for Enjoying Your Yosemite 1 Day Itinerary
Best Times to Visit Yosemite National Park
The best time to visit Yosemite National Park depends on your interests and what you'd like to see. Spring and early summer (April to June) offer the best opportunity to view waterfalls at their peak flow. Late summer and early fall (August to October) provide warm temperatures and fewer crowds, making it an ideal time for hiking and exploring the park. Winter (December to February) brings snow, transforming the park into a winter wonderland perfect for skiing, snowshoeing, and ice skating.
What to Bring on Your One-Day in Yosemite
When packing for your day trip to Yosemite, be sure to include the following essentials:
Comfortable hiking shoes or boots
Layered clothing, including a warm jacket and rain gear
A hat and sunglasses for sun protection
A reusable water bottle and snacks
A map of the park and a guidebook
A fully charged camera or smartphone to capture the stunning scenery
Airbnbs in Yosemite National Park
If you decide to extend your stay in Yosemite, there are several Airbnb options available both within and just outside the park boundaries. Staying in an Airbnb allows you to experience the beauty of the park from the comfort of a private home, while also supporting local hosts.
Where Is Curry Village in Yosemite?
For more than a hundred years, Curry Village has served as a snug and cost-effective refuge for visitors to Yosemite National Park, beckoning them to experience the joys of its tented camp.
Curry Village is located in Yosemite National Park, California. It is situated along the Merced River and offers breathtaking views of Half Dome, Glacier Point, and El Capitan. The village itself is home to a variety of lodging options including tent cabins, wood cabins, and motel-style rooms. Visitors can also enjoy activities like guided hikes, rock climbing, horseback riding, fishing, and much more.
With its convenient location and an array of outdoor activities, Curry Village in Yosemite is the perfect destination for a memorable vacation.
Dining Options in Yosemite National Park
Yosemite National Park offers a variety of dining options, from casual cafes to fine dining restaurants. Some popular dining options include:
The Majestic Yosemite Dining Room, located in the historic Majestic Yosemite Hotel, offers fine dining with a seasonal menu featuring locally sourced ingredients.
Yosemite Valley Lodge Food Court provides a casual cafeteria-style dining experience with a wide variety of options, including pizza, burgers, and salads.
Curry Village's dining options include the Curry Village Pizza Patio and Curry Village Pavilion, offering pizza, sandwiches, and more.
For a quick bite or snack, stop by one of the park's many delis, cafes, or grocery stores, such as the Yosemite Valley Village Store or the Wawona General Store.
Final Thoughts on Your 1 Day Yosemite Itinerary
With its breathtaking natural beauty and diverse range of activities, it's no wonder that Yosemite National Park is a bucket-list destination for travelers from around the world. While a single day in Yosemite might not be enough to experience everything the park has to offer, our one-day itinerary will help ensure you make the most of your time in this incredible place.
From the iconic Yosemite Falls and Glacier Point to the exhilarating hikes up Half Dome and the Mist Trail, a day in Yosemite National Park promises unforgettable memories and awe-inspiring views. Gird yourself with your trusty hiking boots, arm yourself with your trusty camera, and brace yourself for a thrilling day of discovery and exploration in one of nature's most stunning marvels!
Remember to always practice Leave No Trace principles while exploring Yosemite and any other natural areas to help preserve these beautiful places for future generations.
Now that you have all the information you need, it's time to embark on your ultimate one-day Yosemite itinerary. Happy exploring!