Sea Of Stars Maldives, Amazing Experience on Vaadhoo Island!
If you are looking for a tropical getaway that has a good chance of seeing the beautiful sea of stars, Vaadhoo Island is the most likely place to go. The island of Vaadhoo is a great choice for an evening or full moon party because it is the only location in the Maldives where the stunning starry ocean meets the dark, tropical night sky.
It's a big challenge to see the entire Sea of Stars. If you really want to do it, you need to follow the weather forecasts and carefully plan your trip.
The beauty of this island is God's creation; God made the ocean light up in a unique display that only happens once in the summer.
During the day, vaadhoo island Maldives is an idyllic tropical paradise. Come at night, though, and the sea is no longer just "blue," it is transformed into something magical, something out of a fairy tale.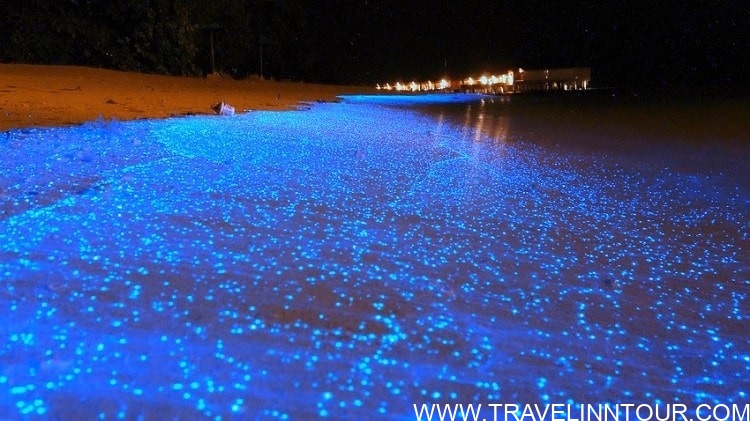 Maldives Sea of Stars Cost
Discover the captivating allure of Vaadhoo with an unforgettable 7-day excursion tailored to your budget. Whether you're a daring lone wanderer seeking thrills, an enamored pair in pursuit of romance, or a tight-knit brood of 4 in search of unforgettable memories, Vaadhoo beckons with a plethora of delights to satiate all tastes and preferences. Come experience the magic that awaits on this mesmerizing island paradise.
For solo travelers, the average cost falls between $2000 to $2500, while couples can expect to indulge between $4,000 to $4500, and families can create priceless memories for $8,000. From pocket-friendly accommodations starting at $100 per night to luxurious vacation rentals costing $250 to $400 per night for the entire home, Vaadhoo caters to all, so don't hesitate to pack your bags – your ultimate paradise awaits!
Come on an enchanting journey to Vaadhoo, where the wondrous possibilities are endless! Traveling from anywhere in the world, you can arrive at Thiruvananthapuram International Airport (TRV) for as little as $955 or as much as $6,000 per person, depending on your preferred level of luxury. Once you're here, we recommend budgeting $100 to $150 per person daily for transportation and dining, depending on the exciting adventures you choose to embark on. So, pack your bags, and let Vaadhoo ignite your senses and create cherished memories that will stay with you for a lifetime!
Sea of Stars in Maldives Will Entice You Beyond Words
What is a "sea of stars"?
The "Sea of Stars" is a beautiful natural phenomenon that occurs during late summer when the waves of the sandy beach turn into a glowing blue color.
Where is Sea Of Stars In Maldives?

Maldives Glowing Beach
Vaadhoo Island In Maldives Is The Place.
Maldives Sea of Stars beach is on Vaadhoo Island which is one of the islands of Raa Atoll, 195 kilometres north of the capital, Male. It is a very small island with a total population of just about 500 people. It has a unique phenomenon called "The Sea of Stars" which has made it very famous around the globe.
There is no direct flight from Malé to Vaadhoo (Island). You can take a flight from Malé Airport to Dhaalu Atoll, and then take the ferry from Dhaalu to Vaadhoo.
Why do Maldives beaches glow at night?
The sea of stars is a phenomenon that is very rare to see. Before you decide to visit the beaches of Vaadhoo Island to seek out the "sea of stars" effect, it might be helpful to learn a few facts about the luminous little creatures that cause this amazing glow.
This is a really cool and unusual phenomenon that happens by a chemical reaction known as bioluminescence. When a microorganism in the water is disturbed by oxygen, the microorganism reacts with the oxygen and emits light. There are many different kinds of these marine microbes. They are called phytoplankton, and there are many different species of it that create bioluminescence. This bioluminescence can be seen in many different places around the world.
Phytoplankton is one of the most common kinds of algae that can cause marine bioluminescence. It's called dinoflagellates. As dinoflagellates float, the movement of water around them sends electrical impulses into their proton-filled compartment, which generates a burst of electricity.
Electrical pulses open the voltage-sensitive proton ion channels into scintillons (the flashing unit inside dinoflagellates), which give the water a flash of blue light. Some types of freshwater plankton are toxic to humans and other animals. That's why it's important to learn about the different kinds of toxins in plankton and how to identify them so you can protect yourself and your family.
When Can You See The Sea Of Stars In The Maldives?
Bioluminescence Beach in Maldives – The sea of stars in the Maldives depends on several aspects, including the general climate and also the growth of bioluminescent plankton. Nobody can forecast when and where the event will certainly occur. Vaadhoo Island in the Ra Atoll is the most popular place. Nevertheless, it can also be seen on the other islands in the Maldives under ideal conditions. Rangali and Mudhdhoo islands are also some of the locations in the Maldives where you can see this significant event.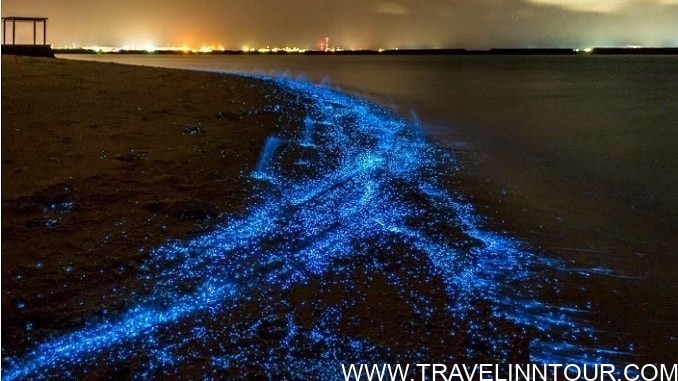 Best Time To See Sea Of Stars Maldives – Vaadhoo Island Vacation
According to residents, the stunning event is a lot more prevalent from late summertime through completion of the year, December and January, the period lasting until April. June to October, however, have the excellent possibility to view the sea of stars. But these are just personal declarations. The exact time, as well as place, will likely differ on various islands.
What Makes The Sea Glow In The Maldives?
The scientific reason behind a sea of ​​stars
Everyone wonders about the secret of the brightness and lighting of this beach and the secret of distinguishing it from the rest of the other beaches, although they are located in the same place and the same climate to a large extent, so we were keen to present to you the scientific reason that scientists have reached regarding this beach:
Scientists have discovered many complex chemical reactions caused by the movement of water and then mixing with oxygen, giving us a delightful blue color that brings you a sense of being in an imaginary world.
Therefore, it cannot be said that the dinoflagellates are the only ones that produce the beautiful lighting of the beach, but rather they are a participant in this fictional scenario with a large number of marine animals and chemicals present in the beach, but we must know that all of this is created by God Almighty. Who gave these islands the unique beauty that so many people find so alluring?
Best Budget Resorts In Maldives

Adaaran Prestige Vadoo, Maldives, This luxury all-inclusive resort in the Maldives is a great choice for travelers looking to have an unforgettable experience. It features a large selection of water activities, plus a fully-equipped gym and other on-site facilities for those who want to stay active. Hotel Adaaran in the Maldives has it all. There's a pool, gym, restaurant, sauna, nightclub and much, much more.
Waldorf Astoria Maldives
If you're looking to spend your holidays on a luxury beach in paradise, then you've come to the right place. Waldorf Astoria Maldives Ithaafushi resort is one of the most beautiful resorts on earth. Located in the South Male Atoll, the Waldorf Astoria Maldives resort covers 2.2 miles of lush greenery and sandy beaches. It's a luxury 5-star resort in the heart of the Indian Ocean and has been voted the best hotel in the Maldives.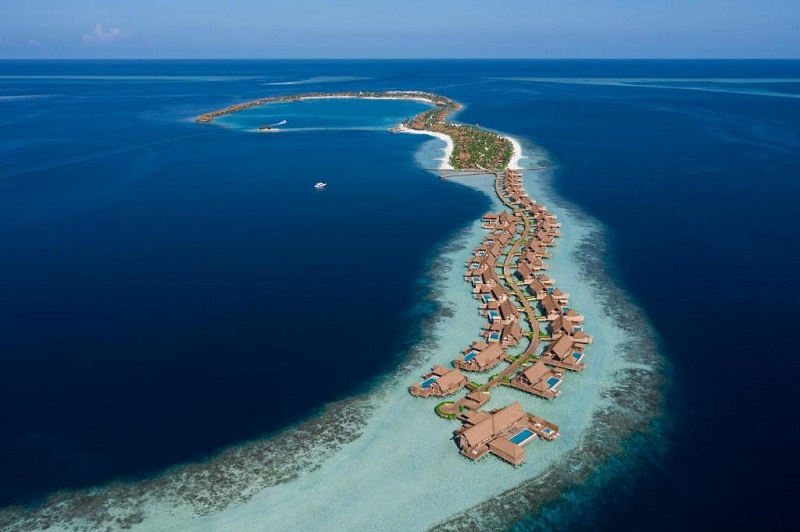 Ayada Maldives
Ayada Maldives resort has an all-inclusive service and is one of the best luxury resorts in the Maldives. The resort offers guests a truly unique experience with their private island. It is the ideal place for honeymooners, couples, family, and friends to relax and unwind. This 5-star luxury resort features ocean view rooms with private verandahs or patios, all of which have breathtaking views of the Indian Ocean.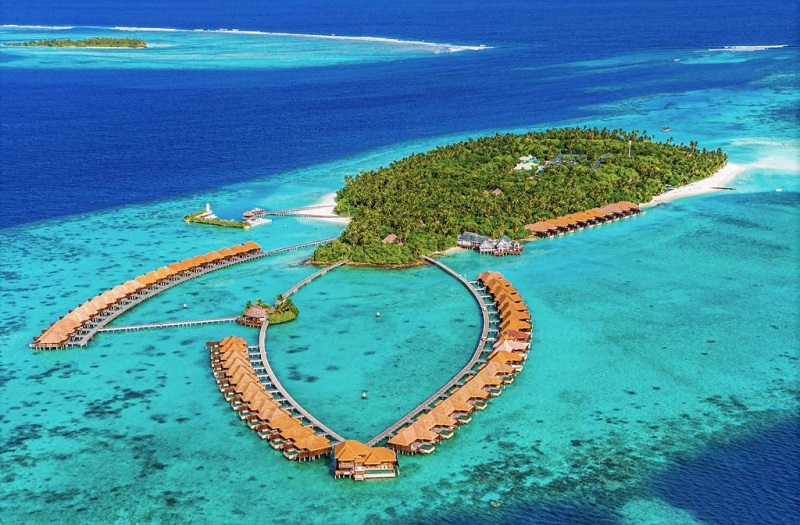 Go on an exciting vacation that will leave you with wonderful memories for a lifetime. Ayada Maldives has many exciting activities for travelers to do at their resort. There are plenty of activities that include nightlife, but also some that involve fishing or going to nearby islands.
There are many excellent choices for dining at Ayada Maldives. You'll find a variety of restaurants, large luxurious villas with private infinity pools. They offer many activities and tours for you to choose from as well.
You can get to Ayada Maldives by flying into Malé and then taking a domestic flight to Kaadedhdhoo. From there, you'll take a speedboat to the resort.
Ayada Maldives is one of the best resorts in the world. It has been ranked among the top 25 resorts worldwide on TripAdvisor and has been awarded "Resort of the Year" by Conde Nast Traveller readers 12 times.
Vaadhoo Island Hotels
Hotel
Stars
Discount
Price before and discount
Select dates
Kurumba Maldives

★★★★★

-12%
685

601

View Hotel
Sala Boutique Hotel

★★★★

-
-
View Hotel
Summer Island Maldives Resort

★★★★

-41%
336

199

View Hotel
Somerset Inn
-
-
View Hotel
Baros Maldives

★★★★★

-30%
791

556

View Hotel
Banyan Tree Vabbinfaru

★★★★★

-6%
689

647

View Hotel
Hotel Octave Maldives

★★★

-
-
View Hotel
Jen Maldives Male by Shangri-La

★★★★

-12%
470

413

View Hotel
Angsana Ihuru

★★★★★

-59%
582

237

View Hotel
Thulhagiri Island Resort & Spa

★★★★

-26%
2 590

1 925

View Hotel
The Somerset Hotel

★★★★

-6%
189

178

View Hotel
Makunudu Island

★★★★

-29%
283

202

View Hotel
OBLU NATURE Helengeli-All-Inclusive with free Transfers

★★★★

-
-
View Hotel
OBLU SELECT Sangeli - Premium All Inclusive with Free Transfers

★★★★★

-16%
5 188

4 356

View Hotel
Eriyadu Island Resort

★★★★

-7%
183

171

View Hotel
Coco Bodu Hithi

★★★★★

-19%
748

605

View Hotel
House Clover Hotel

★★★

-
-
View Hotel
One&Only Reethi Rah

★★★★★

-41%
23 181

13 734

View Hotel
Huvafen Fushi

★★★★★

-
-
View Hotel
Surfview Hotel Raalhugandu
-
-
View Hotel
Villingili Resort Island
The island resort of Villingili is the first thing that tourists think of, so a visit does not take place without hearing by going to the resort of Villingili Island. As it is considered one of the most beautiful and wonderful resorts in the Maldives. The visitor can enjoy diving and swim in its pure and clear waters. And if you are not good at diving, you can go to the existing diving school
Villingili island resort, through which you can learn diving and enjoy it in the resort. You can also watch golfers close and take many remembering photos to commemorate this memory.
Velassaru Resort Maldives
The Velassaru Maldives is a luxury resort located on the island of Velassaru in the Maldives, a group of islands in the Indian Ocean. This is the first resort in the Maldives which has become the home to an amazing community of people from all over the world who wish to live in a tropical paradise, away from the stress of city life. Velassaru Maldives Resort is only a 25-minute boat ride from Male, the capital city of the Maldives.
Classic treatments that help you revive and soothe can be found at relaxing spa escapes. Natural ingredients and expert touches are what make authentic bliss.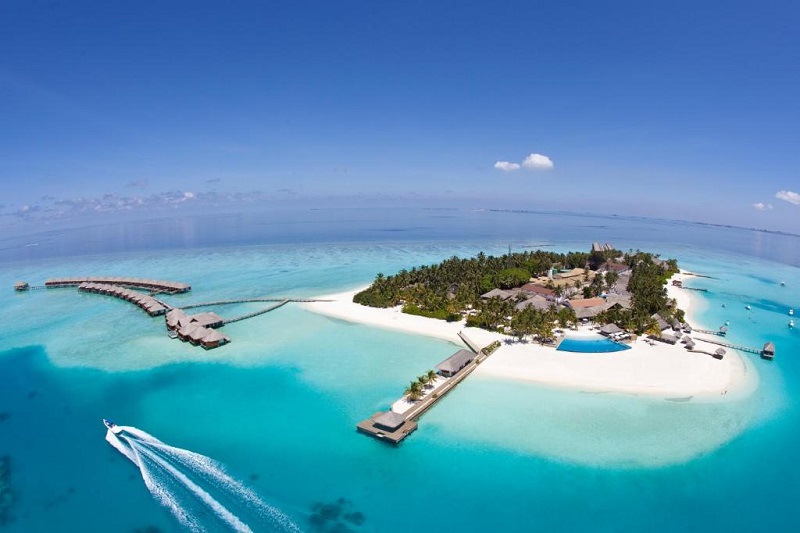 2 innovative bars and more than 5 dining venues can be found at Velassaru Maldives. Each has its own style from the elegant beachfront setting to the romantic candlelit restaurant, the cozy alfresco bar to the contemporary fresh seafood.
There are many different water sports available here. You can go diving, snorkeling, sailing, and surfing. A place where time stands still. A sanctuary of tranquility and peace.
Best Time To Visit Maldives
Due to its proximity to the equator, the Maldives is usually sunny throughout the year, but these islands, like most countries near the Indian Ocean, experience fluctuating temperatures with the length of rain, especially between April and October. As a result, the best time of year to visit the Maldives is during the dry season, which runs from January to April.
And travel and tourism experts recommend that you book in advance during this period (from January to April), as the tourist crowds increase at this time significantly. Either if you are looking to save money when traveling to the Maldives, the period from May to October is best for you, as accommodation costs during this season are usually lower.
The country experiences a hot and humid climate throughout the year, with temperatures ranging between 29 and 32 degrees Celsius. The sun is almost always shining, so loose-fitting clothing is a "must" for tourists who visit the place.
The best activities when visiting the Maldives
Snorkeling and exploring the wonderful coral reefs between the beautiful islands.

Participate in water sports such as windsurfing and water skiing.

Rent a boat and go on a fishing trip when tourism in the Maldives.

Explore Addu Atoll, the southernmost city in the Maldives and its second-largest city.

Walk around the National Museum.

Take a stroll to Sultan Park, which is located on the grounds of a former palace.

Eat delicious traditional Maldivian food.
The Beautiful Islands In The Maldives To Visit
Male island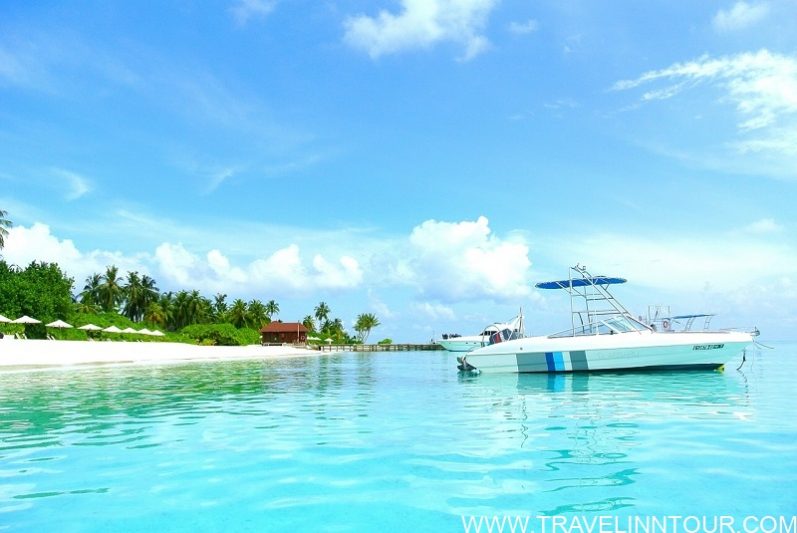 Male Island is considered one of the most beautiful tourist destinations and cities in the Maldives. No wonder, it is the capital and the island that gives visitors a lot of exciting recreational opportunities, from shopping to swimming and enjoying various water sports .. Learn more about Male from here.
Faafu Atoll
Between various opportunities for diving, practicing various water sports, and learning about local traditions, Faafu Atoll gives you the ingredients for a happy holiday in the Maldives, so do not miss traveling there.
Lhaviyani Atoll
With a group of the most beautiful diving sites in the world as well as family resorts with distinction, dear traveler Laviani Island offers you a lot of entertainment methods that are complemented by comfortable services and breathtaking natural scenes, and here too you can get to know this charming island.
Baa Atoll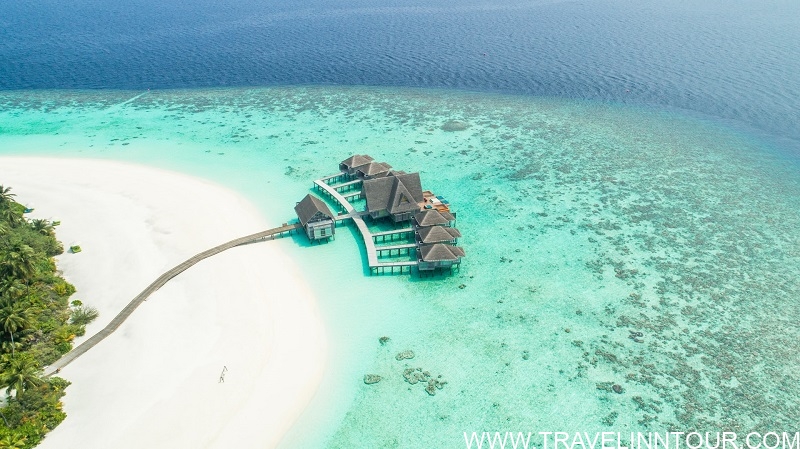 Baa Atoll takes you to an enchanting world of crystal waters, pink horizons, and happy dreams for an unforgettable vacation in the Maldives, not to mention luxury resorts and amazing recreational opportunities, especially diving on this dreamy island.
We hope that we have given useful sea of stars maldives tour information to those who want to visit it. Do not hesitate to comment below and share your thoughts, questions, concerns, etc.
Save it On Pinterest.