What fun things to do in Dubai? Dubai is a flourishing metropolis that has in its stable world-class destinations and attractions. The best part about all these attractions and destinations is the sheer ease in accessibility.
Though the City of Dubai is stretched to some 25 miles at the coastline, traveling from one part to the other is not that difficult. Moreover, with transportation available in ample amount and that too at affordable rates, traveling around the city is nothing less than sheer fun. Discover the best places to visit and things to do in Dubai.
An outing with family is something that comes as a favorite experience for people from all walks of life. And if the destination is totally an unexplored one, the excitement just doubles.
If a trip to Dubai is your desired plan this summer, check the below-given details to include on your list for exciting things to do. Also, Read Boston Travel Guide
Top 10 Things To Do In Dubai With Your Family
#1. Dubai Museum
The Dubai Museum is the most important museums in this city. It is housed within the Al Fahidi Fort. It was inaugurated in 1971 in order to uphold the excellent history of the city.
The museum is utterly famous and has acquired an annual visitor count of as high as a million visitors. Prior to the discovery of oil and subsequent development, life in Dubai was very different. You could catch a glance of that old lifestyle when you set your foot at the museum. There are also galleries which are definitely worth a visit.
#2. Al Fahidi Fort
This age-old fort in Dubai is an essential relic of Dubai's history. It speaks at length about the bygone days of war and victory. The fort is surrounded by towers on all of its sides, except for one.
The primary building materials comprised of mortar and coral rock. The flags of Dubai and UAE flutter on the eastern wall guarded by canyons. Musical instruments are also displayed in the fort. There is also a summer house known as the Arish. The house was engineered in a way that it neutralized the extreme heat, owing to the wind tower design.
#3. Dubai Desert Safari
Now, Desert Safari in Dubai isn't merely driving amidst the dunes. It aims to give you the best sightseeing experience, coupled with top hospitality and additional perks like expert guides, good food dance et al.
There are many types of desert safaris that are offered in Dubai. These are all in sync with the latest trends and choice. Bedouin Camping in the desert is perhaps the most sought after experiences offered in Desert Safari Dubai. Riding amidst the dunes, photography, camel rides, barbecue, desert dance; all promise to accelerate the adrenaline gush!
A divine treat in the never-ending sands aiming to line with the sky will make you skip a beat. And while you would be sinking slowly in this mesmerizing ambiance, you would find yourself at the finest Arabic lifestyle experience. Cushioned on low lying seats, you would be entertained by the traditional Arabic dancers, and the aromatic henna and sisha of the land would leave you intoxicated and wanting for more.
#4. Dhow Cruise Marina
One scintillating experience that can carve out romance even from not so romantic folks is a cruise experience on Dubai's Dhow Cruise Marina. If cruising along the Dubai creek on the traditional dhow wasn't enough to satiate your sense of adventure, you got to taste the night with an aromatic Dubai drink, Tanura dance, and a Buffet dinner on the cruise.
A unique and trusted way to enjoy the beauty of Dubai is capitalized by marina sightseeing on dhow cruise.
#5. Dubai Desert Resort (Bab Al Shams)
A taste of royalty embraces you during your stay here at the Dubai resort which lies amidst the sand dunes of Dubai. The suites are designed absolutely to rejuvenate the guests. The panoramic view appeases the eyes to the maximum. The architecture is inspired by Arabic fort designs. The restaurants and spa offer you a hearty pampering stay.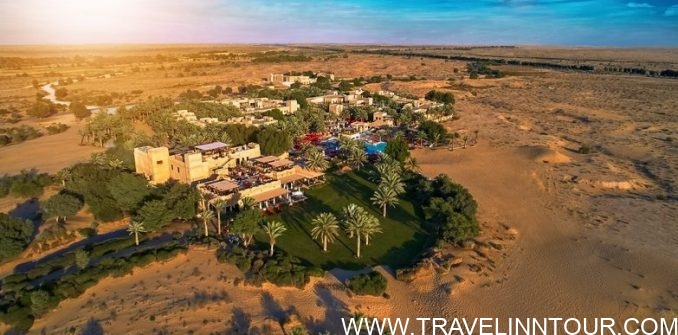 So while in Dubai, a visit and stay at the Dubai Desert Resort is a must on your travel destinations to visit list for Dubai.
#6. Dubai Marina
Dubai city is known for artificial wonders. Dubai Marina is also one of the many artificial wonders created in Dubai. It is an artificial canal city along the Persian Gulf shore. It is a wholly man-made and is considered the largest man-made marinas.
Though the Dubai Marina ranks amongst the newest attractions in this city, its characteristic look that is dramatized with skylines of residential apartments and skyscrapers will leave you astonished. Especially, if you view this skyline at night, the illuminated view will amaze you completely. Though development work is still on at this place, travelers will definitely find lots to enjoy and explore.
#7. Ski Dubai
Skiing is fun. And when skiing in Dubai, the fun intensifies. The city has an indoor ski resort that offers an experience close to that of the natural skiing areas. The technology that supports this is unique and modern.
#8. Dubai Mall
Known as the paradise for the shoppers, Dubai Mall guarantees something for every die-hard shopaholic. It's one amongst the largest shopping malls in the world. All that one aspires to own, all could be found here under one roof in Dubai Mall.
#9. Dubai Creek
The Dubai Creek bifurcated Dubai into two sections, namely, Deira and Bur Dubai. The creek was a major spot for harboring dhows, coming from long distant countries. It was the hub for export and trade activities. One key sector that developed here is the pearl industry.
#10. Kite Beach
If activities and sports excite you, visit the Kite Beach where you can enjoy surfing and other sports simply by renting equipment and dedicating one afternoon from your Dubai tour travel list. The emerald waters will do wonders for you.
The City of Dubai is still evolving, unlike popular conception that the city already has lots to offer. The city is still in the construction mode with many more amazing attractions planned for avid travelers. However, currently, if you plan a trip to this wonderful city, then keeping in mind the above details, you could easily spend a gala time with your family in Dubai, enjoying every bit of your stay.