Did you know that festival camping was born at Woodstock in 1969? Things have tamed down a lot since then, but festival camping is still an intense experience and much different than camping in the wilderness.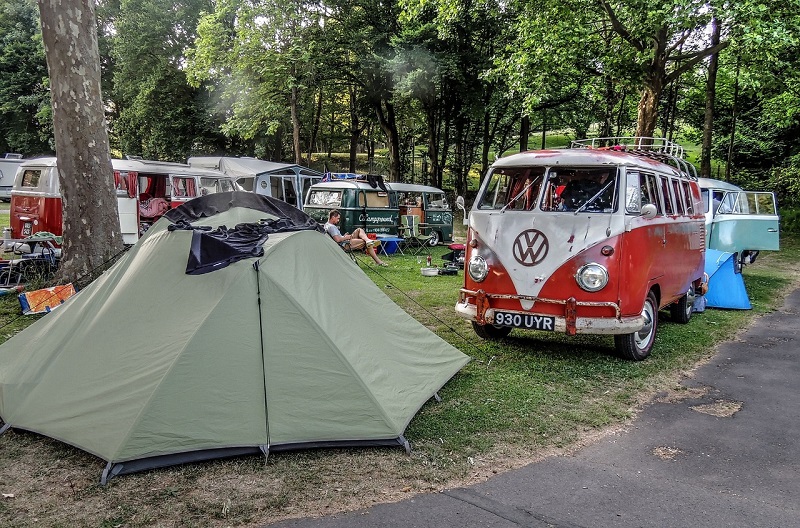 First of all, if you're planning on spending time with friends and family while you attend a festival, it makes sense to choose a location where everyone can easily meet up. And of course, you'll want somewhere where there are plenty of food options available, so you won't miss out on anything.
From pitching your tent to camping essentials, let these 9 tips for beginners help you get the most out of festival camping.
Tips to Keep in Mind Before Going to Festival Camping
1: Do Your Research
Festivals can sell out well in advance, so be sure to purchase your tickets early. Once you've procured your ticket, check the festival's website for information about camping, parking, and other logistics. Can you park at your camping spot or is there a separate parking lot? If so, you'll have to plan how to get all your gear to the campsite. That means taking a large backpack, rolling cooler, or wheeled cart.
Other questions to answer include where to pick up wristbands and whether or not cash machines will be available. Find out what is allowed and what isn't such as glass bottles or your own stash of alcoholic beverages. Last but not least, check out the band or events schedule so you can plan for your favorite acts.
2: Check the Campsite Rules
Check the rules before you go, so you know what's allowed. Festivals are often very specific about what you can and can't bring onto their sites, so be sure to check the rules ahead of time to make sure you don't break any of them.
3: Arrive Early at the Campsite
If you want a good camping spot arrive early. The spot you pick will be your home for the night and the area you want to stay closest to. You don't want to arrive late and be forced to squeeze your tent into any available space.
4: Take the Right Tent
Use the Goldilocks principle when choosing your tent. One that's too small will be cramped with no room to dress or provide a space to chill out with friends.
The "just right" tent for festival camping is a 2-3 man backpacking tent or a lightweight family-friendly tent. One that's big and heavy means lugging it across a field to pitch your tent.
The same principle applies to the quality of the tent. If it's poorly constructed and cheap, you may get cold and wet. An expensive tent may get wrecked from festival madness.
The bottom line is to find one that's comfortable and priced right but able to withstand a rough camping trip.
A field of canvas tents can all look the same, so once you get set up, mark your tent with something unique like a flag or battery-powered lights.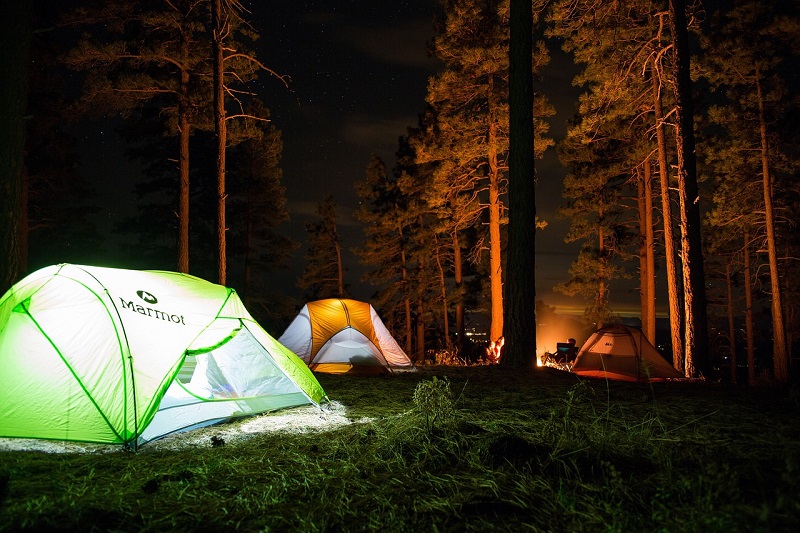 5: Pitch Your Tent in the Right Spot
Arrive early enough to find a good spot to pitch your tent. Consider the spot's proximity to stages, bathrooms, and concession stands. Think about how much privacy you want. Try to get close enough for convenience, but not crowded around other campers. Check ahead to see if VIP areas or family zones are available.
If the weather is hot and sunny, try to find a shady spot. And while it's nice to be near the porta potties, you may have to put up with bad odors after a day or two.
Once you've decided on a spot, set up camp first rather than wandering around. Secure your tent and stake it down well even if the weather is pleasant. Weather can change quickly.
If your tent is new and you'll be using it for the first time, practice setting it up before you go.
6: Pack for a Good Night's Sleep
You may not get much sleep while festival camping, but if you come prepared to get the best sleep possible, it will keep you from feeling out of sorts the next day.
Bring along things to help you get comfortable like pillows, blankets, and a good quality mattress. In warm weather, travel sheets and a lightweight sleeping bag may be adequate. Choose a camping mattress that folds up small, is lightweight to carry, and is easy to inflate and deflate.
If your tent has no blackout fabric, a sleeping mask will keep the morning sun from waking you up too early. And earplugs are a must for music festivals and large, rowdy crowds.
7: Plan for Food and Water
You can't always count on every festival to have concessions and food trucks. And even if they do, they may not be open whenever you get hungry. But not all festivals allow cooking at campsites. If they do, portable barbecues are perfect for festival camping.
You can also prepare simple meals like noodles and soup in an all-in-one cooker. It's also ideal for fixing a morning cup of coffee.
Keep food fresh by packing it in a soft-sided cooler that's collapsable and easy to carry. Chill it down with ice first, and pack items while they are cold.
Plenty of water is essential for staying hydrated at an outdoor festival. Consider taking along a collapsible water carrier that holds from 5 to 15 liters. Then fill an insulated water bottle so you'll have water to sip on the go.
8: Pack the Right Clothing and Accessories
You'll want to look your best at festivals. After all, you may meet Mr. or Ms. Right. But you'll also want to be comfortable. Most festivals are planned for the warmer months, so shorts and t-shirts will suffice. However, you'll probably be walking a lot, almost as much as while on a hike. Choose shoes with that in mind, and save the flip-flops for lollygagging around the campsite. Pack waterproof, lightweight hiking boots for walking around the festival.
You can't always count on perfect weather, so pack a rain jacket. For hot weather, pack a sun-protective shirt and wide-brimmed hat. And don't forget the sunscreen!
Other essentials to pack include plastic bags for wet clothing and a zip-lock bag to protect your phone and wallet.
9: Stay Safe
You're more than likely to be around like-minded people at a festival, and criminals don't normally hang out at them. Still, it pays to use common sense. Save the heavy drinking for close by your campsite and tent. Imbibe lightly while out and about.
Have a designated meeting spot if you get separated from your group, and stay aware of your surroundings.
Many festival organizers provide first aid stations, but it's wise to carry a first aid kit with you.
It's not always a good idea to lock your tent. It makes a statement that valuables are inside, and tents can easily be ripped with a knife. It's best to keep your valuables on you or locked in the car.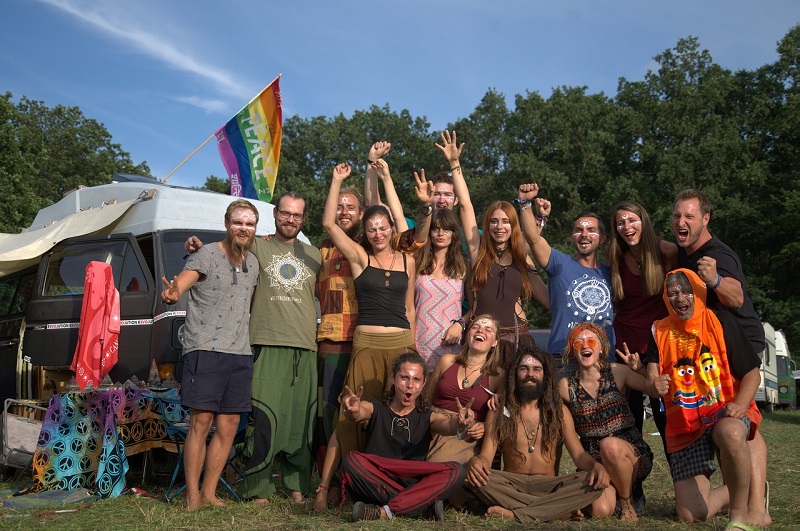 Conclusion
Festival camping is a great way to meet new people, gain inspiration and learn about nature. However, if you're new to camping, you should read our 9 tips for beginners to make sure you're prepared for your next adventure. We hope you enjoy these tips and that they help you prepare for your next camping experience.