Overview of Adventurous Things to Do in Aruba
Are you seeking adventurous things to do in Aruba that will get your pulse pounding? Aruba has everything you need and more! This Caribbean island is not only known for its beautiful beaches and perfect weather but also for the many adventurous activities that it offers. For starters, explore the beautiful beaches with windsurfing, sailing, kayaking, and snorkeling.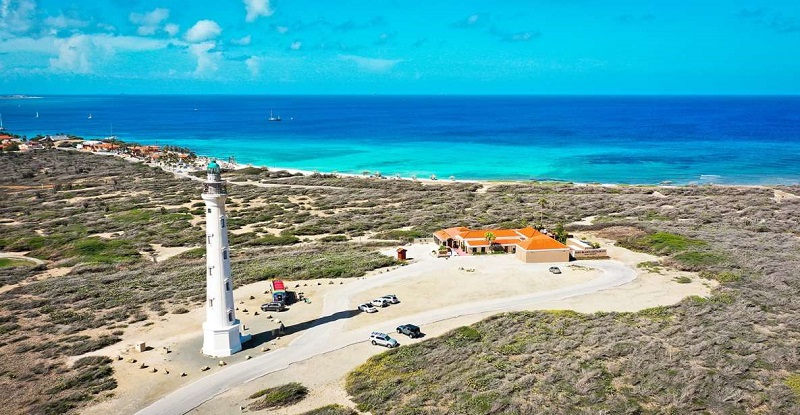 Take a jeep safari through Arikok National Park (recommended for outdoor activities), where you can spot wild goats, iguanas, and many more local wildlife species. If you're feeling daring, take a skydiving tour and experience the stunning views of Aruba from above. The island's crystal-clear waters and vibrant coral reefs make it an ideal destination for scuba diving and snorkeling. If you're looking to relax, lounge on the white sandy beaches and enjoy the gentle breeze.
Don't forget to sample the local cuisine, which features a fusion of Caribbean, Latin American, and Dutch flavors. With its year-round warm weather and friendly locals, Aruba is the perfect getaway for anyone seeking adventure, relaxation, and rich cultural experiences.
Off-Road Natural Pool Safari – Aruba Off-Road Adventure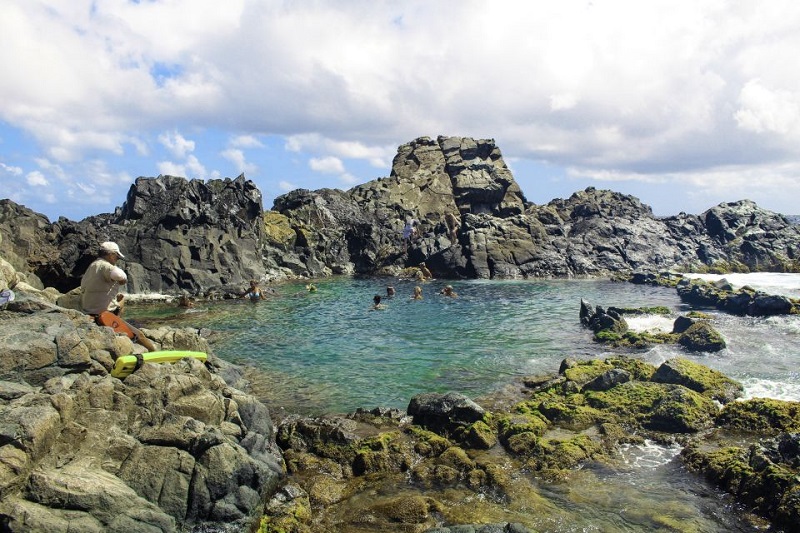 Experience the untouched beauty of Aruba on an off-road natural pool safari! A knowledgeable guide will take you on a thrilling journey deep into the island's interior, where hidden gems await. Witness the stunning scenery and discover secret lagoons and secluded pools that can only be reached by traversing rugged terrain. Along the way, you'll experience the unique flora and fauna of the area, including exotic birds, iguanas, and colorful sea life. Enjoy this unforgettable adventure as you make your way to some of the most beautiful spots in Aruba! You'll also learn about the island's rich history and culture as your guide shares fascinating stories of the local people and their way of life.
The natural pool safari is perfect for adventure seekers and nature lovers who want to explore Aruba beyond its pristine beaches. You'll have the opportunity to swim in crystal-clear waters, surrounded by breathtaking views of the rugged coastline. And at the end of your journey, you'll be treated to a delicious local lunch, complete with refreshing drinks and traditional Aruban dishes. So pack your sense of adventure and get ready for an experience you'll never forget!
Water Sports
Aruba is one of the best destinations for water sports enthusiasts, with a variety of activities to choose from. Whether you're looking for an adrenaline-pumping adventure or just a relaxing day on the water, Aruba has something for everyone. There are plenty of things to do in Aruba when it comes to water sports.
One of the most popular activities in Aruba is kiteboarding. With strong trade winds and crystal clear waters, this Caribbean island is the perfect place to learn or master your kiteboarding skills. The calm waters near Palm Beach make it an ideal location for beginners while more experienced riders can head over to Boca Grandi where they'll find challenging waves and wind conditions. Another must-try activity on your list should be snorkeling or diving at some of Aruba's beautiful coral reefs.
Submarine Expedition – Adventurous Things to Do in Aruba
Experience the depths of Aruba in a unique way with a submarine expedition! This once-in-a-lifetime adventure will take you to the depths of the Caribbean Sea and allow you to explore all that lies beneath. You'll get to witness an array of vibrant sea creatures, including rays, barracudas, eels, and even sharks.
The trained professionals on your tour will explain the fascinating history of the area and provide you with fun facts about the local marine life. Whether you're looking for a thrilling adventure or an educational experience, this trip is sure to leave you with lasting memories. So don't wait – book today and embark on an unforgettable journey into the depths of Aruba!
Windsurfing in Aruba – Feel the Adrenaline Rush
With its steady winds and warm waters, it's no wonder that windsurfing is one of the most popular activities on the island.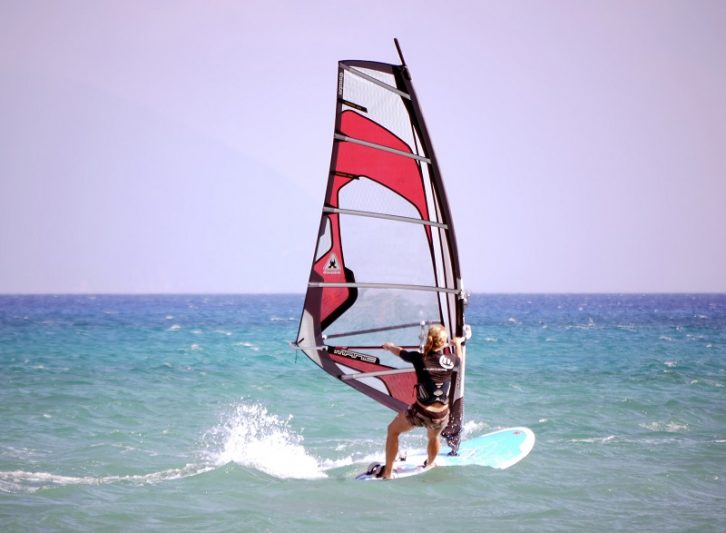 Windsurfing is a unique combination of surfing and sailing, where you stand on a board and ride the waves using a sail attached to a mast. It requires balance, coordination, and a sense of adventure. And with Aruba's trade winds blowing year-round, you can experience the thrill of windsurfing any time of the year.
Whether you're a beginner or an experienced windsurfer, there are plenty of spots on the island to suit your skill level. Here are a few of the best places to go windsurfing in Aruba:
1. Fisherman's Huts: Located on the northwest coast of the island, Fisherman's Huts is one of the most popular spots for windsurfing in Aruba. With its shallow waters and consistent winds, it's a great place for beginners to learn the basics of windsurfing. And for more experienced windsurfers, the waves can provide a fun challenge.
2. Boca Grandi: If you're looking for a more advanced windsurfing experience, head to Boca Grandi on the southeast coast of the island. The strong winds and big waves make it a popular spot for experienced windsurfers, but it's not recommended for beginners.
No matter where you choose to go windsurfing in Aruba, you're sure to feel the adrenaline rush as you ride the waves and feel the wind in your sails. So add windsurfing to your Aruba bucket list and experience the thrill of this exciting water sport in one of the most beautiful destinations in the world.
Snorkeling in Aruba – Discover the Magical Underwater World
One of the best things to do in Aruba is snorkeling, where you can discover the magical underwater world filled with colorful coral reefs and tropical fish. In this blog section, we will discuss the best beaches in Aruba for snorkeling, so get ready to add some adventure to your Aruba bucket list!
Boca Catalina is a must-visit spot for snorkelers and swimmers looking for peaceful and quiet swims. The clear and shallow waters at Boca Catalina make it a dream come true for snorkelers. Here, you can explore the colorful coral reefs and swim with a variety of tropical fish.
De Palm Island is another popular snorkeling destination in Aruba. The island's protected lagoon offers calm waters, making it perfect for novice snorkelers. You can explore the vibrant marine life and underwater scenery or relax on the white sandy beach.
Arashi Beach is a great snorkeling spot for those who want to see sea creatures up close. This beach is home to a wide variety of marine life, including colorful fishes, sea turtles, and octopuses. The water is clear and shallow, making it an ideal spot for snorkeling.
Bachelor's Beach is a hidden gem in Aruba, where you can enjoy snorkeling in peace. It is a secluded beach with calm waters, which makes it perfect for beginners. You can explore the colorful coral reefs and swim with various marine animals.
Baby Beach is another popular beach in Aruba, known for its shallow and calm waters. The beach is protected by a natural breakwater, creating a lagoon that is perfect for snorkeling. You can explore the vibrant coral reefs and swim with a variety of fishes and other marine animals.
While snorkeling, you will be amazed by the variety of tropical fish and marine life that inhabit the waters of Aruba. Though there is not much live coral reef, the colorful tropical fish are fun to see on their own. Almost every Aruba snorkeling site offers the ability to swim with many fish, often in 12 feet of water or less.
Scuba Diving in Aruba – Adventurous Things to Do in Aruba
With visibility up to 140ft, divers have the chance to explore the mysterious depths of Aruba's waters and discover rare and exotic sea creatures.
Are you an adventurous explorer looking for a unique experience to add to your Aruba must-do list? Then scuba diving is definitely for you! But before you take the plunge, here are some essential tips to know.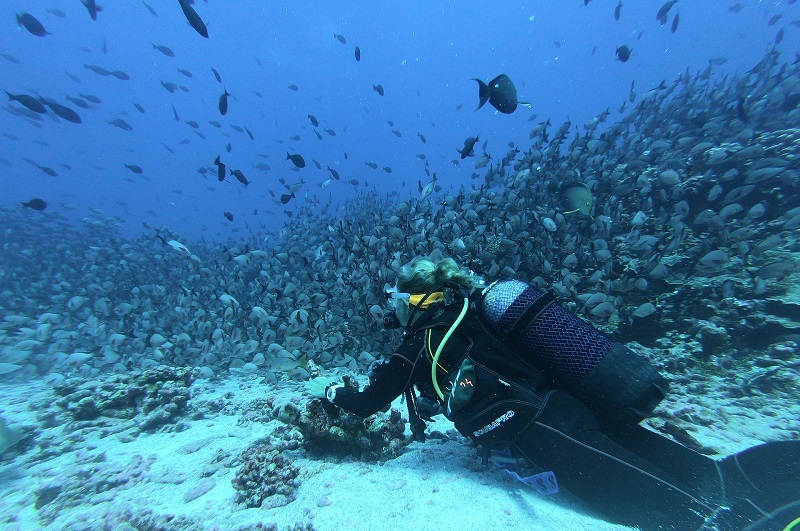 Getting Certified
Before you can dive in Aruba, you need to get certified. There are several scuba diving centers on the island that offer courses for beginners as well as advanced divers. The certification process usually takes a few days and includes both theory and practical training. You'll learn about the equipment, safety procedures, and diving techniques. Once you're certified, you'll be able to explore the underwater world with confidence.
Where to Dive
Aruba has several dive sites that cater to all levels of experience. Some of the most popular ones include:
• Antilla Wreck – This is one of the largest shipwrecks in the Caribbean and home to a variety of marine life.
• Arashi Reef – A shallow reef that's perfect for beginners and snorkelers.
• Pedernales Wreck – This WWII shipwreck is located at a depth of 25m and is home to schools of fish and other sea creatures.
What to Expect
When you're ready to dive, you'll board a boat with your dive group and head out to the dive site. Once you're in the water, you'll descend slowly and start exploring. You'll see colorful tropical fish, coral formations, and possibly even sea turtles and barracudas. Keep in mind that scuba diving requires physical exertion, and you need to be in good health to participate.
Safety Tips
Scuba diving is a safe activity as long as you follow the rules and guidelines. Here are some safety tips to keep in mind:
• Always dive with a buddy and stay close to each other.
• Check your equipment before diving and make sure everything is working properly.
• Never hold your breath while diving – always breathe normally.
• Don't touch or disturb marine life.
• Follow the dive plan and don't exceed your limits.
Zip-Lining in Aruba – Adventurous Things to Do in Aruba
Imagine soaring through the air at high speeds while taking in breathtaking views of the island's rugged terrain and turquoise waters. It's an experience that's sure to get your heart pumping and leave you with unforgettable memories.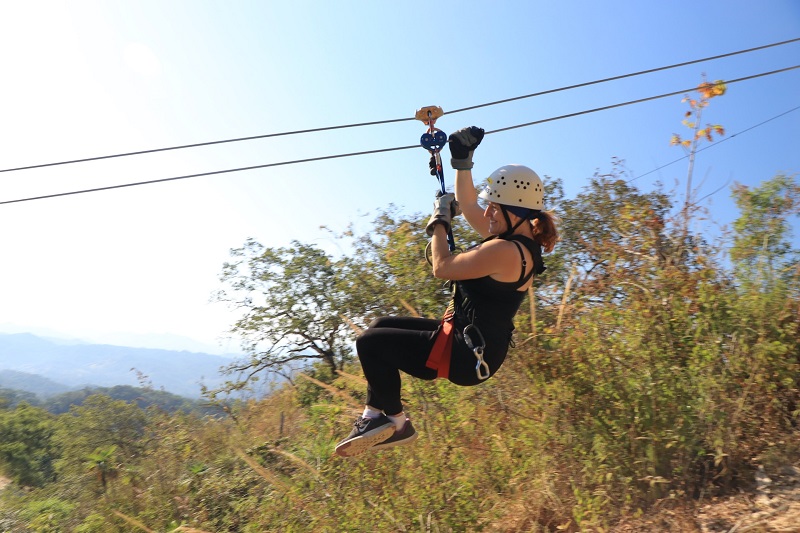 Before you can take to the skies, you'll need to make sure you're properly equipped. Wear comfortable clothing that allows for freedom of movement and closed-toe shoes with a good grip. You'll also be provided with a harness and helmet, which must be worn at all times.
Once you're geared up, you'll be led to the starting point of the course. The zip-line course consists of a series of cables that are suspended between platforms high above the ground. You'll begin by climbing a ladder or stairs to the first platform, where you'll be attached to the cable by your harness. From there, you'll launch yourself off the platform and soar through the air to the next platform. This process is repeated until you complete the course.
One of the most exhilarating aspects of zip-lining in Aruba is the stunning scenery you'll encounter along the way. As you glide through the air, you'll be treated to panoramic views of the island's rugged landscape, pristine beaches, and crystal-clear waters. It's a unique perspective that you won't find anywhere else.
While zip-lining is an exciting adventure, safety should always be your top priority. Make sure to follow all instructions from your guide and stay alert throughout the entire course. Always wear your harness and helmet, and never attempt any stunts or tricks.
Cliff Jumping – Adventurous Things to Do in Aruba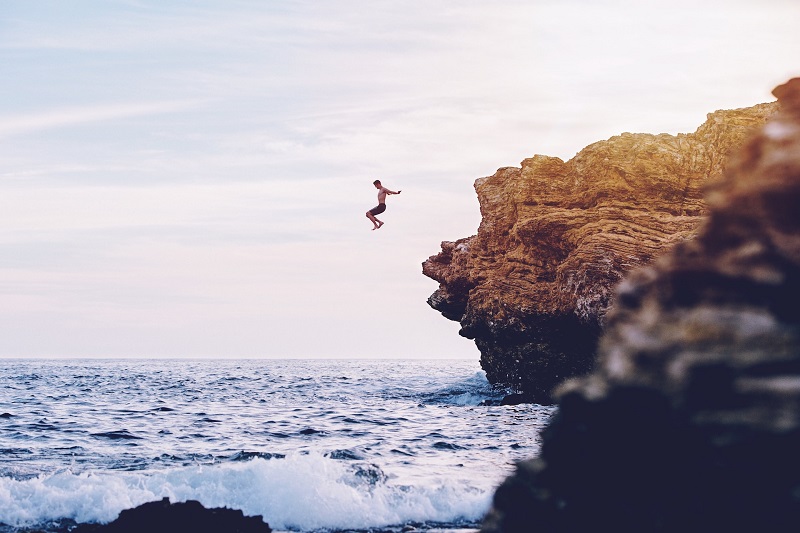 For the ultimate adrenaline rush, try cliff jumping. Aruba has several spots to jump off cliffs into the crystal-clear water below. It's not for the faint of heart, but it's an experience you won't forget. One of the most popular spots for cliff jumping in Aruba is the Natural Pool. This secluded pool is surrounded by rocks and offers a serene atmosphere for swimmers, but it's also a prime location for thrill-seekers to take the plunge.
The Natural Pool is only accessible by foot, horseback, or off-road vehicle, which only adds to its allure. Another spot for cliff jumping is at Blackstone Beach, where you can jump from the top of a 30-foot cliff into the ocean. Just be sure to check for any potential hazards before you take the leap!
Trekking in Arikok National Park – Uncover the Secrets of the Island
One of the top must-do adventures in Aruba is trekking in Arikok National Park. If you want an experience that will stay with you forever, then a trek through Arikok National Park is a must! Unlock the secrets of the island with these tips and be prepared to be amazed.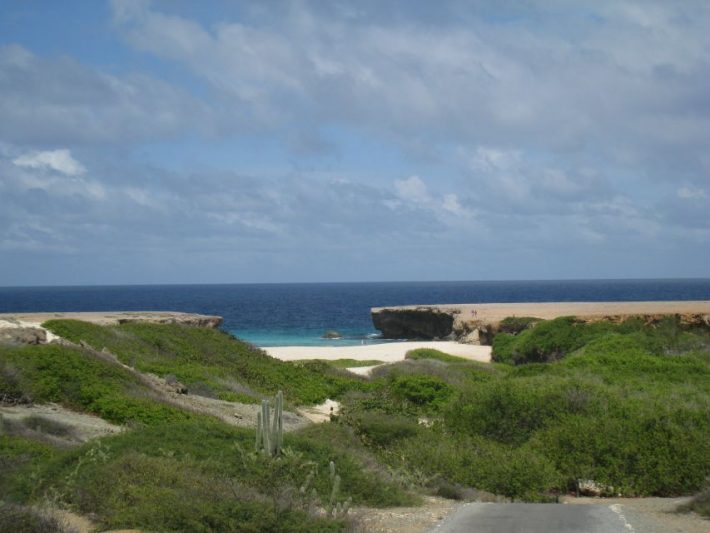 Arikok National Park has several trails that cater to different skill levels. If you're a beginner, start with the easy trails like the Miralamar trail or the Cunucu Arikok trail. These trails are shorter and less challenging but still offer breathtaking views of the park's landscapes. If you're an experienced hiker, try challenging trails like the Jamanota trail or the Masiduri trail. These trails are longer and more strenuous and offer a more immersive experience of the park's diverse ecosystems.
Trekking in Arikok National Park can be strenuous, so it's important to wear comfortable clothing and footwear. Wear lightweight, breathable clothing that allows you to move freely. Make sure your footwear is sturdy and provides good traction, as some trails can be rocky and slippery.
It's important to stay hydrated while trekking in Arikok National Park, so be sure to bring plenty of water. Depending on the length of your hike, you may also want to bring snacks like energy bars or fruit to keep you fueled.
Arikok National Park is home to some of the most stunning natural scenery in Aruba. Take your time and enjoy the views as you trek through the park. Stop and take photos, or simply take a moment to appreciate the beauty of your surroundings.
Paragliding in Aruba – Adventurous Things to Do in Aruba
Paragliding is a thrilling activity that involves gliding through the air while suspended beneath a parachute-like wing. It is a popular activity among adrenaline junkies who love to push their limits and experience new things. Paragliding in Aruba offers a unique opportunity to soar above the island and take in the breathtaking views from above.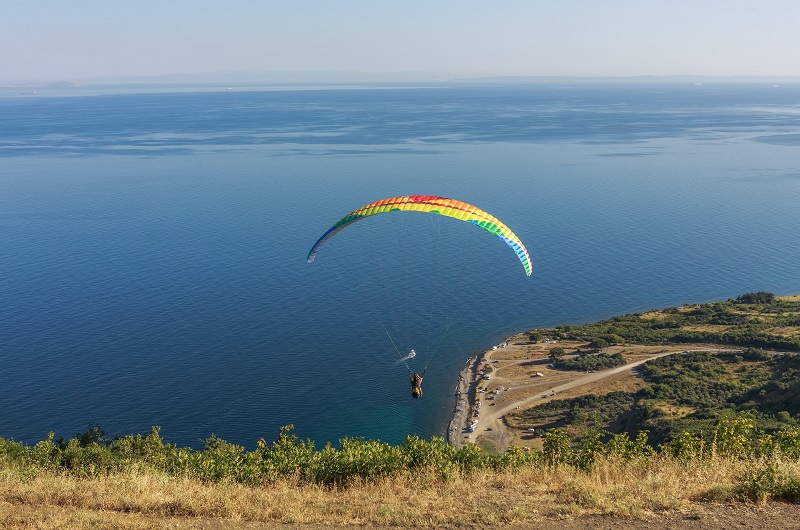 The best time to go paragliding in Aruba is during the morning or early evening when the winds are calmer. You'll start your adventure by meeting your experienced instructor at the designated spot. They'll provide you with all the necessary equipment, including a harness, helmet, and wing.
Once you're strapped into the harness, your instructor will give you a brief on how to control the wing, take off, and land. Then, you'll take a short walk up a hill to get to the launch site. As you prepare to take off, you might feel a little nervous, but don't worry, your instructor will be there to guide you every step of the way.
Once you're in the air, you'll feel a sense of freedom like no other. You'll be gliding over the island, taking in the stunning views of the coastline, the turquoise waters, and the vibrant flora and fauna. You'll feel the wind rushing past you as you soar higher and higher, experiencing a sense of euphoria that can only be found in the sky.
As you come in for a landing, you'll feel a sense of accomplishment and pride. You've just conquered one of the most exhilarating adventures in Aruba. Paragliding is an experience you'll never forget, and it's the perfect way to add some excitement to your Aruba bucket list.
Conclusion: Adventurous Things to Do in Aruba
Aruba is a vacationer's dream. With its stunning white-sand beaches, year-round sunshine, and crystal blue waters, it's no wonder why Aruba is one of the most sought-after destinations for travelers. From family-friendly attractions to romantic getaways, there is something for everyone in Aruba. Relax on world-class beaches, take a guided tour of Arikok National Park, or explore the capital city of Oranjestad. No matter what your interests are, you can find something to do in Aruba.
With its laid-back atmosphere, friendly locals, and beautiful scenery, a trip to Aruba will be an unforgettable experience that you'll cherish forever. One of the adventurous things to do in Aruba is water sports. From jet skiing to parasailing and scuba diving to snorkeling, the island has something for everyone. The warm turquoise waters offer excellent visibility and marine life sightings for divers and snorkelers alike. Visitors can also charter boats for fishing trips or sunset cruises along the coast. Additionally, visitors can explore the rich history and culture of Aruba by visiting museums, art galleries, and historic sites such as Fort Zoutman and Willem III Tower.