Florence is an amazing city and a perfect holiday destination, there are many things to see and do. The city of Florence is known for its magnificent architecture, fine arts, and exquisite food. Here we are going to share the list of places to visit in Florence in 1 day. Many people consider Florence the city, but it has much more like a small village type feel, and it's perfect for a day trip.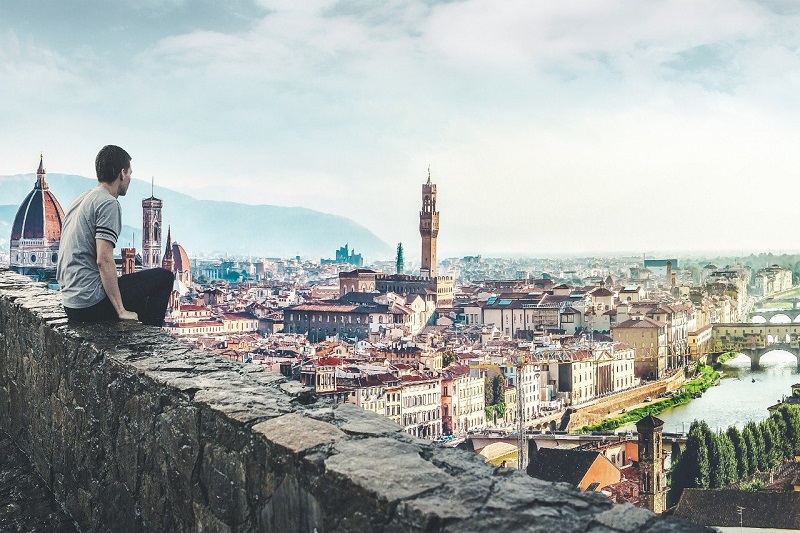 A train is the best way to get there as Florence is located between Milan, Venice, and Rome. From Rome, you can reach in an hour, from Venice in 2 hours, and from Milan an hour & forty minutes. In general, it's a three-hour car ride from Rome to Florence or a one-hour train ride.
The best time to visit Florence is in Spring when the weather is great and the flowers are blooming.
Places To Visit In Florence In 1 Day – Florence 1 Day Itinerary
A day in Florence can be a busy one if you want to make the most of it. There are so many things to do in Florence that you will not have time to see everything. Many of the main attractions are a short walk from each other. You should decide what you want to see, what you want to do, and how long you want to spend in the city. This way, you can fit more into the day and still get the most out of it. Here are some places to visit in Florence in 1 day.
1: Accademia Gallery
Founded in 1784 by the Grand Duke ( Pietro Leopoldo) of Tuscany. It is the place where David stands, the famous statue made by the great sculptor Michelangelo. The Gallery is just a 13-minute walk from the main train station.
It has been renovated and improved in recent years and has one of the finest collections of Italian paintings of the 19th century. The gallery houses work by Leonardo da Vinci, Michelangelo, Botticelli, and Raphael. It is considered to be one of the world's greatest art museums.
Take advantage of your priority entry to one of Italy's top art museums by reserving your ticket at the Accademia Gallery.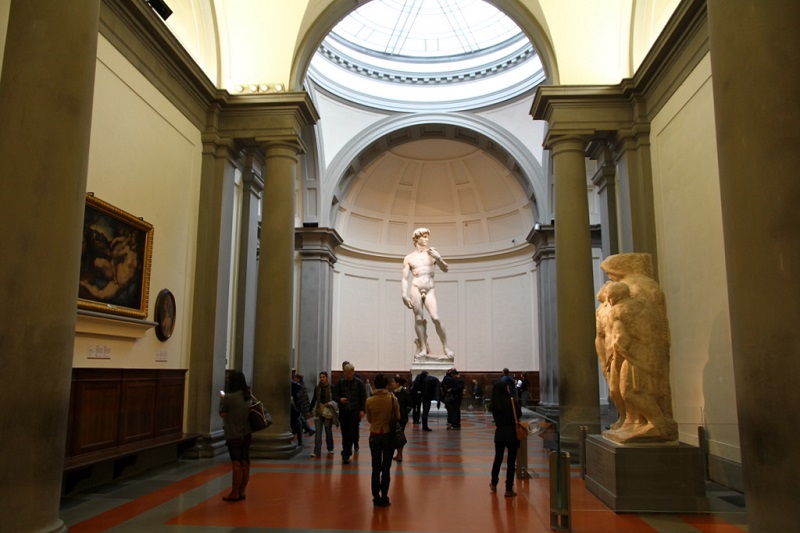 2: Central Market of Florence
The Mercato Centrale, or Central Market, is a great place to grab a coffee or snacks to go or to pick up fresh fruit, about a 7-minute walk from the Accademia Gallary. On the first floor, you'll find a mix of local vendors selling produce, meat, cheese, and fish. You can put together a cheap meal here and take it with you to go. This is where you can put together a quick meal that you can take with you to go.
There are a variety of modern, upscale restaurants on the second floor of the market. There are also quite a few local businesses that operate from this area, and you'll see a lot of the local workforce taking their lunch breaks in this area.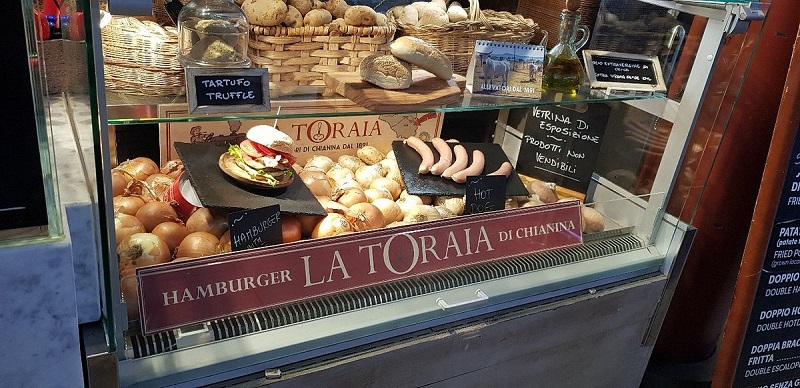 3: The Duomo, Florence Cathedral
After The Central Market head to the Cathedral of Santa Maria del Fiore (or the Duomo) is known for its striking color scheme, bronze-colored doors, and beautiful cupola, or dome. . It was built between the 12th and 14th centuries and is dedicated to the Virgin Mary. The iconic Duomo (famous as Filippo Brunelleschi's dome as well) is a true treasure that should be in your Florence 1 day itinerary list.
You'll find a fabulous selection of artisanal gelato right in Piazza del Duomo at Gelato Edoardo. It's a family-owned, organic shop that's been around for more than a hundred years. They have some very old-world gelato recipes, so you'll love every flavor.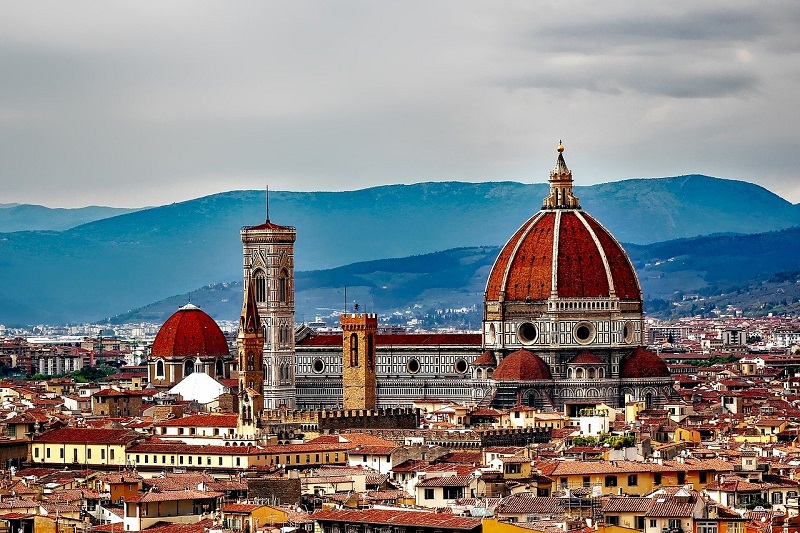 4: Basilica of Santa Croce
From the Duomo, it's only a few minutes walks, the church of Santa Croce. It's not only a beautiful church, but it is the final resting place of the famous artists Michelangelo and the great scientist Galileo.
The best part about Santa Croce is its lively piazza that's perfect for people-watching. The locals are always running and playing in the square, and buskers often play live music here, making it the perfect spot to take in the sights and sounds of the city.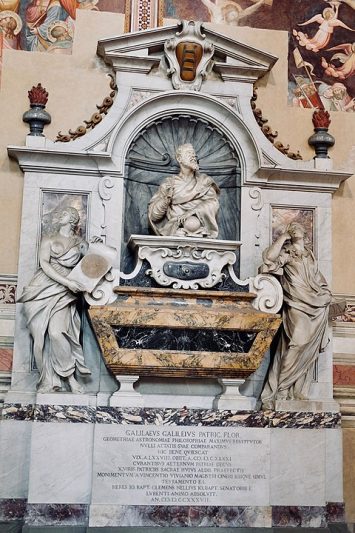 5: The Medici Chapels – Experience The Beauty Of Florence In 1 Day
The Medici Chapels are located within the Cathedral of Florence. The Medici family were the rulers of Florence for many years and their tombs are found here. They include the tomb of Cosimo il Vecchio (Cosimo the Elder), the tomb of his son, Lorenzo il Magnifico, and the tomb of his grandson, Giovanni il Grande. There is also a museum, which houses a number of interesting sculptures.
6: Have Lunch at La Cantinetta Verrazzano
After all that sightseeing, you're probably famished. Why not head to La Cantinetta Verrazzano for a bite? It's just a few minutes' walk from Santa Croce and in the heart of the action.
A favorite of both locals and visitors in Florence, La Cantinetta Verrazzano is a renowned restaurant serving up traditional Tuscan cuisine.
They have great salads and sandwiches, as well as other delicious Florentine specialties, there's something on the menu for everyone to enjoy. With its cozy atmosphere and mouth-watering food, La Cantinetta Verrazzano is a must-visit while in Florence.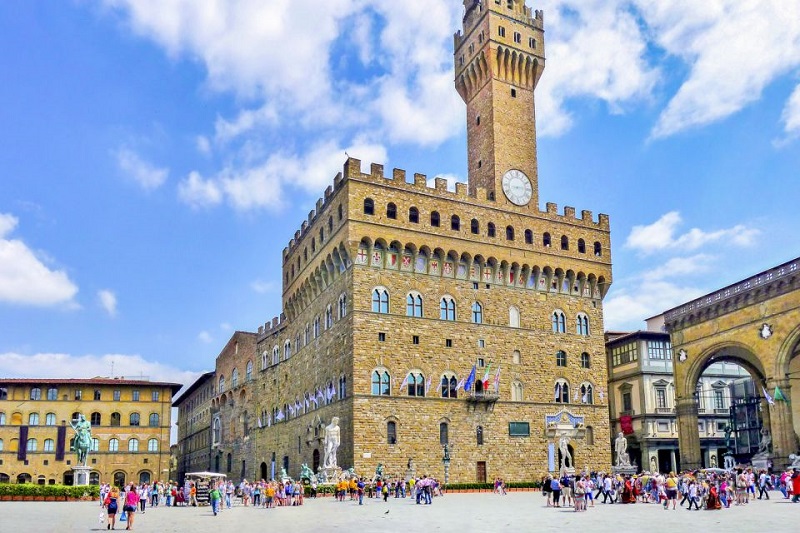 7: Ponte Vecchio
Ponte Vecchio is a bridge over the Arno River in Florence, Italy. It was originally built of wood in the Roman era but was rebuilt in stone in the 13th century. The bridge is now a popular tourist attraction. It is the oldest bridge in Florence and it has a long and colorful history. The Ponte Vecchio is famous for its shops (built on the bridge), which sell a variety of goods including leather, silver, gold, and jewelry.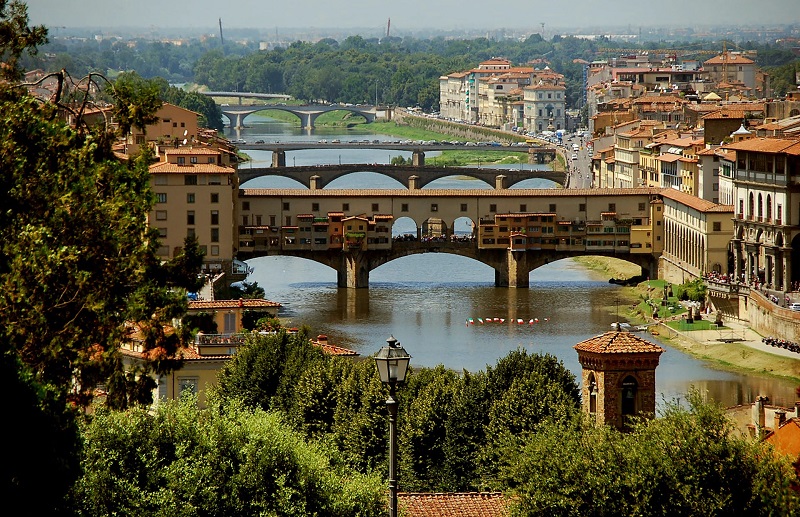 According to legend, the term "bankruptcy" originated here in Florence. Vendors used to sell their goods on "banco" a type of bench or table. However, if they couldn't pay their rent, local authorities would come and break their tables so they couldn't continue to sell. The Italian word for broke is "rotto", so the authorities refer to these people as "bancorotto" or "bankrupt". These days the term also applies to those who are out of work, but the term is used most often for those who are bankrupt or have lost all their money.
8: Piazza della Signoria, Florence
The Piazza della Signoria is located in Florence, Italy, in front of the Palazzo Vecchio. It was originally built in the 12th century as the Arno River flooded, but has been remodeled and enlarged many times over the years. The square is now a popular tourist destination, thanks to its many Renaissance-era sculptures and buildings such as Palazzo Vecchio (the city hall), the Basilica di Santa Maria del Fiore, and the Uffizi Gallery.
It's a great example of a European square filled with life, excitement and with lots of foot traffic from tourists and locals.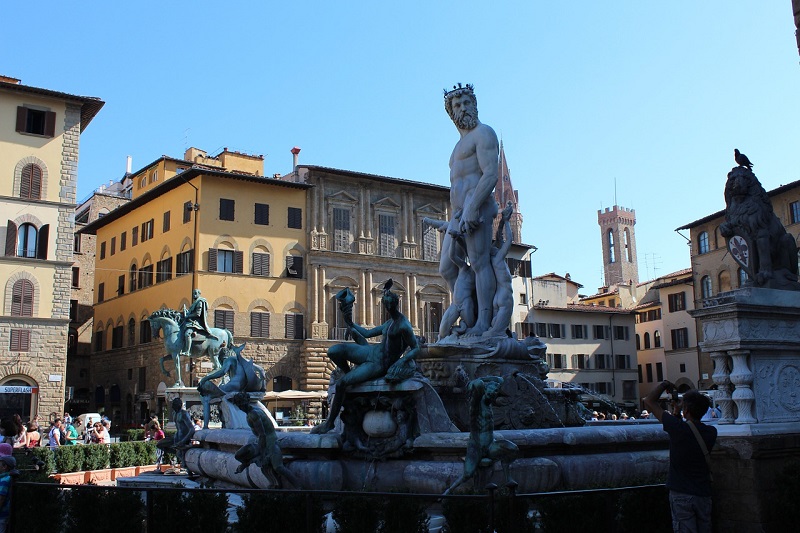 9: The Uffizi Gallery
Our list of the best places to visit in Florence in 1 day is not completed without Uffizi Gallery. The Uffizi Gallery is one of the most popular tourist attractions in Florence. It is renowned for its vast collection of Renaissance art, including some of the most priceless pieces in existence. The Uffizi has over 80000 works of art, including paintings by Botticelli, Leonardo da Vinci, Raphael, Michelangelo, Titian, and many others.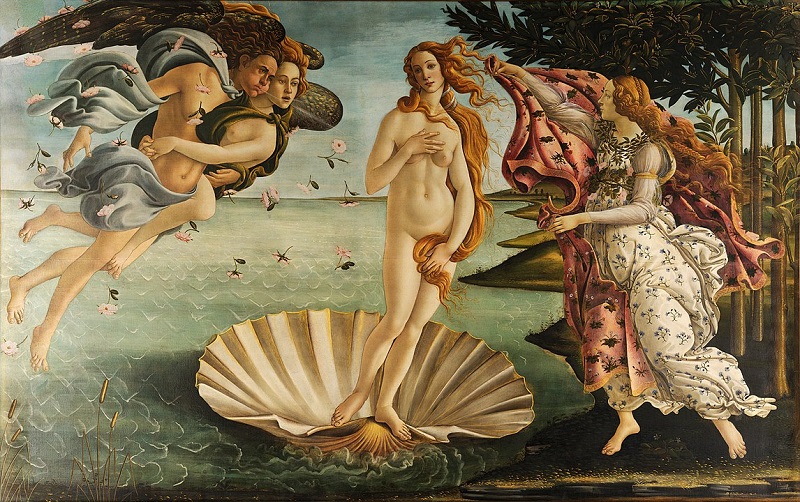 10: La Fontana del Porcellino Florence
The Fontana del Porcellino is a famous fountain located in the Piazza della Signoria. It is made of bronze and was created by Pietro Tacca in 1633. The fountain is sculpted in the form of a boar, and is said to bring good luck to those who rub its snout.
You slide a coin into the boar's mouth and watch it disappear below. If it falls through the grate below, it ensures a safe return to Florence, and it's the perfect last stop if you want to return to Florence.
From here you're about ten to fifteen minutes from the main train station. When travelling to a new city, it's always a good idea to be at the main train station a few minutes early.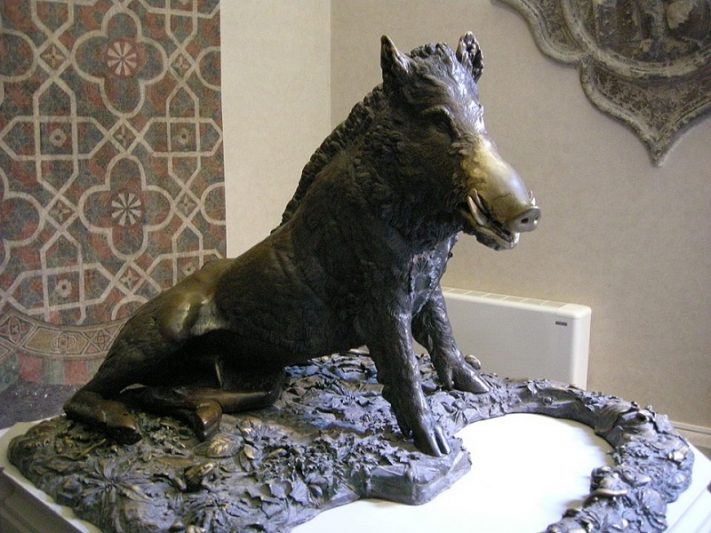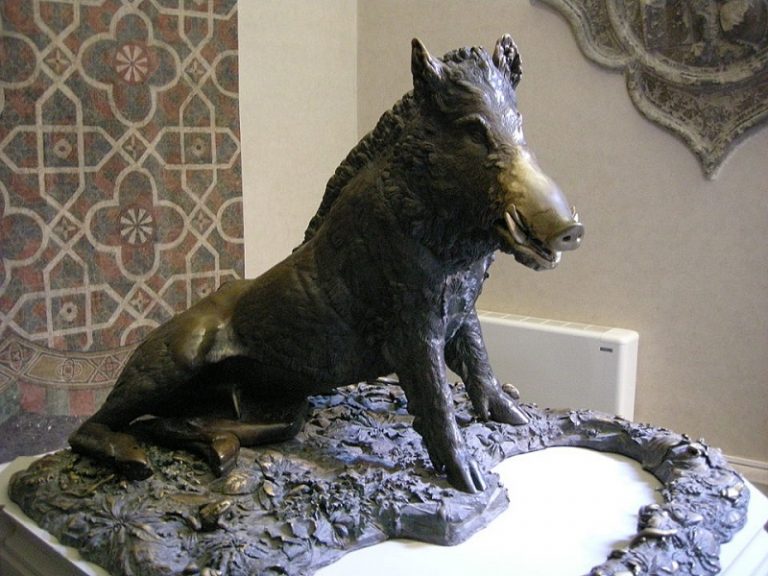 The Following Tours You Can Add on Your Florence 1 Day Itinerary As Well.
Piazzale Michelangelo
The Piazzale Michelangelo is a picturesque square in Florence with a panoramic view of the city. It's one of the most popular tourist destinations in the city and a must-see for anyone visiting Florence.
The Pitti Palace
The Pitti Palace in Florence is a palace that was once the home of the Medici family. Now used by the Italian state to house the art collections of the Medici family and other important artworks.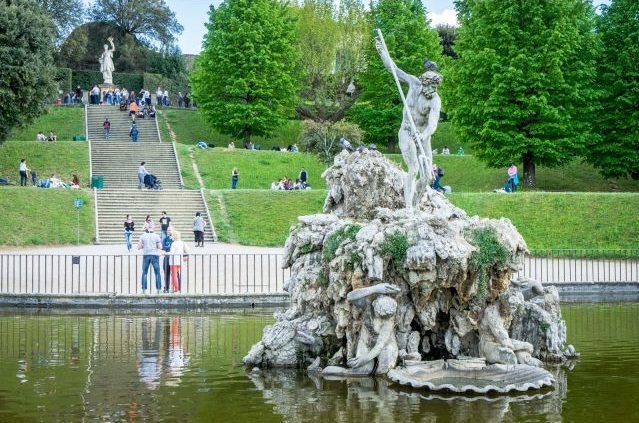 Oltrarno District
The Oltrarno district of Florence, Italy is a picturesque area known for its art and architecture. Filled with narrow streets, tiny piazzas, and stunning churches. The name means "beyond the Arno" and it is historically the oldest part of the city.
Hop-on Hop-off Guided Bus Tour Of Florence In 1 Day
Florence Hop-on Hop-off Bus Tour is a unique tour that gives you the chance to enjoy the beauty of Florence. You can explore the places like Piazza del Duomo, Palazzo Vecchio, Museo dell'Opera del Duomo, Santissima Annunziata, Ponte Vecchio, Uffizi Gallery, Galleria degli Uffizi, Palazzo Pitti, Accademia and much more.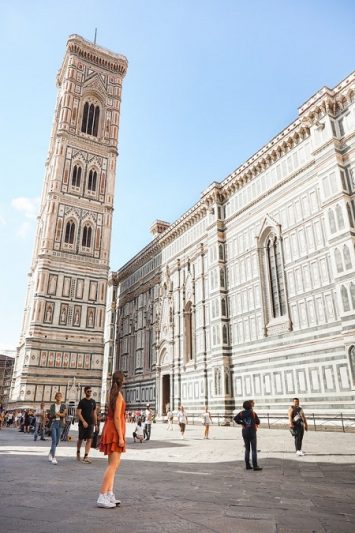 Best Hotels to Stay for One Day in Florence
We all know the importance of planning ahead and booking your accommodation in advance. We've got a list of great places to stay for one day in Florence to keep you happy and comfortable during your stay.
Hotels Florence: Hotels in the center
Hotel
Stars
Discount
Price before and discount
Select dates

Hotel La Scaletta al Ponte Vecchio

★★★

-10%

1 277

1 151

Hotel Berchielli

★★★★

-13%

221

193

Hotel Continentale - Lungarno Collection

★★★★

-20%

398

318

Hotel Torre Guelfa Palazzo Acciaiuoli

★★★★

-39%

930

565

Hotel Bretagna Heritage - Alfieri Collezione

★★★★

-24%

190

145

Hotel Hermitage

★★★

-28%

843

611

IL Tornabuoni The Unbound Collection by Hyatt

★★★★★

-18%

2 075

1 706

NH Collection Firenze Porta Rossa

★★★★★

-23%

1 596

1 231

Hotel della Signoria

★★★

-7%

175

163

Hotel Annalena

★★★

-16%

1 295

1 086

Golden Tower Hotel & Spa

★★★★★

-16%

378

316

Leone Blu Suites | UNA Esperienze

★★★★★

-20%

296

239

Room Mate Isabella

★★★★

-7%

308

285

Hotel Pierre

★★★★

-12%

741

656

Al Palazzo del Marchese di Camugliano Residenza d'Epoca

★★★★★

-14%

367

315
Conclusion
This beautiful city has many beautiful churches, palaces, gardens, and many other things. You should not let your travel experience be limited by your time constraints. Take full advantage of the cultural wealth that Florence has to offer. There are so many interesting sites that you can visit in Florence in one day. Learn more about this amazing city and book your trip today.
Save It On Pinterest