Dolmen Resort Malta, Hotel in St Paul's Bay.
Dolmen Resort Malta: Giving you the perfect vacation named after a Neolithic temple, the Dolmen Resort Hotel makes Malta tours the best that every guest and tourist can experience. Splendidly situated near the waters and its fine sands, this four-star hotel is a monument to the greatness of Malta's tourism. It stands on the seafront between Qawra and Buggiba giving it the best access and location to different tourist resorts in Malta. This Malta hotel is the perfect and excellent place for you and your family and every cent you spend will be worth the enjoyment, relaxation, and experience that you will have.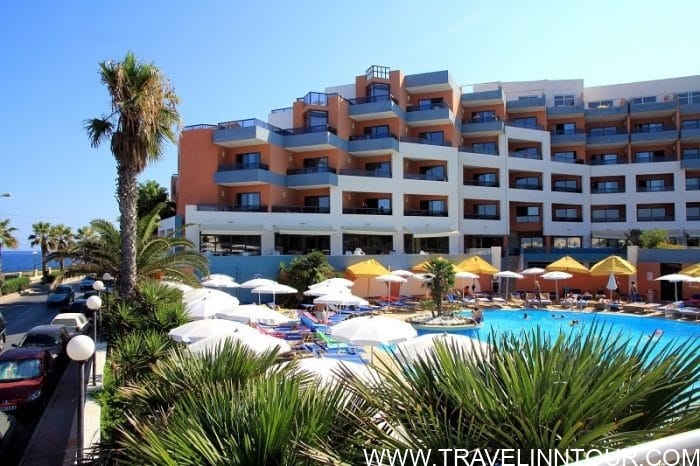 The hotel offers many facilities and amenities. Every room has a breathtaking view of the Mediterranean Sea and St. Paul's islands. Each room is designed to captivate a serene ambiance coupled with first-class amenities. Each room and suite in this Malta hotel is air-conditioned and has a central heater during winter.
It also has a private bedroom, a safety deposit box, a telephone, a television, radio, hairdryer, and a mini-bar with a choice of food and drink. Most of the rooms have a balcony or a terrace where you can sit idly and enjoy the heat of the sun and the cool breeze of the sea, overlooking and feeling the unique Mediterranean charm.
Other facilities of this Malta hotel would include a swim-up bar, a nightclub, a Caribbean-style Beach Club, a 24-hour café, a cocktail bar, and a wide array of restaurants. The restaurants in this Malta hotel would serve in buffet style or a la carte and would cater to several cuisines from all the parts of the world.
For your leisure and recreational activities, you can try in this Malta hotel the four outdoor swimming pools with one that is for little kids and children. There is also a spa that is just the right place to soothe and refresh your body. Therapy rooms, a fitness room, and a massage and sauna are also available to give you the best places to go to relax and be reenergized.
Your Malta excursions will never be as perfect as when you stay at the dolmen resort hotel and spa Malta. You can even afford not to go out of the hotel and just stay all day and night and try all its facilities and amenities. If you are bringing your kids with you, you do not need to worry because everything has been set for you. This Malta hotel provides children's facilities such as babysitting and complimentary chairs and cots.
There is also a weekly animation program for the children to view and enjoy. And you do not need to spend much if you bring them along because there are available family rooms where your children can stay at no extra charge and pre-booked meals where if you bring two or more kids, the second and the rest are free of charge.
So if you want the best accommodation in Malta, stay with Dolmen Resort Hotel – a 4-star hotel that will make every part and detail of your vacation a perfect one.