Boston Travel Guide
Boston, the capital of the U.S. state of Massachusetts. It is in New England, which is the Northeast of the United States. The nickname of Boston is Beantown. Because the early residents of Boston really love to eat baked beans, baked in molasses, but by the way, nobody here actually calls it Beantown anymore. Visiting Boston is like visiting a history class in person. Boston is the cradle of much of the United States' history, including playing a significant role in the American Revolution.
The historic city of Boston is a compact city where most of the famous tourist attractions are conveniently located within a short distance from each other. There are different types of neighborhoods within the city and some of the prominent neighborhoods include Beacon Hill, Back Bay, Chinatown, Charlestown, Hyde Park, etc.
When it comes to Boston travel information, plenty of information is available on the internet. The high-rise buildings in Downtown Boston represent the financial district of the city.
Apart from the internet, people who are interested to know more about Boston travel information can visit the Boston Common Tourist Information Center which is located near Tremont Street. Boston is place that is a favorite destination for tourists from all over the world.
Wi-Fi
The City of Boston has a metropolitan Wi-Fi network called wicked Wi-Fi. I mentioned wicked means well. So this is really good Wi-Fi. And if you're just walking around the city, you'll see signs that say, "Wicked Wi-Fi," just look for the SSID, Wicked Free Wi-Fi.
Best Time to Visit Boston
Summer is peak tourist season, that's June, July, and August. That's when it's the busiest, that's also one of the most popular. Locals will recommend coming in fall September and October. There are fewer people here the leaves are starting to change color, that's the quintessential Boston season. Now you could come in winter December, January, February, the hotels will be a lot cheaper because nobody will be here for good reason, it is really super cold.
Winter is coming, actually, winter comes to Boston and it's a significant winter every year, I warned you. Spring is also another very pleasant season temperature wise though spring does bring a lot of rain. The biggest holidays in Boston number one is St. Patrick's Day, the second not a holiday but a big day, the Boston Marathon, and then every year on December 16, they reenact the Boston Tea Party.
Getting Around Boston
Navigating Boston is kind of like navigating a maze. If you don't have some kind of map, you're gonna have no hope. Because none of the streets here run straight. And so if you are trying to drive in Boston, it is a nightmare. Don't do it don't drive in Boston, none of the streets are straight, they're all one-ways and they always seem to be one way, in the way that isn't the way that you wanna go. And also, if you haven't heard, Boston is famous for this thing called the Big Dig.
It's like the most expensive highway project in any city in the U.S. And it has all these tunnels that go underneath Boston, super hard to navigate, you know, Google Maps doesn't get GPS down there and so it's just hard.
Don't drive in Boston, I warned you. Now if you are crazy enough to drive, you'll find very limited street parking in Boston, where you will find parking and parking garages. Parking will be about $50 a day and expect to hear car horns a lot. If you don't step on that gas as soon as the light turns green, people will be hawking at you. You can also take the subway to get around.
The subway in Boston is the United States' first subway built in 1897. And yes, it smells, feels, and sounds just like it. It is not the smoothest subway, actually, it's quite bumpy, but that's part of the charm. Rides are 275 a ride. The subway lines are color-coded. There are four main lines the Red Line, Green Line, Blue Line, and Orange Line.
The transport system of Boston offers the best convenience to commuters and travelers. The underground railway system is one of the best ways to travel around Boston. The Logan Airport operates more than sixty airlines and easily accessible via the subway. Boston is considered to be an iconic city as the birth of the United States began from this city.
Sightseeing In Boston
The major attractions within the city are located within walking distance from each other which makes it extremely easy and convenient for tourists. Starting from professional sports to museums, the city has a lot to offer to tourists from all over the globe.
While searching through Boston travel information, people will find that most of the famous attractions are located in the Chinatown district, Beacon Hill, and the downtown area. The city has different types of delicious cuisines to offer to the visitors and the majority of them can be found in South End District and Back Bay.
The art galleries and museums offer the best collection to visitors. The city has a unique appeal where one will find memories from the past and the latest trends in technology, fashion, food, and much more. During Christmas time, the city sparkles with different kinds of light, dazzling up the Quincy Market and Faneuil Hall.
Famous Kid-Friendly Attractions In Boston
1: MFA-Museum of Fine Arts, Boston
Museum of Fine Arts, Boston was founded in 1870 and is based in Boston, Massachusetts. Its collections consist of the Americas, Europe, Asia, Africa, and Oceania, the ancient world, modern arts, digital photography, illustrations and prints, musical instruments, textiles and style arts, fashion jewelry, preservation and collections monitoring, collections, provenances and archives, magazines, MFA pictures, and other collections.
The firm also organizes exhibits and programs. It markets exhibition presents, books, stationery and desktops, jewelry, clothes and accessories, residence decoration, puzzles, toys and video games, MFA logos, and other items online.
2: Boston Common Central Public Park
The United States of America's earliest public park, Boston Common was bought by its people in 1634 for 30 Pounds and officially reserved as public or "usual" land by a vote in 1640. The park's original objective was for basic training grounds and a location for grazing livestock.
Nowadays, the Boston Common is an area for people-watching and, picnicking. In the winter months, the Frog Pond draws in ice-skaters, while summertime attracts theater enthusiasts for Shakespeare on the Common. The Freedom Trail also starts from here.
3: Boston Children's Museum
Emphasizes of this interactive museum consist of the "Science Playground," featuring giant soap bubble-making tools and the "New Balance Climb," which instructs kids the regulations of physics while navigating with a two-story-high puzzle. Situated on Children's Wharf along the Fort Point Channel, Boston Children's Museum is the 2nd oldest kids' museum in the United States. It includes numerous tasks suggested to both entertain and inform kids.
4: Faneuil Hall Marketplace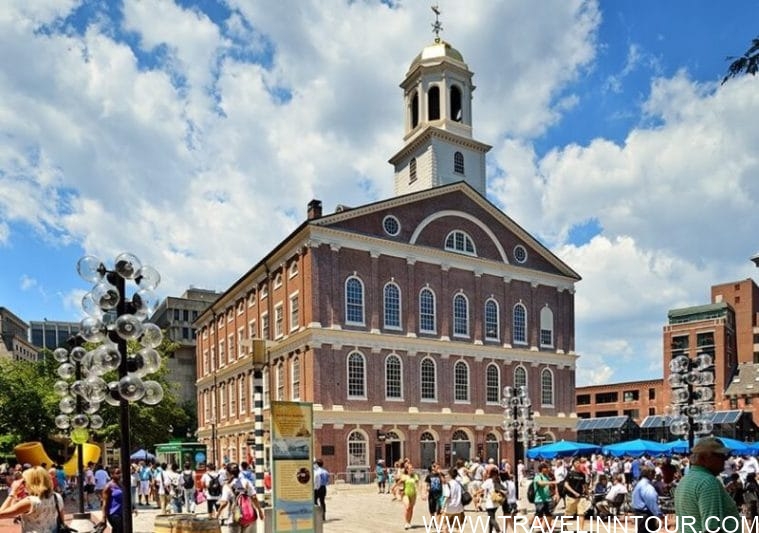 Situated in the heart of Boston, Massachusetts, this dynamic facility of novelty carts, distinctive shops, nationwide chain shops, entertainers, food stands, and restaurants brought brand-new life to a historical meeting area. By Forbes Traveler in 2008, Faneuil Hall was rated number 4 in America's 25 Most Visited Tourist Sites.
5: The Freedom Trail
The Freedom Trail is a 2.5 mile-long path via midtown Boston, Massachusetts, that goes by 16 areas considerable to the history of the United States. If you are visiting 1st time to Boston, there's no better beginning point than the Freedom Trail for having a look at the finest destinations in Boston.
6: New England Aquarium
A 4 story Giant Ocean Tank features thousands of Caribbean coral reef animals. The New England Aquarium in Boston is situated precisely Boston's picturesque harbor. Colorful & academic exhibitions include more than 8,000 aquatic creatures, consisting of the lively penguin pool. Upon your arrival, playful Atlantic Harbor Seals will welcome you in their 42,000-gallon exterior pool where staff train and feed them daily.
There are endless things to do and see in Boston, only a few of them are mentioned above.
Where To Stay In Boston
Hotels of every type are available in Boston (See here accommodations-In-Boston) where one can find hotels with reasonable rates to extremely expensive luxury hotels. Boston has a lot of hotels, but it's an Old City, so many of them are old and historic. What that's means, It might mean that air conditioning and elevators might not be standard in your hotel of choice. So if air conditioning and elevators are important to you, well, make sure to check that, before you board, particularly in an Airbnb.
I hope you enjoyed it, if you did please share it with friends, also, let us know what other places you have visited in Boston?
Save It On Pinterest