Choosing and booking the right hotels is always a difficult task and it may be arduous and confusing at times, especially if it is the first visit to the city in which you choose the hotel, and with the huge number of offers and deals offered on many online hotel reservation sites.
Most hotels currently have websites, some may offer only promotional pictures that are not real, making you think that you will enjoy a luxurious stay as soon as you step into the hotel lobby! So how do you know if a hotel lives up to your personal preferences and more importantly if it's the right hotel for you?
Since every traveler has different needs when searching for a hotel, you have to ask yourself what is most important to you? What are the basic services and facilities that are indispensable to you during the stay?
Whether you are looking for accommodation at a special price or you care more about the hotel's location and the degree of its luxury, we have collected for you a number of important tips on this topic that will make the task to find the perfect hotel easier.
How To Select The Right Hotel?
Determine your preferences and budget before you start searching, ask yourself the following questions:
1. What is your budget for accommodation?
2. What kind of accommodation do you want, are you staying only, or do you want accommodation with breakfast, half board, or full board, and which is more appropriate for your budget?
3. Is the hotel's location important to you? Or could it not be in a tourist area to reduce your expenses?
4. Do you need a hotel or resort attached to a spa and fitness center?
5. Do you use the internet a lot while you are traveling and do you prefer rooms with free internet?
6. Or just want a simple room inspired by the style of the country you're visiting?
Find Cheap Hotels
Do you have the answer to the above-mentioned questions? Write them down as they are your priorities, which will make your research more targeted and make our advice to you more effective. Here is the following set of tips to learn how to find the perfect hotel for your needs: –
How To Find The Perfect Hotel For A Comfortable Stay?
1. Most of the hotel search engines, such as our website hotellook.com, give you the option to sort the results by price. You can take advantage of that to only show you a list of hotels that are suitable for your budget. We recommend that you book early, as many hotels offer early booking offers or the so-called "Early Booking". ".
2. It might be optimal, if you can, to stay away from hotel reservations on the weekends, in most cases the prices rise in them, and it is important to review the services that are included in the price and whether there are taxes not included that will be paid directly at the hotel.
3. Some search engines, such as hotellok.com engine, will allow you to arrange the available hotels according to their location near the airport or from the tourist attractions in the city. You can also browse the map to see the available accommodation options on the map if you are looking for a hotel overlooking the beach, for example.
4. By defining the type of accommodation you need, try to filter the results as well and get to know the meals included in the price. Review the services section to ensure the availability of the services you need and to learn about free and non-free ones, so that you can make a fair comparison between the hotels that you deem appropriate.
5. Many booking sites have provided space for travelers to write their opinions and comments at the hotel in which they stayed, and the famous site Tripadvisor in addition to many travel and tourism forums in which travelers talk about their travel experiences, as well as social networking sites for travel companies and hotels themselves where you can view opinions, Former travelers, taking into account the different standards of judgment from one person to another, you can take advantage of the common points repeated in more than one opinion, in most cases, they will be real and there is no room for doubt.
6. We recommend that you request to reserve a room on the top floor and away from the elevators and to be in the middle of the corridor away from the edges where the laundry facilities are located and the noise causes.
7. If you are looking for a quiet stay, stay away from the rooms overlooking the swimming pools, as it is a place for play and entertainment. This will make a lot of noise, as well as purifiers and water filters.
8. We also advise you to avoid rooms above restaurants, facilities, and public places such as car parks. You can also inquire if the facility is not complete units, or there are maintenance work or updates, and ask for a room far from all of that.
9. If you are a non-smoker, make sure to stay in a room on the floors designated for non-smokers, so that the smell of cigarettes does not bother you.
10. Choose the room with the type of bed that suits you if you prefer a large bed (king bed size), or a single. You can also inquire about the contents of the room such as the type of available pillows and the available covers, and on the other hand, whether the windows are equipped with curtains that block the light or not.
Additional Tips For Choosing Hotels To Stay With Your Family And Children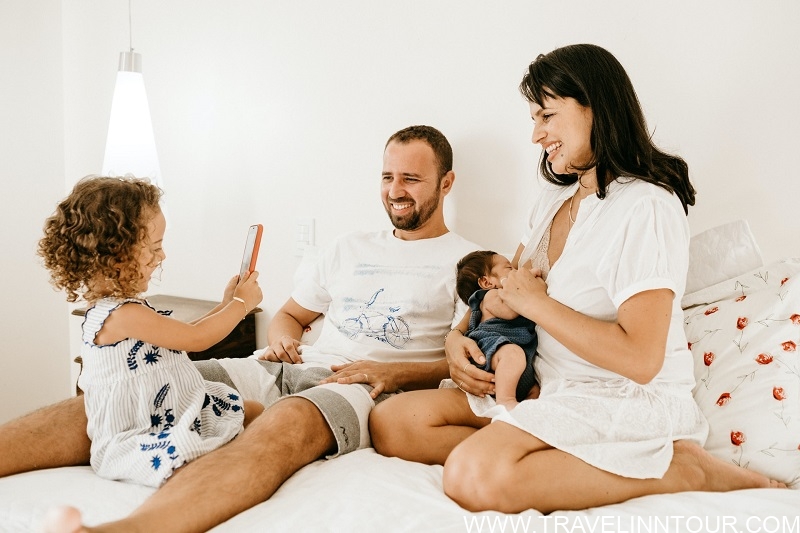 1. If you are traveling with your children, especially if they are not used to traveling a lot, bear in mind that they may feel nervous or suffer some insomnia.
The experience of sleeping in a place outside your home and in a bed other than yours is not easy for adults, let alone children! So make sure that you choose the appropriate room or suite for the number of your family members to relieve this tension and comfort everyone, make sure that the room size is appropriate and that there are enough beds for everyone or with a suitable space to put additional beds, and if not, then choosing to reserve connecting rooms will be good.
2. Be careful when choosing a hotel. Some hotels are for adults only. They do not allow accommodation with children according to their terms and others allow children to stay from a certain age.
3. Thinking of renting an apartment would be a great option for traveling with the family, as this would make them feel at home, relieve their tension, and provide all family members with an atmosphere of reassurance and privacy.
4. Are you thinking of being alone with your partner to spend a few hours at the beach and relive memories of a honeymoon vacation or have dinner in a calm, romantic atmosphere? why not! You can only do this while booking make sure that the hotel has a "babysitting" service available.
5. Traveling with children requires choosing the hotel more carefully, in terms of providing suitable activities for them, a swimming pool for children, a games room, entertainment programs, so that they can enjoy their stay and not be bored. You can also inquire about the possibility of providing appropriate meals for children.
6. If you need a cot for your baby, do not forget to add it when booking and contact the hotel directly before traveling to ensure availability, as hotels usually have a limited number of cots.
This concludes the tips and advice that must be considered before booking a hotel, which will assist you in selecting the best hotel to stay in any country you visit.
Did you make the most of it? Do you have any additional suggestions to find the perfect hotel? Please leave us a comment.
Save It On Pinterest