Uttarakhand is referred to as Devbhoomi for a reason. Its existence goes beyond the boundaries of time any human can imagine. This hill state and the crowning glory of India was once the same land which was walked on by gods, goddesses, prominent saints, sages, and philosophers. It is the mystical land that has served as a foundation and a strong pillar for the development of different myths, legends, and boasts of numerous incredibly enigmatic folklores.
From being the iconic destination for Char Dham Yatra pilgrimage to being the birthplace of the holy river of Ganga Uttarakhand Tours are wholesome in every manner. The Shaktipeeths or the Devi Temples of Devbhoomi offers a whole different experience. Located in scenic places these temples should definitely be visited not only for the majestic sweeping views but also for the peace, positivity, and an everlasting sense of fulfillment they have to offer.
Here are the top 10 famous Devi temples in Uttarakhand:
01. Kasar Devi Temple (Almora)
Located in the village that goes by the same name this Devi temple dates back to as old as 2 CE. Going up through the winding way and blessed with bountiful greenery, the temple is dedicated to a form of goddess Parvati. Famous for its geomagnetic field that has baffled even the NASA scientists and the deeply rejuvenating meditation experience this Devi temple is unlike any other in India.
Connectivity: Roads are well made and an uphill walk of 10-15 minutes leads up to the entrance of the temple compound.
02. Anusuya Devi Temple (Chamoli)
Dedicated to goddess Sati, this humble and quaint Devi temple of Uttarakhand ranks among one of the most famous pilgrim temples. Located at a distance of 30 kms from the beautiful hill station of Chopta this temple is surrounded with waterfalls and lush forests that add on to its spiritual value. Accessible throughout the year, this temple makes up for a day well spent, especially if you are on a vacation with your family.
Connectivity: 5 km of the trek from Mandal Village through the thick green forest.
03. Yamunotri Temple (Uttarkashi)
As the name suggests this ancient temple dedicated to goddess Yamuna marks the commencement point of the holy Char Dham Yatra. The temple also marks the starting point of the holy Yamuna River and is located on the flank of the holy mountain range of Bandarpoonch Parvat. Yamunotri is the only shrine dedicated to the goddess Yamuna with the presiding deity showcased in the form of a glistening black triangular rock.
Connectivity: 7 km of trekking/pony ride or Palki from Janki Chatti to the temple entrance.
04. Kunjapuri Devi Temple (Dehradun)
Famous for being one of the 52 Shaktipeeths in India, Kunjapuri is one of the most sacred sites of goddess worship in Devbhoomi. placed on an elevation of 1,676 Metres above sea level and offering panoramic sweeping views of the rolling green hills below, the sunrise trek to Kunjapuri is an activity you must do when in Rishikesh. It is an easy walk up the hill offering a spectacular view of snowcapped peaks like Swargarohini, Chaukhamba, Bandarpoonch, and Gangotri.
Connectivity: 1 hour of car journey from the main town of Rishikesh and an uphill walk of 80 steps.
05. Gangotri Temple (Uttarkashi)
Dedicated to goddess Ganga and making for a major part of the Char Dham Yatra pilgrimage circuit, the sparkling white temple of Gangotri is blessed with scenic views. Located on the banks of gushing Bhagirathi river and marking the legendary origin point of Ganga river the temple is undoubtedly one of the most beautiful as well as spiritual temples to be. Placed on an elevation of 3,415 Metres above sea level and displaying the beauty of the greater Himalayan region Gangotri temple is truly one of a kind.
Connectivity: Easily reachable by car due to the presence of good roads.
06. Kamakhya Devi Temple (Pithoragarh)
Kamakhya Devi is considered to be the goddess of desire and is said to bestow her goodwill and everlasting marital bliss on any couple that makes it a point to visit this temple which is situated around 7 km away from the main town of Pithoragarh. Built by the devout family of Madan Sharma this temple is surrounded by mystical green hills and offers a glimpse of the snowbound peaks in the surrounding one a clear sunny day.
Connectivity: Accessible by road
07. Jhula Devi Temple (Almora)
If you happen to visit Ranikhet then this 8th-century temple dedicated to goddess Durga is a must. It is one of those rare temples in India where you can offer your prayer to the goddess seated on a swing (hence the name). The locals believe that the goddess bestows her blessings to the people residing there and keeps them safe from wild animals. The temple structure as you can see currently was constructed in 1935 and is famous for its innumerable bells collection here that adorns the entire complex.
Connectivity: Can be reached by road and is 7kms away from the main town of Ranikhet.
08. Nanda Devi Temple (Pithoragarh)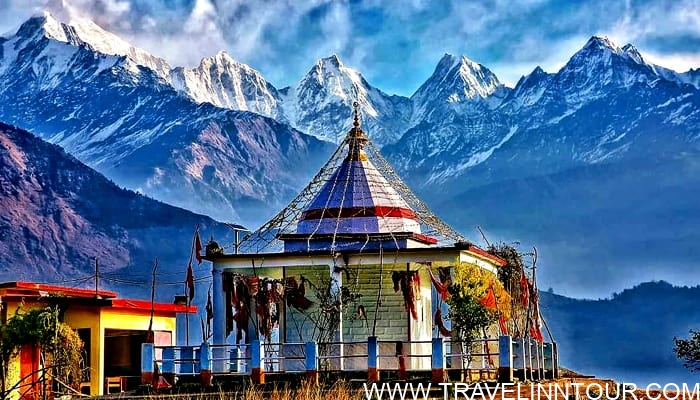 This is probably one of the most scenic Devi temples of Uttarakhand. Goddess Nanda Devi or Mata Parvati is one of the most highly revered goddesses in Devbhoomi. This temple is placed on an elevation of around 2,286 Metres above sea level and offers one of the most spectacular views of the surrounding snowcapped peaks that looks so close that you will feel like you can touch it. This is also one of the oldest temples of Uttarakhand.
Connectivity: 3 km of trekking is required
09. Naina Devi Temple (Nainital)
Gracing a hillock near Nainital Lake is one of the most popular Shaktipeeths of India that draws its name from the eye-shaped Naini Lake. The shrine here worships the fallen eyes of the goddess and attracts several devotees who visit Nainital. Due to its proximity to the glimmering lake of Nainital people generally choose to go for a fun boat ride after a divine experience in the temple. Nanda Ashtami is the time when the entire temple complex springs with life, color, and vibrancy.
Connectivity: Easily reachable by road, just 10 minutes from the Nainital bus stand.
10. Gaurikund Temple (Rudraprayag)
As the name suggests this temple is dedicated to goddess Parvati who is also worshipped by the name of Gauri. The temple marks the place where goddess Gauri is believed to have performed severe penance to Lord Shiva to win over his heart. Hence this place holds immense value in the life of devout Hindus. The place remains thronged with tourists throughout the year as it falls en route Kedarnath temple.
Connectivity: Reachable by road.
Uttarakhand, one of the most sought travel destinations in North India that has been the earthly refuge for several gods and goddesses whose known and lesser-known mythological tales have stayed deeply associated with the history of this beautiful state. However, this sacred state is blessed with an endless number of temples but it is not possible to compile them all together in one article so in this content we have compiled a few popular Devi Temples.
If you find this post helpful and informative and you are excited to know about more such temples then do show us your love and motivation by sharing this post with your known ones and we would also love to hear your feedback for this article, so please write a few words about it in the comment box below.
Save It On Pinterest