We landed in Rio de Janeiro bright and early at 4:00 am (we weren't too happy about that). The first thing we did upon landing was asked a guy at the information booth in the airport which bus we should take to make it to our hostel in Vidigal, and where we could find an ATM.
He told us everything we needed to know, and recommended we use the HSBC ATM, which was 'the best for foreigners.' When someone tells you something like that, you usually do the exact opposite and go for any other ATM (proceed to smack me in the forehead). We went straight to the HSBC ATM and learned soon afterward that the card we used had been compromised, prohibiting us from withdrawing any more money with that card.
That was a lesson we learned the hard way. Thankfully, Charles Schwab is amazing and FedEx'd a new card overnight to Rio for just $15.
After getting out of the airport, we began to feel alive again. I mean, the view of the ocean from the back of our cab, the weather, the busy roads, and traffic… It was love at first sight. When we arrived at the hostel, we went straight to sleep. We wanted to recover as much as possible from the elevation of Cusco and Machu Picchu, the hikes, and the crazy amount of flights we had taken over the past week (including the overnight flight that got us to Rio). Unfortunately, the nap didn't cut it.
We had caught some sort of upper respiratory virus, which knocked us down for almost a week. We each began a 5-Day Z-Pack which our travel medicine doctors prescribed pre-trip, drank tons of water, and got plenty of rest. Fortunately, we were lucky enough to be staying in Rio twice, once at the beginning of our adventure in Brazil, and once at the end of our South American excursion.
Now let's talk about where we were staying in Rio de Janeiro and why. Tom had a good friend from college living and working in Rio for three months who also happened to speak Portuguese – Zack George. We owe our wonderful experience in Rio to him since he showed us around, made sure we felt safe at all times and told us about the culture and history of Brazil. Zach recommended us to stay at the hostel right below his apartment in the Vidigal Favela:
Yes, we were staying in a Favela that had been 'pacified' just two years before by the police. We were never worried or scared, and a police car was parked right in front of our hostel 24/7. Just two years ago though, drug dealers carrying guns would have been the ones to welcome us into their Favela. It's amazing what can change in two short years. From the Favela, we had a perfect view of Ipanema and Leblon beaches, and always woke up to the beautiful sunrise!
We stayed long enough (or almost) in Rio de Janeiro to get to experience the city and feel like we left something behind when we were waiting for our flight to Lisbon at the airport. We had lots of fun with Zack and were surprised by the number of good memories we made over there. No wonder why it was in last year's top 10 cities in the world to visit!
The highlight of our Rio experience was definitely to make it to the top of the Rocinha Favela. Zack told us we would probably enjoy riding a 'Moto Taxi' to the top of the Favela, where we could get amazing views of Rio – ones that you can't get from Christ the Redeemer Mountain. We obliged, and proceeded to take the craziest and scariest motorcycle ride of our lives! Our drivers were swerving in and out of our lane attempting to pass buses on blind turns and crazy uphills. We were both quite sure that we would die a terrible and painful death during our 5-minute ride, but thinking that "my driver doesn't want to die any more than me" allowed me to hold on and keep my cool. By some stroke of pure luck, we made it to the top unscathed. That is until I got off the motorcycle. I was so happy to be on solid ground at our destination that I got off on the wrong side of the motorcycle and burned my leg! My driver felt terrible. It hurt, but I didn't care. I was alive!
At the top of the Favela, we ordered pizza and beers in a 'bar' which Zack recommended. He prompted us that it was quite a strange establishment – in the front of the room cars are being worked on (an auto body shop) and in the back is a bar serving cold drinks. Funny but true. We ordered three cold beers and proceeded to the rooftop to take in the incredible panorama of the Rocinha Favela and the rest of the tourist attractions in Rio De Janeiro. It is in moments like these, with that incredible view, that we realize we are very lucky to be traveling the world.
(How To Figure Out The Travel Around The World Cost?)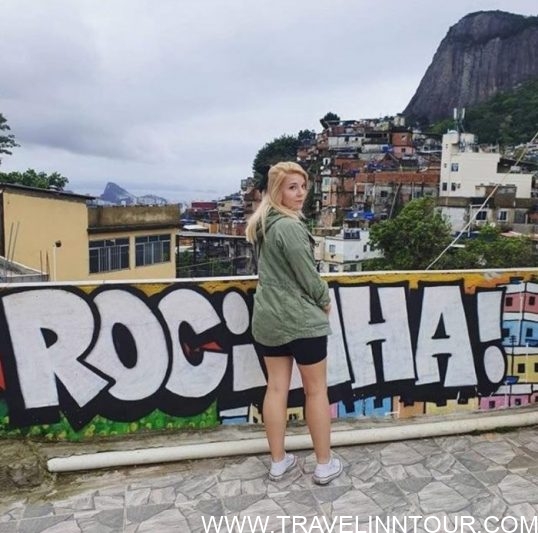 Another great moment in Rio complements of Zack, was to take samba classes with Zack's students (as a part of his student exchange program). It was amazing to see professional Samba dancers move so quickly in synchronicity and to be a part of the action, if only for an hour or so. Needless to say, Tom and I are nowhere close to being professional Samba dancers, and probably never will be.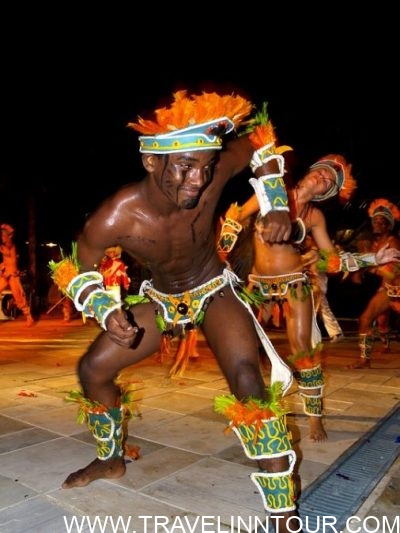 The Rio De Janeiro beaches were of course some of our favorite parts of Rio. Copacabana, Ipanema, and Leblon reminded us of the best beaches in California. Brazilian people line the beaches and sidewalks running, skating, and working out – everyone in Rio seems to be in amazing shape. If they are not playing soccer volleyball on the beach, they are building muscles on the beachside workout stations, or running on the endless bike path by the ocean.
Finally, an obvious must-do in Rio is to visit Christ the Redeemer, not so much for the statue itself (which is massive), but mostly for the 360-degree view over Rio de Janeiro and for the train ride to make it to the top, which was in the jungle, and scared the pants off of us because one wrong move could lead to a 2,000ft fall down the mountain. We relaxed on top of the mountain, taking in the vista, sipping cold beers, and admiring Christo looking down over the whole city of Rio de Janeiro.
We loved Rio, but there was also a lot that we didn't enjoy (as with any other city in the world):
Having to throw toilet paper in the trash next to the toilet instead of flushing it down. Why would someone invent a toilet that doesn't flush toilet paper? It's not just in Rio though, it's all over Brazil.

The food. Not that great in Rio, or Brazil in general. Although, we had one amazing steak in Rocinha, but that was an exception.

The showers. Who doesn't like a hot shower? Maybe in the summer a cold shower every day would be nice, but in the winter, a hot shower is something we truly missed!
These little negative aspects are only a drop in the bucket compared to the incredible things Rio de Janeiro has to offer. We can't wait to go back!
We would love to hear about the tourist attractions in Rio De Janeiro you visit. Recommend your favorite tourist attractions and the best things to do in Rio De Janeiro to our visitors.
Save It On Pinterest.