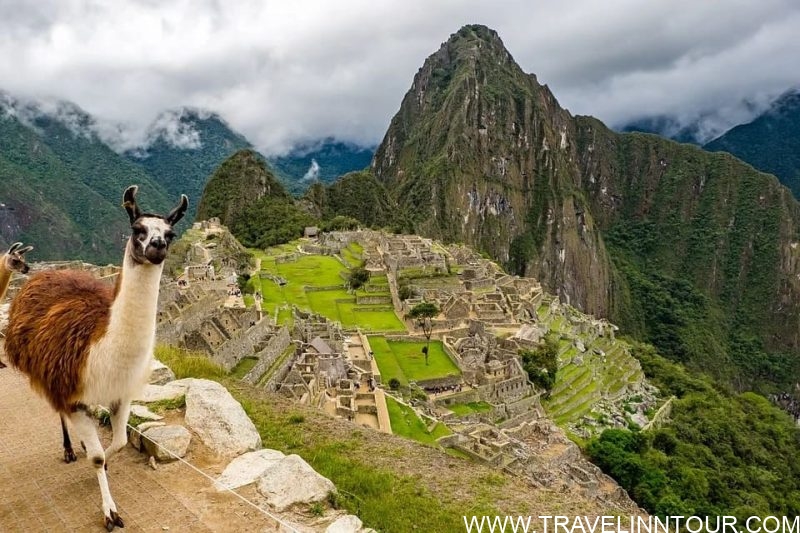 Let's be honest. Traveling in Peru doesn't mean much if you don't make it to one of the Seven World Wonders of the world – Machu Picchu. Although, what a pain it is to get there and the money you spend is much more than you would expect for a country as impoverished as Peru.
We booked everything ourselves to get the best prices, but it was still expensive. The round-trip flights to Cuzco were $340 each, the round-trip train ride was $160, access to Machu Picchu was $70, and the bus to Machu Picchu cost $20 each. Here is an overview of the good and bad of Machu Picchu: (Prices might be different when you visit)
Our first move was to fly to Cusco, which is about one and a half hours from Lima. You leave from sea level and land at 3,400 meters above sea level, so altitude sickness can be a big problem! Luckily, we had Acetazolamide (Diamox) with us which prevents altitude sickness.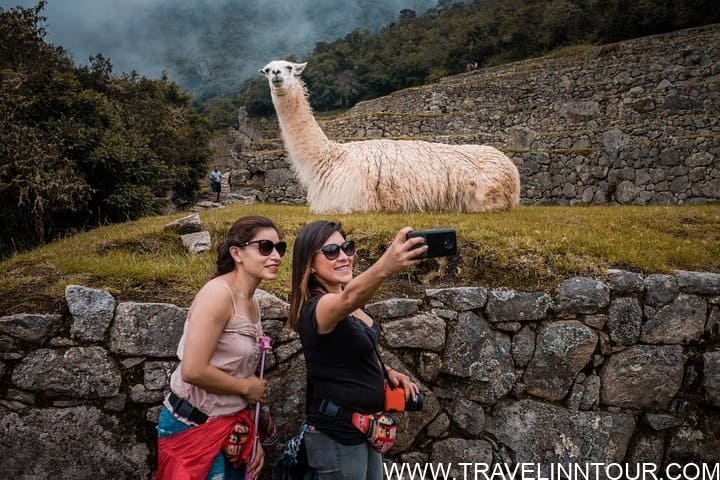 As you probably know, we didn't especially like Lima, but wandering around charming and beautiful Cuzco was such a wonderful surprise. The city is located high in the mountains with a view that reminded us of European cities. We stayed at Hospadaje Turistico Recoleta, which we truly loved. The owner made sure we had everything we needed throughout the entire stay, from booking Machu Picchu tickets to calling cabs (at 4:30 am) and setting the price with them beforehand. We had to book our tickets to Machu Picchu in Peru because trying to do it ourselves on the Peruvian website is virtually impossible. After trying 4 different credit cards and 15 refused transactions, we gave up!
We were disappointed we couldn't spend more time in Cuzco but were excited to leave by train to head to Aguas Calientes, the closest city to Machu Picchu, and the only way to get there (other than a helicopter or the Inca Trail). During the train ride, I realized that I had made a huge mistake: I booked our return ticket to Ollantaytambo instead of Poroy, which is around 2 hours away from our final return destination.
Oops! As soon as we got to Aguas Calientes, we tried to change our tickets, but no luck – they were all sold out for the next three days. Our only option was to catch a "Chicken Bus" from Ollantaytambo to Poroy (a small town near Cuzco), which can be scary at night and also very crowded! But that wasn't going to bring us down because Machu Picchu was becoming so real to us!
Now let's talk about Aguas Calientes: the must-go city if you want to stay close to Machu Picchu for more than one day. AWFUL! The ugliest and scammiest city I have ever been to in my lifetime. At every restaurant we went to, the servers tried to charge us a local tax which doesn't even exist and canceled Happy Hour specials after we had ordered drinks.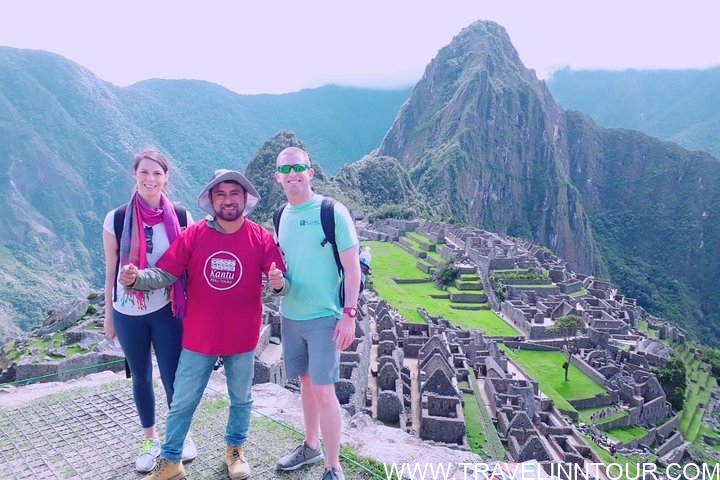 Tom ended up getting in a lot of verbal arguments (in Spanish) with the owners & servers! What a man 🙂 As for lodging, we stayed at Pirwa Hostel, which was equally bad! It is definitely worth the extra few dollars to stay in a hostel/hotel where you will be able to take a hot shower (without rushing out). Because of how atrocious the city of Aguas Calientes was, we wanted to spend the least amount of time as possible in the city.
We tried out the hot springs (for which the city is named), thinking it would be the hot spot in Aguas Calientes. GROSS!! Hundreds of kids and adults in two spas that stink and are probably full of pee! We spent 10 Soles to spend two minutes in these disgusting lukewarm pools of dirty water and were happy to leave without asking for our money back.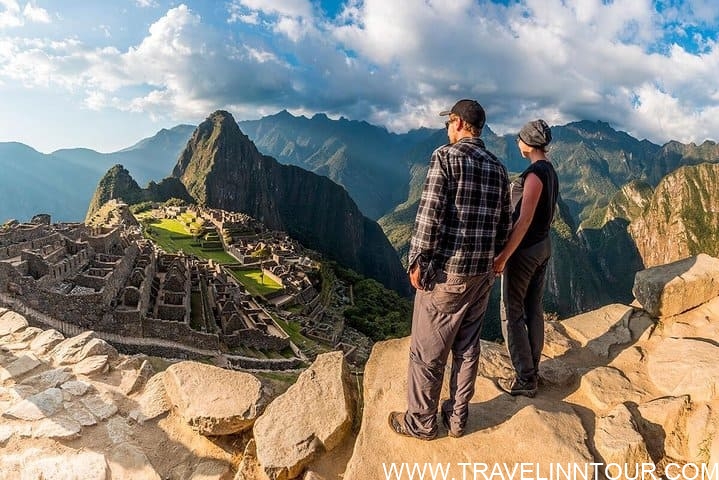 Afterward, it was time to go hiking for the first time in the region. We opted for Happy Mountain, which was currently prohibited (closed for repairs), but rules are not enforced and the gates were open so we took a chance…
Wikitravel wrote that it would take us an hour to make it to the top. BIG LIE. Two and a half hours later, after climbing the most dangerous 100ft + ladders and having to stop every five minutes to catch our breath because of the altitude (over 10,000 feet), we made it to the top. OMG. Beautiful. From the top, we got our first glimpse of Machu Picchu. No word can describe the relief you get when you realize there isn't any more to climb and you can rest in peace surrounded by 2-3 people at the most overlooking the insanely gorgeous Machu Picchu.
After descending the same trail and ladders, we needed a break… We decided to get an hour-long couples massage for 40 Soles (about $15) each to recover from the hike. It was awesome but make sure you don't ask for a "medium" strength massage… it was painful! Just go with a soft massage or you might get scared for your life, having a Peruvian jumping on you and trying to beat the pain out of your lifeless body.
The next morning, we woke up at 4 am and headed to the lineup for the buses to Machu Picchu. Arriving at the lineup at 4:45 am got us on the 4th bus, which is pretty good if you want to make it to the site before the crowds and before sunrise. The bus ride was definitely for the courageous.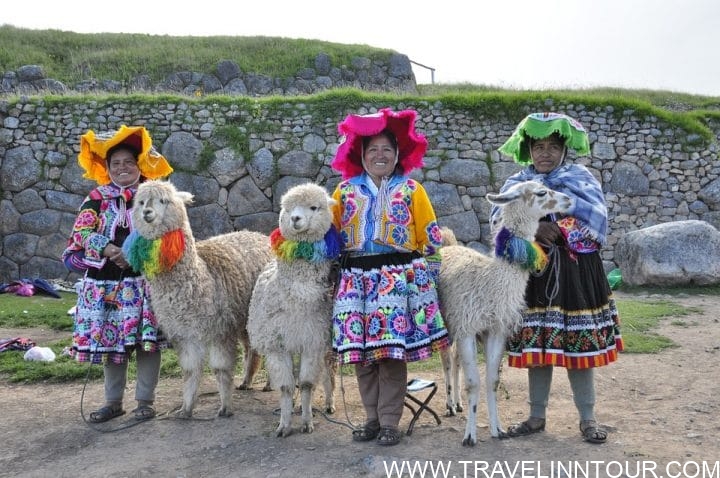 If the driver makes one wrong move, you are gone forever, tumbling down a mountain of countless height. I am already scared of driving over small bridges… my little heart was yelling at me: "jump off of this bus to save your life!" Luckily, Tom was there to calm me down. We finally got to the site at 6 am, and there were less than 200 people with us for at least an hour. We chose a perfect spot overlooking Machu Picchu to watch the sun slowly rise and light Machu Picchu and the other Incan Ruins. What a peaceful moment.
I am so glad we had a couple of hours before the big crowd showed up and the sun started shining at its fullest. Machu Picchu is breathtaking, leaves you speechless, and will be the picture you will see in your dreams for months to come!
When we got back to Aguas Calientes, they told us at the train ticket counter that two seats had opened up to Poroy near Cusco on a nicer train for a mere upgrade fee of $26. It seems as if this trip is all about good karma!
So. Here are the answers to the most common questions we receive:
Is it worth having to fly to Cuzco and then take a train to see Machu Picchu?
YES.
Is it worth the money to see Machu Picchu?
YES.
Would you do it again?
NO.
Once is enough… and a picture lasts a lifetime!
Save It On Pinterest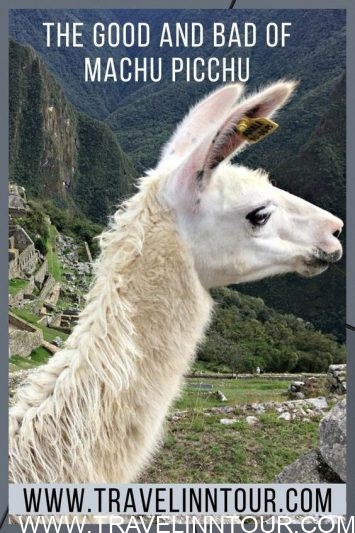 Affiliate Disclosure: This article may have affiliate links within it, which means we may receive a small commission (at no additional cost to you) if you click on one of the links and buy something, which will be used to help keep the lights on and maintain this site. Thanks for reading this far.