If you want to have a pleasant vacation at some of the most stunning family golf resorts in the world, it is very important to make the right choice. Nowadays more and more people are turning to golf because they not only enjoy the game but can also relax in the pleasant environments offered by golf resorts. Some of the golf resorts are very interesting and give guests a special experience. If you are planning a golf vacation, you can choose from some of the best family golf resorts listed here. Don't stand for it. Rebel. Take action now!
Pack your bags, gather your family, and head off to any of these golf resorts where the summer has bothered to turn up:
Take A Vacation At The Best Family Golf Resorts Of The World.
Moon Palace Cancun – All Inclusive
The Moon Palace is one of the most remarkable golf resorts in Cancun, which is famous for its golf resorts. A holiday at the Moon Palace is undoubtedly a unique experience. After exercising your swing on the golf course, you can dive into one of the 10 outdoor pools. Other features of this property are attendant services, free Wi-Fi, and babysitting service (for a fee).
The Sedona Golf Resort, Arizona
The Ridge on Sedona Golf Resort, located in the Sedona Mountain Range is a wonderful 71-course golf resort that has been consistently rated with four stars. It is one of the most amazing golf courses in the world and provides golf enthusiasts and travelers with remarkable golf holidays.
Donnafugata Golf Resort and Spa: Sicily
Voted by Conde Nast as "The Best Golf Resort in Italy", this luxurious holiday destination in Sicily offers two immaculate 18-hole courses and a golf academy that provides coaching sessions for beginners who want to learn the game and experienced players who want to refine it.
Facilities including a luxury spa where you can relax and indulge in some well-earned pampering, a choice of onsite pools that overlook the fairway, and free bus access to nearby beaches and towns where you and your family can enjoy local cuisine and culture.
Palmetto Dunes 
Highly ranked and rated by various recreation, travel, and golf magazines, Palmetto Dunes is a paradise for golfing families. There's so much to do here that you may have to make an annual trip. Aside from the three, championship golf courses, lessons from PGA pros and onsite shop for all those essential golfing souvenirs, there's a seemingly endless range of activities for the family.
You could play tennis on one of 23 courts, learn to surf, land a big fish, go kayaking or cycling, hang out on the beach, relax in the spa, dine in one of the many restaurants and (if you have one) moor your yacht in the marina.
Mazagan Beach & Golf Resort, Morocco
If you've got a baby in the family, then the Mazagan is the ideal golf-holiday destination. With clubs that cater for children aged 3 months to 18 years and out-of-hours childminding service, you can enjoy spending time with the kids and without them.
With an extensive choice of sport, leisure, beach and pool activities on offer, you can enjoy time as a family or let the kids have their adventures while you head to the world-class 18-hole links course designed by Gary Player, enjoy a romantic dinner for two, or soak away those parenting cares in the onsite spa.
Wyndham Grand Algarve, Quinta do Lago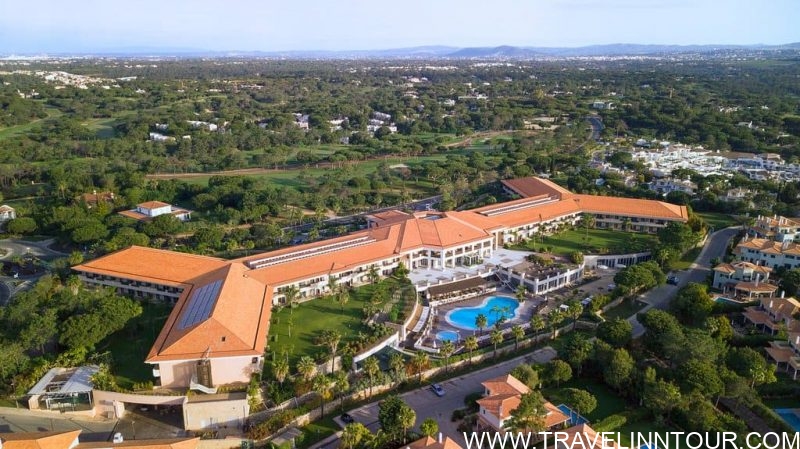 Quinta do Lago, This is golfing heaven. Located in the Ria Formosa National Park, there are three award-winning championship courses on offer plus a 9-hole mini-golf course for little ones and Europe's only Paul McGinley Golf Academy for those who want to up their game.
But, it's not all about the golf. There are just as many exciting activities and events for the rest of the family too. Tennis, watersports, cycling, horse riding, pilates, or simply an afternoon building sandcastles on the resort's beach are all offer.
Disney World, Florida
If there was ever a way to get the kids as excited as you about a golfing holiday, a trip to Disney World is it. Four courses are available, all of which are pristine, serene, fun, and challenging – where else would you get to play a ball out of a Mickey Mouse shaped bunker?!
As well as a choice of 9 and 18-hole courses, there are lessons with PGA professionals and Junior Golf Camps for children aged 7 to 17, and when you've had your fill of them, there's still the mind-boggling selection of Disney entertainments awaiting you in the main resort.
What are you waiting for ?! The sun is shining, the courses are open, and with all of the offerings available in these child-friendly golf resorts, the family is ready to go. Book online and make this summer one remember. 
Save It On Pinterest