New South Wales Holiday Destinations
Escape To Tea Gardens ( Village in Australia)
For those that like to travel during the summer months to beautiful beaches and clear waters, there are many different options open to them. But what of those people who take their vacation during the winter months who would also like a nice seashore holiday. Tea Gardens in New South Wales, Australia are a great place in the winter months because it is there summer when winter is knocking on the USA's door.
Situated next to Hawks Nest in Australia, they are connected to the world's only 'singing' bridge, so named because of the whipping wild winds going through the rails that seem to make a singing sound for passengers going across its roadway. Myall River is next to the two towns and it dumps into the Myall Lake and all are a beautiful and grand site to see according to the people of the town.
Several times a day, the dolphin-watching tours leave the harbor for a location chock full of dolphins for watching and swimming with them. The passengers of the small boat are allowed to get into the water with the mammals, if they wish, and swim alongside them and a trained professional. With these types of trips into the waters that are dolphin-rich, is in not required that someone jumps in and swim with these charming creatures. One would be just as happy watching from the top of the boat and perhaps taking a photograph or two of them swimming gracefully along.
The regions biggest Koala colony is located in Hawks Nest which is right next to the gardens and one can watch them in their natural habitat. There are hundreds of other natural wildlife including fish and migratory birds. One of this area's strongest attractions for tourists is the fishing. There is plenty of it and lots of boats to take people out where they are.
There are lots of bushwalking trails and hiking for those outdoors types in addition to biking around the wildlife nature areas surrounding the great lakes. In the water, there are many sports such as surfing and swimming, boating and kayaking and all around the region there is just about anything and everything one could want in outdoor activities.
In the evening or for the more indoor type person, there is the ten pin bowling and squash is a national pastime for those people who like their sports a little more rouged. The less sporty of the visitors could enjoy some gambling, a game show style amusement at a nearby club which also hosts BBQ and live bands on the weekends. It also houses a coffeehouse type of cafe for those who want to relax and read while sipping coffee. There is a good range of Tea Gardens accommodation to be found on the net.
There is also a new and exciting outdoor market where people can find just about anything from fresh produce from local vendors to handcrafted items that local artisans created, some from a nearby art school. These farmers markets and handicraft items are all sold to local people and visitors every weekend, rotating different types and styles each month. There are miles of booths for people to wander through in order to find that something special for a souvenir or a little memento of their trip.
The Tea Gardens and Hawks Nest do not stand alone; they are surrounded by Bulahdelah, Pacific Palm and the Forest/Tuncurry regions of Australia. They all offer a different outlook on the wonderful beaches and rich forest lands. Many have isolated retreats for getaways that are more private while the other locations are filled with restaurants and shopping for a real tourist treat.
Escape City Life Take A Few Days Off In Bathurst
Bathurst is a city in the Australian state of New South Wales. It is situated 124 miles from Sydney. A 2006 census revealed that the city's urban population was around 30,000. It was originally occupied by the Wiradjuri tribe of Aboriginals.
Any visitor will find exceptional shopping malls, superb restaurants, a large variety of Bathurst NSW accommodation and a thriving business sector. The people are well known for their welcoming hospitality. Bathurst is the continent's oldest inland city. It was in existence before the first colonial settlement was formed.
Bathurst was given 'town' status in 1815. With the discovery of gold, it experienced phenomenal growth during the 1850s and 1860s. Today, it one of the country's fastest-growing modern cities which is easily accessible by car, plane or train. With a fascinating history and rich heritage, it offers visitors a host of interesting attractions.
Housed in a renovated 19th Century school building is the outstanding Australian Fossil and Mineral Museum. It is one of the world's most notable fossil and mineral collections. A 10-meter long Tyrannosaurus Rex takes center stage and is a real star. It is Australia's one and only dinosaur.
You can also see a 40 million-year-old lizard and dinosaur eggs. There are more than 2,000 exhibits at the museum. They are displayed in two sections. One section is called the MasterFoods Fossil Gallery and the other is the Minerals Gallery.
If you are a train enthusiast, you will enjoy the unique Bathurst Miniature Railway which is in the John Matthews Sports Complex. There is a track of 600 meters and visitors can take rides on designated days, weather permitting. If you want to ride, you must wear closed shoes or you will not be allowed on the train.
The acclaimed Mount Panorama Racing Track is just outside the city. It was established in 1938 and was named the Mount Panorama Scenic Drive. Later, it became the bona fide home of Australian motor racing. What started out as a dusty country road has become one of the world's leading motor racing circuits. It is 6.2 kilometers long and is situated almost 2800 feet above sea level.
A Bathurst attraction that you must not miss is the Jenolan Caves. Here, you will see the most wonderful formations in colors like pink, milk white, brown and orange. There is a total of 9 show caves plus 4 adventure caves, all of which are open to the public. Guided tours take place every day of the year. You can also take a night tour, a theme or specialty tour, or try your hand at adventure caving. You can choose a beginner adventure where you will be helped by a guide all the time.
Embrace history with a journey to Bathurst:
Embrace history with a journey to Bathurst, the first inland settlement built in Australia. Only 2 ½ hours west of Sydney by car, you can also easily travel to Bathurst by rail and air.
Throughout the year, Bathurst has special treats to offer visitors. Each season holds a unique charm, with colonial farms, gold panning, and various other activities available to make for a great vacation.
Visit the Mount Panorama Motor Racing Circuit year-round to check out the National Motor Racing Museum, a must-see. If you're lucky, you might even catch a race!
Bathurst claims former Prime Minister Ben Chifley as a one-time resident (along with his wife Elizabeth), and his home is maintained as a tribute. It provides an interesting insight into the everyday life of the early 20th century.
Of course, Bathurst has plenty to do outside of these sites. With a plethora of parks, sporting venues, and conference facilities, Bathurst can offer visitors everything they desire (except the beach, of course!). A thriving cosmopolitan center, you'll find industry ranging from education to agriculture and food processing.
Bathurst is a wonderful place to head inland from Sydney. Visit today and enjoy!
Enjoy The Splendor Of The Tranquil Area Of Kangaroo Valley
One might think a village of fewer than four hundred people would be too quiet to attract visitors. Think again. The tranquillity of Kangaroo Valley draws tourists and part-time residents looking for proximity to Sydney and Canberra without city hassles. Set in a lush green valley, the area abounds with spots suited to quiet contemplation. Come and refresh yourself in this New South Wales jewel.
Your Kangaroo Valley accommodation NSW choices include numerous guest houses and bed and breakfast establishments. One might suspect that just about everyone who lives here runs one, considering your bounty of choice. Seek out a retreat-like atmosphere with spa and gardens. Look for the best food, a pool or the lure of seclusion. Certain heritage homes have been adapted for the purpose also.
Then again, stay where you play. Arrange to set yourself down at the golf club resort, with its eighteen holes, tennis and pool facilities. Families, take note: while moms often seem to like spa treatments, dads might appreciate a weekend of golfing. Then again, choose to camp out while following the river in search of wildlife.
One wild attraction is the bass available to reel in: say cheese, this is your photo opportunity. Catch big fish at Tallowa Dam or Kangaroo River thanks to your own great sense of direction and understanding of the habits of bass. On the other hand, book a guide to be on the safe side.
A tour might take you onto the water in a canoe or kayak. If you feel confident, hire one for yourself and ride some gentle waves. Tours accommodate children as young as two and disabled passengers where the water runs flat and safe. Should water cause you any apprehension, stick to land by hired bike or horse.
Enjoy some history at Pioneer Museum Park. Demonstrate to kids just how lucky they are to have modern schooling by comparing theirs with the bush school. Show them mid-nineteenth to early twentieth-century life including the dairy, forge and saddlery. It never hurts to recall how easy life is for some of us, where we can just get our milk at the store. Set on reserve land, this attraction also features a swinging bridge leading to bush walks. Afterward, stop by the spectacular sandstone amphitheater overlooking the green valley.
Try some local wine at award-winning Yawarra Estate Vineyard. Their varieties include the citrus of Semillon and a sweet Walnut offering. Eat out at cafes and restaurants, stop for fudge or take a picnic and admire the scenery. Stop for a visit to the olive garden where you can purchase products, pairing them with a selected wine perhaps, though not right after a bite of fudge.
A popular choice for weddings, Kangaroo Valley provides the serenity ideal for a perfect nuptial day, yet brings the event close enough to city amenities for the convenience of delivering cake and flowers. Facilities here can make space for very small and very large wedding parties. Set your important day against this gorgeous setting for stunning photos. Guests may wish to stay a bit longer and train their binoculars on the wild backdrop for sightings of wildlife, or perhaps a celebrity.
The Breathtaking Scenery of the Blue Mountains
In the South Eastern region of New South Wales in Australia, is a mountain range known as the Blue Mountains. Much of this range has been declared a World Heritage Site and is composed of a conservation nature reserve together with seven national parks. The predominantly sandstone plateau is dissected by deep gorges, some as much as 760 meters deep.
the Blue Mountains are a popular day trip or weekend away from Sydney. There are a number of small town in the mountains the main ones being Katoomba and Leura. There is an abundance of holiday rentals in the Blue Mountains in the area.
The Gudungurra people had lived in the area for a few millennia, being its first inhabitants. Traces abound, of these original human settlers, as can be seen in the Red Hands Cave near the settlement of Glenbrook, where stencils of the hands of adults and children adorn the cave walls. In another site at Wentworth Falls, grooves in the rocks, thought to be the result of the grinding and sharpening of rudimentary tools, were discovered. Animal tracks carved into the stone and a cave with distinct traces of human occupation were uncovered at the Kings Tableland Aboriginal Site and it has been estimated they were 22,000 years old.
The area was originally known as the Carmarthen and Lansdowne Hills, named by Arthur Phillip, governor of New South Wales after Europeans had settled in and around Sydney in 1788. However, the locals preferred the Blue Mountains due to the blue haze around the mountains when viewed from afar.
The area has a variable climate which depends on the altitude. Katoomba at 1,010 meters, experiences daytime temperatures in summer ranging from 20 through to 30 degrees Celsius. Night time temperatures seldom drop below 12 degrees. Temperatures of -3 degrees at night in winter will rise to a daytime high of between 12 and 13 degrees Celsius. Snowfalls can be expected on two or three occasions each year higher up, but not lower down where it is warmer. An annual rainfall figure of 1,050 mm is the norm and numerous misty days can be expected.
The primary indigenous vegetation at the higher altitudes is Eucalyptus trees. On the edges of the plateaus above the cliffs, more varieties of heath vegetation are prevalent. Deep gorges provide shelter for the temperate rainforest flora. Hanging swamp ground supports reeds of button grass that grow in deep, black, thick soil.
Scenic World The area boasts a privately owned tourist attraction, the Katoomba Scenic World featuring the Katoomba Scenic Railway and the Katoomba Scenic Skyway which are situated just South of the town of Katoomba. A shop, a theatre and a revolving restaurant complete the range of available local amenities. The railway is reported to be the steepest cable powered railway in the world being inclined at 52 degrees over 415 meters long.
The Three Sisters, a rock formation that has become famous, are also close to Katoomba and tower over the Jamison Valley. An often repeated legend tells the tale of three women who loved three men from a different tribe. They were forbidden to marry, however, and a battle took place during which an elder turned the women to stone to protect them. The elder was killed in the battle and there was no one who could change them back. The legend is believed to have been circulated by a colorful local character to create interest in the landmark.
A walking trail beginning at Echo Point goes past the Three Sisters and down the Giant Staircase of 800 steel and stone steps to the valley floor. Any visitor to the Blue Mountains who does not want to make the climb back up the stairs may ride the train back for a small charge.
A View of Sydney from Circular Quay
In a small Australian inlet known as Sydney Cove lies the central point of Sydney Harbour: Circular Quay. This is the founding site of Australia. When you visit Sydney, just about every attraction that you will want to see can be reached from Circular Quay, and it is a fun and exciting place for you and your family to visit.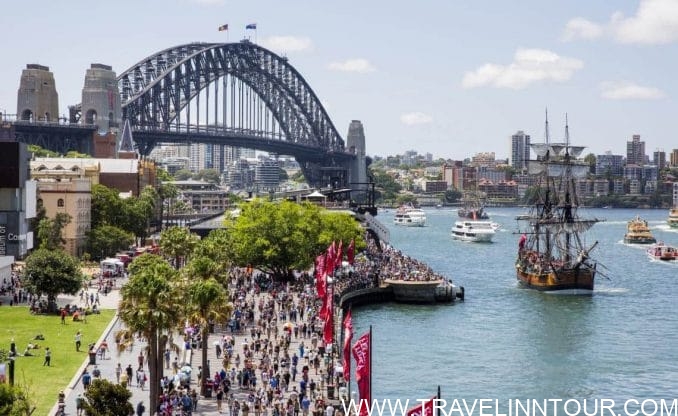 Contrary to its name, Circular Quay is actually in the shape of a horseshoe, and it is a terrific place for first-time visitors to begin their Sydney vacation.
Ferries for such popular destinations as Taronga Park Zoo leave Circular Quay every few minutes, and from here, you will have an amazing view of the Harbour Bridge. There is a walkway on the southern side of Circular Quay which leads to a number of popular attractions, including the Royal Botanical Gardens and the Sydney Opera House, where you can enjoy an evening of live theatre, ballet or concerts. Or take a walk along the northern side to the Harbour Bridge as well as The Rocks, which is one of the oldest and most popular Sydney attractions.
Watching the Ships Roll In
If you just want to spend a relaxing day with your significant other, strolling around Circular Quay and taking in all of the sights, you will want to take some time out to just sit and watch the many ships, boats, and ferries coming in and out during the day. You may even get to see a tall ship or two docked in the harbor. Or you can hop on a bus for a visit to the suburbs, or visit the railway station, a part of the underground City Circle. Circular Quay is a major bus, train and ferry terminal, and you can get to just about every location in Sydney from here.
A circular Quay is a Great Place for Literature Lovers
When you visit Circular Quay, don't forget to take a stroll along the Sydney Writer's Walk. Metal plaques emblazoned with the names of such famous authors as Robert Lewis Stevenson and Mark Twain are embedded into the Circular Quay walkway. These plaques can be found near the Overseas Passenger Terminal marking the entire way to the Sydney Opera House, and you will find passages from the works of the writers whose names appear here.
Something for Everyone in Circular Quay
Whether you are interested in transportation, the arts, entertainment, shopping, fine dining or taking walking tours, Circular Quay is the ideal spot to begin your Sydney vacation. Circular Quay is a great place to spend a relaxing day while enjoying lunch at one of the many cafes, shopping and being entertained by the talented buskers that are drawn to the area, and you will never be lost for something to do.
The Seaside Village of Terrigal
The seaside village of Terrigal is renowned for its posh hotels, upscale restaurants, and equally fashionable cafes, chic boutiques, and entertainment.
Streetside cafes abound, offering a casual outdoor dining experience during the day, while in the evening there are a number of choice restaurants which cater to the discriminating palates of tourists and locals alike who flock to Terrigal for its cool sea breezes.
Terrigal is located right on the beach; its northeasterly position makes it ideal for soaking in the sun all day long. A protective canopy of trees provides shade for the magnificent villas, modern homes and apartments nestled within the surrounding hillsides. The streets, lined with trees, extend to the town center and further to the beach making it easy to traverse the city.
Surrounding Terrigal, you'll find beautiful coastal vistas, national parks and an expansive pastoral landscape within a short driving distance. Modern amenities such as movie complexes, malls, and golf clubs are all within a 5 km radius.
The Entrance – Pelican Capital of Australia
The Entrance is one of the Central Coast region's top destinations. This small town has been attracting visitors from Sydney since the first guest house opened here way back in 1885. Now, even though there are many places for visitors to stay, The Entrance has retained its small-town feel, making this a great family destination.
Why is it called The Entrance?
I've always been curious to know why it's called The Entrance, as for me this name makes me think of a shopping mall or a theme park! In fact, there's no hidden meaning with this town, it's named so because it sits along the channel that forms the entrance to the Tuggerah Lakes; just one of the popular places you can visit when staying in The Entrance.
Family Fun in The Entrance!
The Entrance attracts visitors young and old, whether families, or couples, with its laid back lifestyle and family-friendly attractions. This is a destination where you can do as much or as little as you please – relax on the beaches, go swimming or surfing, try out many other water sports, go boating and fishing; there's something here for everyone.
The Entrance Pelican Feeding
One thing you shouldn't miss is The Entrance's daily pelican feeding. This is a real hit with children, but whether you're here with friends or family this event is highly recommended, and what better place to see it than the Pelican Capital of Australia! Every day of the year at 3.30pm a large group of pelicans is fed right in front of a large group of tourists! The feeders provide you with a running commentary and you get the chance to find out many interesting facts about these large sea birds. It's very exciting!
Tourist Attractions in The Entrance
As well as the pelican feeding The Entrance has many other things to do. The Entrance Heritage Walk is a great introduction to the history and culture of this small town, and it takes about 2 hours to complete. If you're here with kids make sure you visit Vera's Water Garden where they can cool off and splash about, and then visit one of the town's parks. Memorial Park is a popular one with families as it's set on the shores of Lake Tuggerah and always has plenty to do.
The Entrance Mardi Gras
The first week in December is a popular time to visit The Entrance as this is Mardi Gras week! This fun-filled festival is great for the whole family with many different things going on, so you may want to coincide your visit. Accommodation in The Entrance gets booked up early for the Mardi Gras, so make sure you reserve your place to stay as early as possible!
Pokolbin for World-Class Vineyards
Right in the heart of the Hunter Valley, Pokolbin is well-known for world-class vineyards that have been producing great wines for more than one hundred years. Though areas like the Margaret River Valley are more popular nowadays, this is actually the original wine producing area of Australia. It's also home to a wide array of tourist activities.

Pokolbin has been producing wonderful wines since the middle of the 19th century. In 1970, the area underwent a resurgence as Australia was declared a major wine producer. The Lower Hunter Valley was at the forefront of this push, and there has been continual growth here ever since.
Like other wine-producing areas, Pokolbin has existed at the whims of the vineyards that surround it. From the first plantings more than 150 years ago until the 1970s, development was slow. As Australian winemaking became more and more respectable, however, the wine improved, and today is some of the finest in the world.
Only two hours from Sydney, Pokolbin is a great destination for a quiet day away from the hustle and bustle of the city.
For a Fun Beach Holiday Head for Byron Bay
For a fun beach holiday, you don't have many better choices than Byron Bay. With beautiful white sand beaches, fantastic surfing, and gorgeous rainforests minutes outside of town, Byron is famous for its laid back lifestyle. You'll love the relaxing accommodations here, complete with luxury spas. If your hotel doesn't have the treatment you're looking for, you're sure to find it at one of the healing centers in town.
Of course, not everyone is here to relax. There's also a ton of adventure sports, as well as a variety of exciting shopping and entertainment. Byron is also known as a center for backpackers looking for the ultimate party. Perhaps more than any other town on the East Coast, Byron epitomizes the backpacking culture of great nightlife, sun and surf, and opportunity for exciting adventure. Byron Bay has some of the best hostels in the world, and it seems like new backpacker lodges seem to sprout up every day.
One of the main reasons Byron is so popular is the quality of its beaches. The surfing is out of this world, but you'll also find great scuba diving at Julian Rocks, complete with nurse sharks and loggerhead turtles. You'll also have a shot at sopping whales as they migrate past during the summer.