Welcome to Rome
Rome is a city that you can wander around, coming across quaint Piazzas filled with coffee and pizza, epic fountains, and even remnants of an ancient civilization. I spent two full days exploring this wonderful city but I felt like I could have stayed for many more.
You may be thinking that visiting Rome in early January is strange, but the queues that Rome is renowned for were virtually non-existent. If you visit and it is busy there are various queue jump options for a little extra £$£ and also many types of visitor pass which include a variety of free travel, entry, and queue jump. For two days the cost didn't seem worth it – if you are visiting for longer, then I think they would defiantly be a good option.
I stayed at The Hotel Impero; a three-star hotel just 15 minutes walk from the Colosseum. I don't know, but I'm willing to bet that there are much better options out there for the price. The hotel is ok, but it is dated. It didn't help that we had arranged for a taxi pick up from the airport which never arrived. It took a full day for an apology and this only came via email at first. My advice is just to bypass this place – I give it a low value for money rating.
Rome Travel Guide – A Walking Tour in Rome
In the morning we walked to the Colosseum, entry was 12e (7.50e if you are under 25) and also included entry to the Roman Forum and Palatine Hill. The Colosseum is epic, and although it is obvious that many parts have been rebuilt, it gives you the feeling of being in Ancient Rome.
I think it is unfortunate that you cannot get into the area below where the Gladiators would have fought; I suspect that certain tours can gain access as I saw a few people there, but with general admission, it isn't possible. Neither is an entry to the top level. We paid the extra for the audio tour; I was surprised at how badly signposted the route was (turns out most of the visitor attractions in Rome are like this) but for the few euros extra it cost it was interesting but short.
When you exit you are faced with the Grand Arch of Constantine and the entrance to Palatine Hill is just beyond. Climb the hill to the top for the views over the forum below and then descend and stroll around the ruins. Although there isn't a great deal left standing, you can see the structure of how it would have been in ancient times – how the houses and shops lined the stone path leading to the Colosseum and where the temples sat around it.
Then we headed north toward the Altar of the Fatherland, which we sat by a cafe and had some coffee. The building is unbelievable and, along with the Colosseum, is a must in the evening when it is lit. From there we took the short walk to the Pantheon.
This place is astonishing – my favorite place in Rome. It is placed at the center of a large Piazza, surrounded by bustling (and expensive) cafes. The Pantheon, the main picture of this post, was originally a Roman temple, later converted into a church. It is typically Greek in architecture at the front, but the body of the building is round with a dome that lets the sunlight the inside.
And to top it off, entry is free! We had to sit down again here for a drink to appreciate it. From here we took a loop around to the spectacular Trivi fountain and then to the Spanish steps, sitting for lunch down a random side alley. This was a day one done – about a casual 6-hour stroll.
Like many big cities, the tip is to stay away from the cafes and restaurants on the main walkways. Food is quite reasonably priced everywhere – about 10e-20e for a meal, but the prices can jump right up near a major site.
Alcohol is what will empty your pockets of money in Rome. That evening we walked Rome in the dark, admiring the sites lit up in between glasses of wine at whichever cafes and bars we came across. Being British, I suppose it is only natural that at some point I ended up in an Irish bar playing pool and drinking a pint of lager.
Vatican City
From our hotel, we took a taxi to The Vatican for only 10e. The driver asked us if we wanted St Peter's or the museum, we assumed both are in the same sort of place – wrong. Now that I have a little knowledge, my tip is to go to the museum first and when leaving from the Sistine Chapel take the exit for the tour guides (no one will stop you, I promise) and it takes you out to St Peter's Basilica.
This means you don't have to queue twice! The Vatican museum is where you want to have a prepaid ticket with a queue jump – 21e with 14e without. We purchased ours near to the exit of St Peter's but I didn't see anywhere near to the museum where you can buy one without being charged over the odds by a tour guide.
Anyway, it saved me about half an hour and was that easily the longest queue I saw. The Vatican museum is fascinating, but if I'm honest I was a little jaded by the time I reached the Sistine Chapel.
The museum itself can take over 2 hours to walk, there is a shorter way route to the Sistine Chapel signposted which doesn't miss any of the best paintings. Some of the artwork on the way is so beautiful it is hard to imagine how it could have been crafted so well and lasted so long.
But a great deal of the museums is modern art which is not what I came to Rome to see. There are also ancient Roman statues, but mainly of their interpretations of older Greek gods. Some of these were amazing, but there were just so many of them.
The Sistine Chapel is as exquisite as you'd expect, it actually made me wish I'd paid attention in school more when we had to study the bible so I knew what I was looking at. It became even more impressive to me once I thought about how Michelangelo must have painted most of it on his back! Remember, take the tour guide exit! Now you're at St Peter's.
The Basilica is a marvel, religious architecture at its best. I found myself slowly walking, trying to take in all of the art, sculptures, and crypts on the show. When you leave, walk down the long street to the main road and turn around for a spectacular view of Vatican City.
Directly opposite it's just a short walk to Castel Sant'Angelo. It is a great, round castle positioned right on the river Tiber. It is actually the mausoleum of Emperor Hadrian and dates back to 139AD. This was the final sight of my whistle-stop two-day tour of Rome.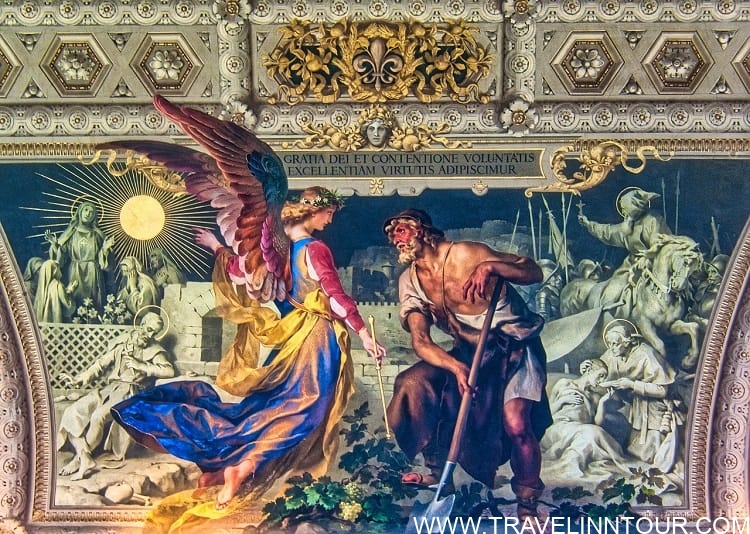 Walking back home we bumped into Piazza Navona for an expensive lunch – if not for the Pantheon this would have been my favorite Piazza in Rome. It is massive and has a strange obelisk with Egyptian hieroglyphics and they are even excavating the first stadium built in Rome. It, of course, is jammed with lovely cafes and restaurants.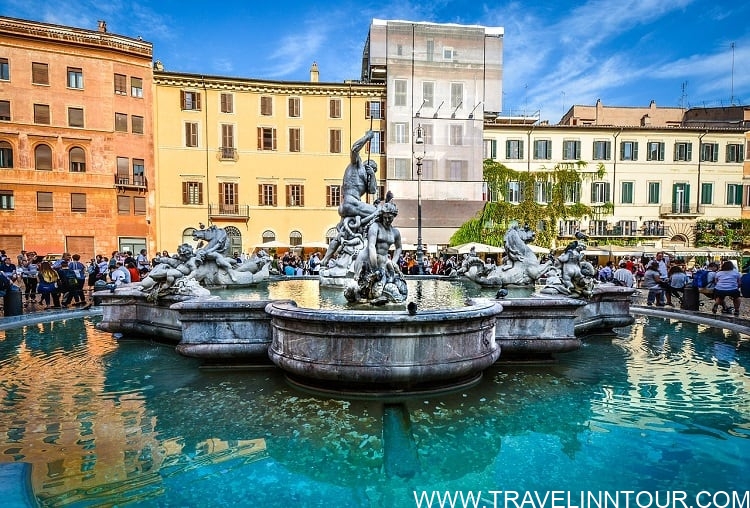 Some things worth noting; my schedule in Rome was pretty full-on – 6 hours a day of walking, perhaps more. So if that seems too much for you, give yourself more time. Taxis to and from the airport are fixed at 48e so don't pay any more than that. Also, everyone is really nice in Rome. If you ask for help they will give it to you – just expect them to make a joke first!
Save It On Pinterest