Hitchhiking to Dubrovnik – We had such a beautiful and memorable experience in Mostar and Hitchhiking to Dubrovnik Croatia was meant to get out of the comfort zone and face the unknown. The last thumbing experience took place from Banja Luka to Sarajevo and lasted 24 hours, however, Mostar and its people made us hope that you could again succeed on the roads.
We had time for a late breakfast at an Italian restaurant where the only thing that would be a kind of breakfast was a coffee because in Bosnia one starts a day with a cevapi.
Hitch-hiking
Travel by getting free lifts in passing vehicles.
We started just around the corner at a gas station where we would either get stuck and sleep rough – as happened before in Slovenia– or convince someone we were simple travelers trying to cross the Balkans thumbing.
Hitchhiking to Dubrovnik
The incertitude always wanders through our minds, especially due to the fact that Bosnians never had a clue about hitchhiking in their own country. It was always unclear what locals think about hitchhikers, and some of the people we spent time with assumed they wouldn't stop to pick up people fearing any sort of danger.
At the spot, when a gentleman got the beloved gas station, I approached him asking for a lift, he wasn't going further than 5km, nevertheless, he promptly offered to take us to a better place, where minutes later we met fellow hitch-hikers, Magdalena and Jonas.
Later on, we all carrying big backpacks found room inside a small car, driven by a young man whose big heart never allowed him to say no to travelers. His past as a hitchhiker boy which he was proud of gave him a strong will to always pick up those who are seeking adventure.
Sasa took us to the border, near Metkovic, and left us with a profound feeling that his attitude, though unique, wouldn't be rare during that day.
We crossed the border walking, holding passports from 3 different countries: Germany, Venezuela, and Portugal but somehow already united by the same stamp, the altruism of man who didn't stop just to pick up 4 strangers but also to show empathy to those who have no fear whatsoever to come to this utterly unmissable country.
Trying to find out where to go
At the other side of the border we were already seeing Bosnia and Herzegovina a bit blurred, though the images of the hospitality we witnessed for 8 days in Sarajevo, Banja Luka, and Mostar were already indelible memories.
This picturesque country has more than beautiful women, is rather a place with a history worth being explored and heaven on earth crowed with wholehearted people.
For the future, the itinerary was again flexible and the limit speed for changes and amazing surprises were laying on strangers' benevolence.
And less than 30 minutes later, Barbara, a policewoman, way different than most of the police officers we've met during the trip, stopped to take us on a beautiful journey that none of us were aware.
We were supposed to stop somewhere direction the Croatian coast and for no reason life gave us the opportunity to sit down on Maria's table for pasta and Turkish coffee and a moment to think how our parents would judge Barbara's mum who, in the beginning, according to her daughter, was skeptical to host two black men but the end was hugging and kissing those two travelers whose mums taught to believe that once you show your soul even Maria – the world holy mum's name – cannot resist.
It was an emotional moment for me Johan and me, who were delighted with this gesture but as well aware that out there many others, without knowing us, could refuse to have any sort of contact with us.
The unique moment with Barbara, Marija, and Mimi
Barbara taught us a lesson that a simple gesture can break barriers and though we're divided by borders and controlled by armed police this world still ruled by those who judge you by the content of your spirit rather than the color of your skin and the way you look.
It was noticeable that this small town, Krvavac, nearby the river Neretva, still not used to foreigners nevertheless at the border works a woman who for sure will allow more travelers to follow our footsteps because she believes that's the way to make this world as one.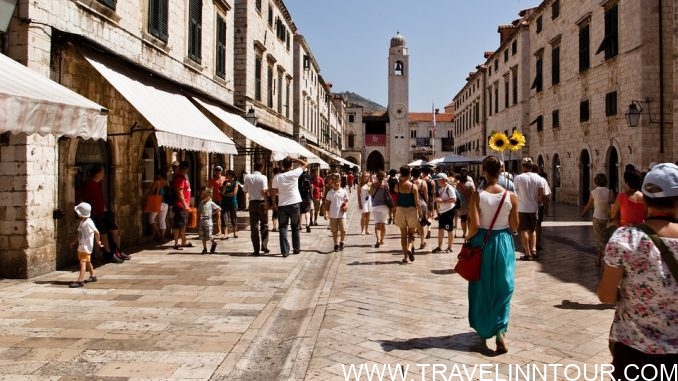 At their doorstep we said goodbye to Marija between kisses and hugs, we absorbed those translated words which could only mean good luck for the rest of your trip.
It was a lucky day for us and we just kept enjoy it and after a pleasant pause by the Opuzen beach, we found two Austrian friends who didn't mind sharing their caravan on the way to Dubrovnik.
Late night, accompanied by thick darkness we got to the Dubrovnik, beautiful? I was asking, we wouldn't know until the next day.
In the recent past, the people we've met had already written an important chapter of this wonderful experience, therefore, we had only reasons to believe that by sharing our stories others can be inspired to come to visit the Balkans and why not hitchhiking.
Welcome to Dubrovnik
we were flooded with tips about this place, one of those places that once has to visit while in the Balkans though extremely touristy and overpriced.
The next morning we woke up fully recovered from the long journey day before, but feeling blessed -still- for everything that happened and pleased for having found two funny guys who made us feel at home in this part of the world.
Together, we planned those 6 hours we had to spend in Dubrovnik – and as soon we drove close to the coast we realized the dimension of the majestic piece of Croatia, craved in between Bosnia and Montenegro.
Indeed Dubrovnik does not fail to mesmerize any traveler, but when one gets closer, the alluring landscape is quickly replaced by noisy busy streets, filled up with thousands of tourists from all over the Europe and USA.
The streets of the old town and its monuments ( especially the Fortress) are targets by endless amateur photographers, making this place the most popular in the Balkans, therefore, the most expensive in the region.
The secret to enjoying this city lies in remote places, hidden in between rocks where the risk of fall over keeps the crowd away.
It's undoubtedly worth visiting though I have a different taste. For some people, this place can be a perfect one to spend lots of money and meet others with the same interest.
For me, it was an opportunity to speak on behalf of my eyes, a chance to go beyond those commercials which show Dubrovnik as the capital of tourism in the Balkans but hide the countless school boys and girls who are hired for little money to convince one to embark on this journey and sit down at one pizzeria where a pizza can cost 11 euros, a beer 5 euros – many other things you can get in Dubrovnik for $10.
When we had to leave, I thought I wouldn't think twice if I had a chance to come back, especially because we didn't have time enough to explore the city but I definitely opt for Couchsurfing.