Brisbane is the state capital of Queensland and was named after Sir Thomas MacDougall Brisbane, the 6th Governor of New South Wales. In 1823, Brisbane was selected by the colony of New South Wales as the place for a brand-new penal colony, planned to house dangerous prisoners in a remote area. In 1837, settlers transferred to the area and pushed to close the prison and to release the land in the area for settlement.
In 1859, a gold rush led to the establishment of the colony of Queensland with Brisbane as its capital. In 1925, the Queensland State Parliament produced the City of Brisbane Act and established a solitary federal government for the city of Brisbane. It has a population of about over 2 million people and is the third-largest and fastest-growing city in Australia.
Brisbane Travel Guide: Know Before You Go
Brisbane International Airport (BNE) is 20 km north-east of the city center. The international terminal is serviced by all major regional airlines flying daily to most Asian cities, the USA, and New Zealand. The Domestic terminal is serviced by Virgin Blue, Jetstar, and Qantas airlines. Passengers can use the AirportTrain to transfer between the International and Domestic Terminals. The AirportTrain fare is included for Qantas and Virgin Blue passengers when traveling between flights.
Airport Train connects from the airport to Brisbane city every 15 minutes during peak times. [Adult fare AU$13. Travel time 23 minutes]. Passengers can connect at Central Station with a Gold Coast train to Nerang station, then a bus to Surfers Paradise.

CoachTrans provides shuttle bus services to Brisbane City and Gold Coast accommodation. [Adult fare (one way) to Brisbane City AU$12, Adult fare (one way) to the Gold Coast AU$39]
Taxi to Brisbane City takes about 20 mins. [AU$30-35]. Late at night taxi is the only transport option.
Road – Visitors from Sydney can drive to Brisbane by either the New England or Pacific Highways [about 11-12 hours].
Greyhound Australia operates coach services from most other locations to Brisbane. Inter-city coaches arrive and depart from the Roma Street bus station above the Roma Street Railway Station.
Cruise Ship – Brisbane has an international cruise ship terminal at Portside Wharf, Hamilton.
Local Transport
Car rental is popular in Australia. Most of the car hire companies are located at the airport and city areas. Driving in Brisbane is easy except in Brisbane Central Business District (CBD) many of the roads are one-way which can be challenging for people not familiar with the layout. Parking can be challenging in the CBD. Australia drives on the left side of the road.
Buses in Brisbane mostly originate in the CBD and travel out in every direction to the suburbs and then travel back to the CBD. The main bus station and customer information center are under the Queen Street Mall in the basement of the Myer Shopping Centre. Tickets can be purchased from the driver (please have the correct fare) or from most newsagent shops. There is an electronic ticketing system (Go Card) available for use on buses, trains, and ferries.
Trains in travel out from Central and Roma Street Stations to suburban areas. Train services run from Central to the Gold Coast Nerang station (connecting bus services to Surfers' Paradise) and Sunshine Coast (connecting bus services at Landsborough and Nambour stations) as well as Australia Zoo (connecting bus at Beerwah station).
Ferries travel both across the river at many locations and along the length of the river. The CityCat ferries are high-speed catamarans operating from Queensland University (St Lucia) past the CBD to Hamilton. They offer great views of Brisbane city from a river perspective. [Adult fare AU$5]
Cycling around the CBD and surrounding areas is easy as there many cycle paths along the river. Cycling on footpaths is legal in the Brisbane City Council area, however, pedestrians have right of way. A safety helmet must be worn.
Brisbane Attractions
Mt Coot-tha Lookout has breathtaking panoramic views of Brisbane city and suburbs by day, a fairyland of glittering lights at night, and is popular with tourists and locals. The lookout has a gift shop, cafe, and restaurant. Most city tour operators take tourists here for morning or afternoon tea. Visitors can catch a public bus from the city to the lookout at the top of Mt Coot-tha [adult fare AU$3-4 one-way, takes about 15 mins, the lookout is free]. If driving, there is free car parking at the top. At the base of the mountain is the Mt Coot-tha Botanical Gardens and Planetarium.
Lone Pine Koala Sanctuary is the world's first and largest koala sanctuary, with over 130 koalas. Cuddle a koala anytime, hand feed kangaroos and encounter a large variety of Australian wildlife, all in a beautiful, natural setting. Have your photo taken with a koala, snake, or kangaroo. [15 mins drive from the city on Jesmond Road in Fig Tree Pocket, 445 or 430 bus from the city, daily Mirimar boat cruise from Southbank, family pass AU$65]
Alma Park Zoo is located at Dakabin 30 minutes north of the Brisbane City Centre. The Train can be taken from the city on the Caboolture line. Visitors can touch and hold koalas, snakes, and small crocodiles, and hand-feed the kangaroos and the deer. [Open daily 9 am-5 pm, Adult AU$28, child AU$19]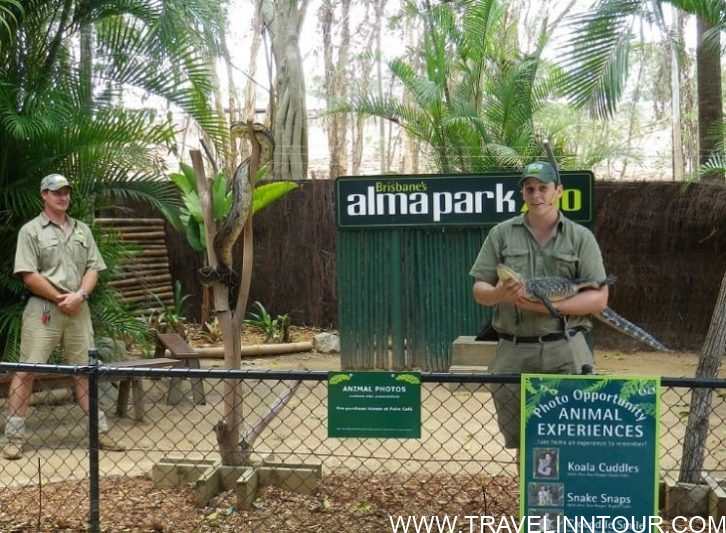 Brisbane City Hall and King George Square Is located between Adelaide and Ann Streets and is the city's most significant historical landmark. Explore the historic City Hall and get a birds-eye view of the CBD from the Clock Tower. [Free admission, daily 10 am-5 pm]
Museum of Brisbane is a social history museum and visual arts gallery, located near Brisbane City Hall, King George Square. MoB explores the people, places, and stories of Brisbane that illuminate the city's past and present while also looking to the future. Combine your visit with an exploration of historic City Hall and get a birds-eye view of the CBD from the Clock Tower. [Free admission, daily 10 am-5 pm]
City Botanic Garden is located at the southern end of the CBD on the river. It is perfect for picnics, walking, and cycling. [Open daylight hours, Free]
Roma Street Parklands is located behind the Roma Street Railway Station. Experience the well-presented theme gardens, the rain forest walk, and the lake. [Open daylight hours, Free]
South Bank is located across the Brisbane River from the heart of the city and was formerly the site of World Expo '88. The area offers many shops, cafés, restaurants, cinemas, museums, art galleries, and more. There are an artificial beach and lagoon surrounded by extensive tropical parklands and great views of the city skyline.
Queensland Museum South Bank is a fascinating museum of natural history, cultural heritage, science, and human achievement and tells the changing story of Queensland. [Open daily 9.30 am-5 pm, free admission]
Science Centre is located in the Queensland Museum at South Bank and offers hours of interactive, science-based fun for everyone. [Open daily 9.30 am-5 pm, Adult $11, child $5]
Queensland Art Gallery is located at South Bank and is Queensland's premier visual arts institution. [Open daily 10 am-5 pm, free admission, except special exhibitions]
Queensland Performing Arts Centre located across the river from the Brisbane CBD is the arts and cultural hub of Brisbane. Australian and international musicals, plays, ballets, operas, and concerts are regularly staged within the arts center complex.
Story Bridge Adventure Climb allows visitors to climb to the top of Brisbane's largest bridge and enjoy great views of Brisbane City. The Story Bridge was built during the great depression and opened for operation in July 1940. The climb is an easy walk up inclines and steps and can be done at dawn, day, night, or twilight. [Adult from AU$89]
Cruise on the Brisbane River is a relaxing way to enjoy the sights of Brisbane. There are many tour operators running cruises on the river such as The Kookaburra Queen paddle steamer boats are cruising restaurants that depart from Eagle Street Pier for morning tea, lunch, afternoon tea, and dinner.
Australia Zoo is located on the beautiful Sunshine Coast on the Glasshouse Mountains Tourist Drive, about 60 minutes north of Brisbane. It is the home of some of Australia's most unique and amazing wildlife, as well as some remarkable animals from overseas. The zoo is owned and operated by the family of the late "Crocodile Hunter" Steve Irwin. [Open daily 9 am-5 pm]
Nightlife and Entertainment
Conrad Treasury Casino is located at the George Street end of the Queen Street Mall and is open 24 hours.
The CBD hosts many cafes, restaurants, cinemas, bars, and clubs. Most establishments are in the Queen Street Mall or nearby.
Fortitude Valley next to the CBD has many late-night cafes, bars, clubs, and cinemas. The area is very busy on Friday and Saturday nights with a younger crowd of party-goers. Try the restaurant and bar complex, Cloudland, on Ann Street.
Southbank, across from the river from the CBD, has restaurants, bars, and cinemas.
Weather In Brisbane
Brisbane has a sub-tropical climate. Summer is warm to hot, with daytime temperatures over 30C. Humidity is high during January and February with night temperatures rarely below 20C. Summer storms with heavy rainfall are common late afternoon on hot humid days. The storms pass over quickly and sometimes put on a good lightning show. Winters are warm, dry, and sunny (day 15-20C, night 8-12C). Sun protection is important as the UV exposure risk can be extreme especially in summer.
Brisbane Hotels
Brisbane has plenty of accommodation from budget to luxury. Brisbane backpackers hostels are located in the City, Fortitude Valley, South Brisbane, and Roma Street. Upper Roma Street has become Brisbane's backpacker alley with many new and existing backpacker hostels in the area. It is within walking distance of the Queen Street Mall, Roma Street Railway, and Coach Terminal.
The CBD, Southbank, and South Brisbane hosts many mid-level, luxury hotels. While Spring Hill, which is within walking distance from the CBD, has many apartments and apartment hotels.
There are also many hotels and motor-inns located between the city and the airport.
Dining
Brisbane City hosts many restaurants and cafes mainly in and around the Queen Street Mall vicinity.
Eagle Street Pier in the financial district hosts several restaurants, cafes, and bars in a lovely position with great views of the river and the Story Bridge. The Kookaburra Queen paddle steamer boats are cruising restaurants that depart from Eagle Street Pier for morning tea, lunch, afternoon tea, and dinner.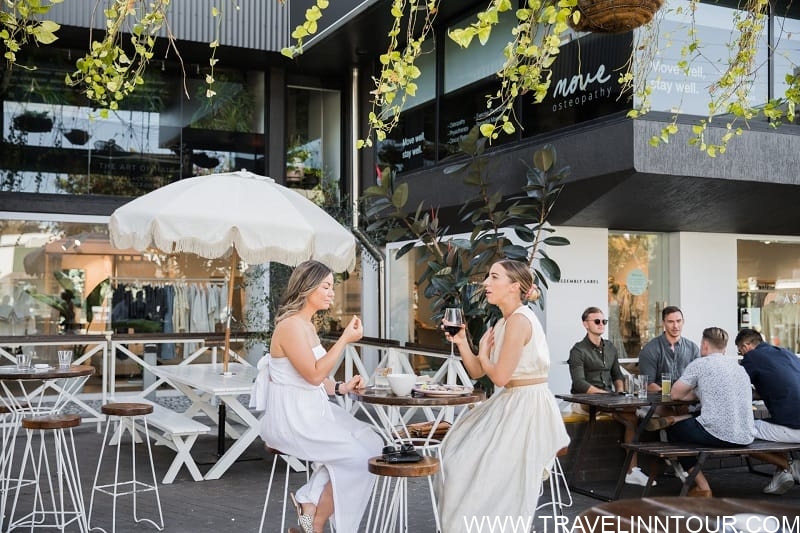 Park Road, Milton hosts several restaurants and cafes, with a European style, under a replica Eiffel Tower.
South Bank and Grey Street across the river from Brisbane City hosts many restaurants, cafes, bars, and cinemas.
Fortitude Valley is home to Chinatown and many Asian-style restaurants.
Sunnybank is a suburb, 10km south of the city, that is popular with Chinese immigrants and has many Asian restaurants.
Shopping
Brisbane's Queen Street Mall is a vibrant shopping and lifestyle precinct in the heart of Brisbane City and hosts over 26 million visitors a year. The Queen Street Mall offers many local, national and international shopping outlets including the Myer Centre multi-level shopping complex, featuring the Myer department store, The Wintergarden fashion center adjacent to the Hilton Hotel, QueensPlaza which includes Australia's most prestigious department store, David Jones, as well as many other arcades and shops. There are restaurants, cafes, bars, cinemas, and a casino in the mall. The central bus station is in the basement of the Myer Centre.
Portside Wharf is a shopping village and cruise ship terminal on the Brisbane River, at Hamilton. The area offers dining, cinemas, and specialty shopping.
Westfield Garden City is the largest shopping center in the southern suburbs of Brisbane, at Upper Mt Gravatt. The center has cinemas, food courts, and numerous retail stores including the David Jones department store.
Westfield Carindale is the largest shopping center in the eastern suburbs of Brisbane, at Carindale. The center has cinemas, food courts, and numerous retail stores including both Myer and David Jones department stores.
Westfield Chermside is the largest shopping center in the northern suburbs of Brisbane, at Chermside. The center has cinemas, food courts, and numerous retail stores.
Indooroopilly Shopping Centre is the largest shopping center in the western suburbs of Brisbane, at Indooroopilly. The center has cinemas, food courts, and over 260 stores including over 90 fashion-based retailers and the only Myer in the region.
Street Markets
Riverside Markets are held every weekend at Eagle Street in Brisbane city. South Bank Markets are held at the South Bank Parklands every Sunday.
Brunswick Street Mall in Fortitude Valley has markets every Sunday. Located next to Chinatown, there are many Chinese restaurants, cafes, and bars.
Beyond Brisbane
Gold Coast City is approximately 70km (1hour drive) south of Brisbane on the M1 motorway. The city consists of beautiful beaches, high-rise apartments, and hotels, luxury homes on man-made canals and further inland is the hinterland, an area of hills, valleys, rainforest, and waterfalls. Surfers Paradise is famous as the up-market tourist area on the Gold Coast. Gold Coast, a must in the bucket list.
Sunshine Coast is an area of coast north of Brisbane that consists of many beach resorts and seaside towns. Noosa is a famous beach resort 90 mins north of Brisbane City. The headland features a beautiful National Park with walking tracks and secluded beaches.
Fraser Island is the world's largest sand island and is a World Heritage National Park. With pristine freshwater lakes, rainforests growing in sand, wildlife, long white beaches, and lots of sand dunes, Fraser Island is a truly beautiful place. Day trips are available from Sunshine coast locations and camping is allowed on the island. Be careful of the wild Dingo dogs.
please do comments and share with friends If you like this Brisbane travel guide.
Save It On Pinterest