If you are searching for things to do in Hoi An at night, the following night tour of Hoi An, Vietnam will give you some suggestions.
I like contemplating Hoi An, which is very beautiful at night. It's not accidental that this city is chosen as one of the 20 most amazing nightlife cities in the world. And it's also not by chance that people call Hoi An "Venice of Vietnam", or the second most attractive destination in Asia.
The first place you should visit in Hoi An at night is Chua Cau – The Japanese Covered Bridge in Tran Phu Street now. This bridge, which is built in the XVII century, is a very familiar and special symbol of Hoi An. When the night falls, the bridge is shined by the multi-color changing lighting system. You will meet many couples taking wedding photos and children selling flower garlands and colored lanterns here. It is still that bridge that looks extremely more sparkling at nighttime than daytime.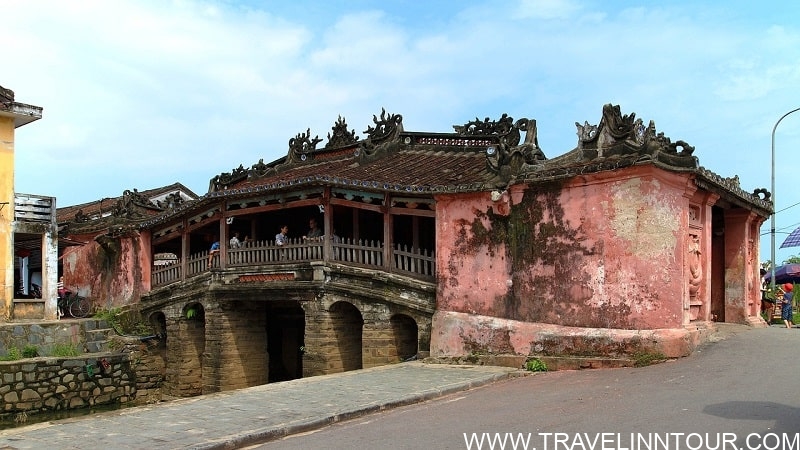 One more crowded and bustling destination near the Japanese Bridge is the night food corner. This corner is very quiet in the morning but becomes lively in the evening. Hawkers with simple furniture are placed near Hoai Riverbank, making tourists feel that they are coming back to Hoi An Ancient Town in the past. In the night food quarter, people often sell Hoi An's special food such as "can law", chicken rice, Quang Noodle at a reasonable price. You can both enjoy the food and contemplate Hoai River – a very interesting space.
In the evening after 6 pm, people start turning the lights on in the old quarter, and it's also the time flower garlands become twinkling. When you walk along Hoai Riverbank, near Japanese Bridge at night; you can see cute girls in "ao dai" wearing conical hat holding winnowing baskets full of flower garlands and colored lanterns in hands.
Bai Choi games that attract not only local tourists but also foreigners should be on the list of things to do in Hoi An at night. There is a large yard near An Hoi Bridge, which is bustling every night with the Bai Choi game – an interesting folk game in Hoi An. You can get involved by buying a chess piece, listening to dealer singing folk songs ended with the name of a chess piece. If you have the one with that name, you will win and get a gift.
Bach Dang Road becomes glistening with yellow light from ancient houses gleaming on the Hoai River surface. That's the corner making Hoi An compared to be Venice of Vietnam. Bach Dang Road is the lowest area in Hoi An Ancient Town so the water rises high submerging the road when night falls. You may think that this will annoy the tourists but in contrast, many of them look pleasantly and even take photos of this flooded scenery.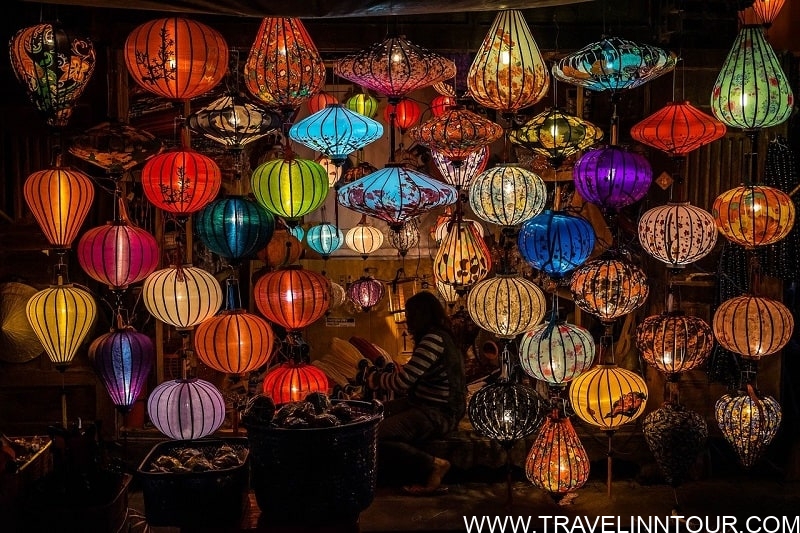 On the other Hoai Riverbank is Nguyen Phuc Chu Street in the Area. This quarter gathers many restaurants and popular shops and inns. You can enjoy Hoi An food, drink beer or buy souvenirs here. Many photos of Hoi An tourism and other attractive destinations in Vietnam are displayed in this street corner.
In the middle of An Hoi, there is a street gathering of many lantern shops. The plenty of shops and restaurants close by making the street sparkling with lantern light. You can visit here and buy one for decorating your home or giving friends or relatives as gifts.
Hoi An night market, which provides various handmade products from wood, stone, metal, etc is located in that block of the house. This market is very interesting for women, who can buy earrings, necklaces, bracelets…, which are very precise for both foreign and domestic tourists.
Ancient Town is very beautiful at night, but perhaps it's the most charming when all shops close and there are no more tourists. At that time, the ancient town really comes back to its old silent appearances. However, if you want to enjoy that view, you have to wait till 1:00-2:00 am, and not everyone can feel all the beauty of Hoi An – one of 50 cities that people should visit at least once in life.
Hope that you will have some nice ideas about things to do in Hoi An at night after reading this article.
Pin It On Pinterest: