Located at the northern tip of Borneo, Sabah is a tropical haven rich with eco-treasures from mountain high to ocean deep. The diverse cultural heritage and breathtaking landscape create the perfect cocktail for a fun-filled getaway. With frequent convenient flights via Kuala Lumpur, Sabah is the complete destination for business and leisure for everyone from families, individual travelers to honeymooners.
What makes Sabah, Malaysia Borneo a different tropical island destination?
Given its special geographical benefit were within 76,115 square kilometers (or 29,388 square miles or somewhat smaller than the US state of South Carolina), you can …
Laze around in white pristine and unspoiled tropical beaches.

Dominate the highest peak in South East Asia.

Encounter wildlife in their natural environment.

Admire the biggest flower in the world.

Lay back and take pleasure in the sun and water at worldwide standard and elegant tropical resorts.

Enjoy the culture of the colorful indigenous peoples.

Brave the river rapids on a white water rafting adventure.

Be one with nature worldwide of million years of age jungles.

Dive into a few of the world's finest undersea wonderlands.

Check out the underwater cave of the world's only mushroom-shaped world-class dive area.
On top of the above, traveling around Sabah is also easy and relatively more affordable, and the locals are friendly and helpful.
What To Do In Sabah Borneo, Malaysia?
Sabah Island Adventures
Mount Kinabalu
Sabah takes pride in the mystical Mount Kinabalu, at 4,095 meters, it is the highest peak between the Himalayas and New Guinea. Designated as a UNESCO World Heritage Site in 2000, Mount Kinabalu is a bio-diverse hotspot that houses an astonishing array of records of all sorts; the highest plant diversity globally per unit area, the world's largest flower Rafflesia, even the world's largest leech! All this diversity and Mount Kinabalu is one of the youngest mountains in the world (between 7-8 million years) and this granite mountain still grows.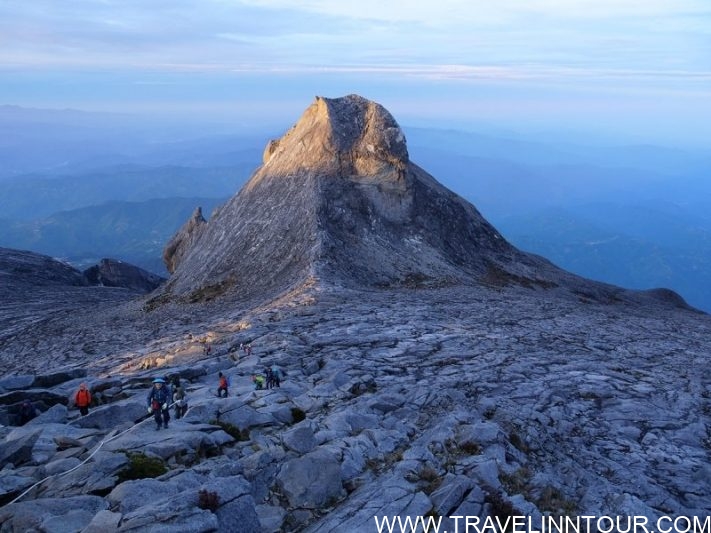 Climbing Mount Kinabalu is a popular activity for visitors. Advance booking is required as a limit of 192 climbers per day has been set to help preserve the delicate nature of the park surroundings. Extreme adventure seekers can opt for the via Ferrata (or iron road) at Mount Kinabalu.
It is one of the newest attractions available and also the most rewarding. The via Ferrata is the world's highest at 3776m. Of course, there are milder activities to do. Sabah is an emerging bird watching destination for the Asia Pacific region. Out of 623 resident and migratory species that flock into Sabah, 32 are endemic to Borneo.
The Bornean Bristlehead, according to avid birders is a rare and elusive species and only found in the lowland forest of Borneo. It's black and fiery red and the bright yellow head is highly recognizable but yet, difficult to spot in the wild.
Rivers and Monkeys
If you wish to see wildlife, go on a river safari, such as Klias Wetlands which is 20km from Kota Kinabalu. But bear in mind that a river safari is not a zoo. Do not expect the animals to perch plainly on tree branches for you to glare at as your boat sail by.
Sandakan is the wildlife capital for Sabah. Besides rare birds, the familiar orangutan at the Sepilok Orangutan-Rehabilitation-Sanctuary is a must-visit. As the leading facility of excellence for orangutans, it offers a less rugged experience where visitors can watch, from a platform, how rescued orangutans are taken care of and released back into the wild. Nearby, the Rainforest Discovery Centre managed by the Sabah Forestry Department is an educational center that opened to the public very recently.
While in Sabah, keen historians must not miss out on visiting the Sandakan Memorial. Supported by the Australian Government, every year, the Sandakan Memorial Day service is held in August to remember soldiers who sacrificed their lives during the War. In 2010, the Australian Governor-General attended the Sandakan Memorial Day service in conjunction with the 65th Anniversary of the end of WWII.
Enthusiastic visitors are now able to take the death march route from Sandakan to the exact location of the last camp in Ranau, 250 km away. The trek passes through dense jungle either by walking, mountain biking, or even rafting, in a journey that may take between 4 to 6 days.
The Sand, Sea, and Seafood in Sabah
Diving is a major market for Sabah, the jewel Sipadan island being one of the top-rated dive spots in the world. At nearby islands such as Mabul, Kapalai, Mataking, and the newer Pom Pom islands, large marine life, and tiny sea creatures and colorful corals and reef are guaranteed sighting. At the islands, high to medium range resort facilities await also, see 5 famous Malaysian dishes you need to try
In less than 20 minutes, you can hop from city to coral life – that is how close the nearest snorkel and drive websites are to Kota Kinabalu.
Tunku-Abdul-Rahman-marine-park has 5 islands, which are surrounded by extensive reefs. You can take a short boat trip from the mainland or check out one of the island resorts for a picturesque experience. If you can not swim or snorkel, do not worry. You can walk under the sea while keeping your head dry and your glasses on – with the Sea-walker air-hosed helmet.
If you are preparing for your next tropical island vacation or thinking of checking out a new and interesting tropical holiday location, please check out Sabah personally to discover why it is a perfect choice for your dream tropical island getaway.