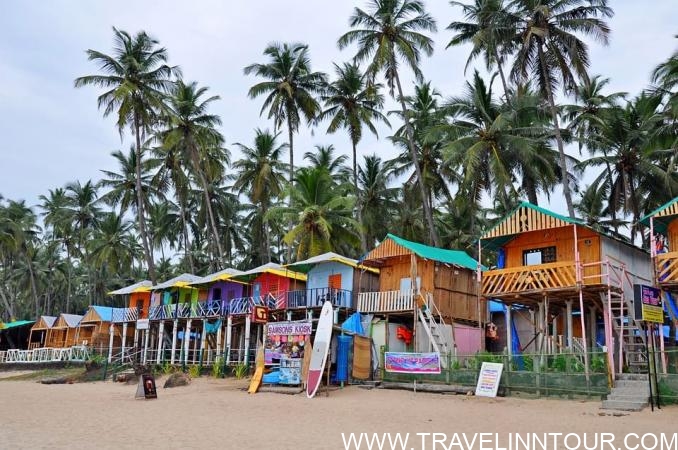 Baga is one of the top party beaches of Goa and widely reckoned for its buzzing shack life. Although not a perfect spot for a typical sunbathing routine, Baga visitors can enjoy a good time at a number of popular food and drink joints.
This beach also promises to offer visitors a hot spot nighttime merriment. A visit to Goa can refresh you and fill you with energy to get back to a year full of hectic work schedules. The Baga Beach in Goa is full of action and one of the most happening beaches on the shoreline. Here's a guide to having a great time in Goa, if you are near the beach.
1. Baga Beach Location
Is conveniently located in North Goa. It is flanked by Calangute Beach towards the south and Anjuna Beach towards the north. Interestingly, Baga Beach starts exactly where Calangute finishes.
2. Things to Do
Water Sports – There is a lot to do at the Baga Beach. If you enjoy water sports, then you should visit this place. You can enjoy a large number of activities including jet-ski, parasailing, kite surfing, wakeboarding, and windsurfing. Another popular activity is the dolphin spotting trip. Tourists also like island trips. Baga Beach also offers an indoor snow park with an ice bar and play and sledding area!
Shopper's Paradise – Shopaholics can have a great time trawling around the markets and shops. A visit to the Tibetan market along Baga Road, Night Market of Ingo near Arpora, and Anjuna's Wednesday flea market is a must.
3. Best Places to Party
Baga is widely known due to its commercial nightlife, most of which are located in and around Tito's Lane — home to the well known Club Tito and Cafe Mambo. Both hold regular functions with interstate DJs. A lot of people don't think Tito's is worth the money though, despite the hype. (Single fellas can expect to be charged around 2,500 rupees cover charge, although there's free entry for females).
Cape Town Cafe is widely considered the ideal place to party on Tito's Lane. Cocktails and Dreams draws a crowd too. It has a wide selection of beverages and barmen with outstanding flame juggling skills.
For those who prefer live music, Cavala caters to an older crowd and has a band playing on Friday nights.
4. Where to Eat Near Baga Beach
Many amazing food joints, restaurants, and hotels are located near Baga Beach. Fiesta is a great place to be. It offers a magical poolside setting and lip-smacking European and Mediterranean cuisine. Britto's is a popular beach shack. It offers the best seafood in Goa. A popular tourist place for Goan cuisine, western tourists will love it for amazing food that's not too spicy. You simply need to reach the farther northern end of the beach. A table on the beach will make your evening romantic.
Do not miss out on the 'Classy Go with the Flow' restaurant. Tucked conveniently away beside the river, this place promises a picturesque view and mouth-watering international menu. An interesting thing about this restaurant is that it donates the profits to charity. Looking for Goan gourmet food? You must visit The River Restaurant. This is a popular place to enjoy Goan fusion food at the Acron Waterfront hotel.
5. Best Places to Stay 
Booking in advance is suggested especially if you wish to visit Goa during peak season. Baga beach is a popular place and surrounded the best of luxury hotels, plus resorts, and private properties. You can also book one of the luxury villas with private pool in Goa. These are built at enviable riverside positions and ideal for tourists who wish to splurge. Most of the properties are equipped with an outdoor swimming pool, wellness center, spa, and kitchen with spa. Booking early will help you to get these resorts and villas at affordable rates.
Goa, Baga Beach Hotels
| Hotel | Stars | Price per night | Discount | Select dates |
| --- | --- | --- | --- | --- |
| Taj Holiday Village Resort & Spa, Goa | ★★★★★ | 134 | -34% | |
| Planet Hollywood Beach Resort Goa | ★★★★★ | 563 | -6% | |
| Cidade De Goa - IHCL SeleQtions | ★★★★★ | 101 | -27% | |
| Prainha Resort By The Sea | ★★★★ | 67 | -22% | |
| Kenilworth Resort & SPA,Goa | ★★★★★ | 71 | -26% | |
| Acron Waterfront Resort | ★★★★★ | 90 | -60% | |
| Fiesta Beach Resort | ★★★ | 258 | -51% | |
| Ozran Heights Beach Resort | ★★★ | 67 | -30% | |
| The Baga Marina Beach Resort & Hotel | ★★★★ | 191 | -12% | |
| Resort Terra Paraiso | ★★★★ | 1 436 | -9% | |
| The Baga Beach Resort | ★★★ | 75 | -29% | |
| The O Hotel Beach Resort & Spa, Goa | ★★★★★ | 67 | -48% | |
Baga Beach – Quick Facts
– Baga Beach is located in North Goa. Also referred to as the Baga Creek, it empties into the vast Arabian Sea right at the northern end of the beach. It ends after popular restaurant of Goa, Britto's.- The exact location of the beach is located between the Anjuna in the north and Calangute in the south. Baga starts right where Calangute ends. The best way to recognize it is serenity and tranquility. Baga is more serene.- The closest airport from Baga is Dabolim (at around 39.9 km) and closest railway station is Vasco da Gama (at around 42.7 km).
Baga Beach At Night
httpv://www.youtube.com/watch?v=w5ZWVBPVAgg
– When at Baga Beach, you must pay a visit to the Baga Retreat House or Casa de Retiros located right across the creek. Dedicated to St. Francis Xavier, it beautifully overlooks the vast Arabian Sea atop the hill.
– Baga Beach offers a large number of water sports activities. Some of the most popular ones include water scooter, banana boats, jet skiing, bumper boats, parasailing, and dolphin cruises.
– Love tattoos? Goa is a hub for tattoo shops. You would also find a number of tarot and palmistry shops too.- You would love to be at Baga Beach as it is flanked with the best restaurants, sun decks, and shacks. To make the most of your visit to Baga Beach, head to Marin, Zanzibar, Britto's, Silver Sand, St. Anthony's, Café Blue Moon, and Bistro.
– Baga offers you a high capacity car parking for around eight hundred vehicles towards the northern end.- Tito's Lane is a must visit here. This lane is impressively lined with some of the top attractions of Café Mambos, Valencio's, Club Titos, Cape Town Café, Cocktails, Dreams, Get High, Havana, and many more.
In a Nutshell
So, if you have planned a trip to Goa, make sure you visit Baga Beach. For lip-smacking seafood, head to St. Anthony's. Do not miss out on the legendary Café Mambo and Tito's Bar for an amazing nightclubbing experience. Baga offers an excellent opportunity for water sports during the day such as Jet Ski rides, parasailing, and windsurfing.