Chardham yatra by helicopter packages and helicopter services are for the pilgrimage of the divine Chardham yatra, most safely and comfortably. The destination that covers this yatra is four sacred places- Yamunotri, Gangotri, Kedarnath, and Badrinath. This yatra is the soul of every Hindu, as it is believed that by doing Chardham yatra, one can wash away their sins and open the gates of Moksha.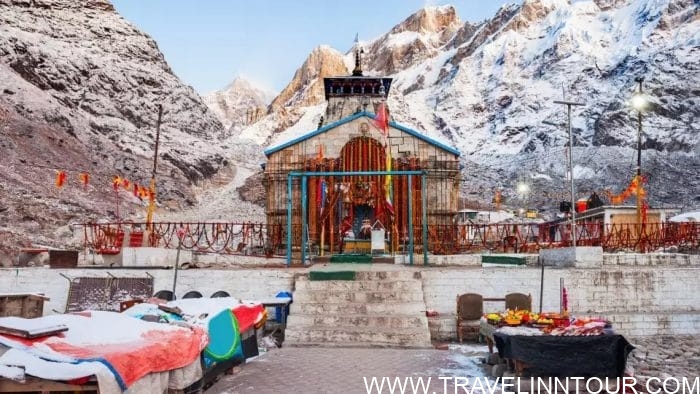 Kedarnath Temple during Winters…
So, if you're planning a Chardham yatra for you or your family, this article will help you to know everything that you need to know about Chardham packages, places, and the day-wise itinerary.
Leisure India Holidays (LIH) offers a wonderful Chardham Yatra by Helicopter package at a very cheap price. You can plan your trip and book a Chardham Yatra by Helicopter Tour package to make your journey a special and easy one.
When you go for this divine yatra, it takes around 10-12 days to complete the whole journey. But if you opt for Chardham yatra by helicopter, then you can complete your journey in 4 to 5 days. People now prefer to go on their yatra by helicopter only as it saves time as well as your energy. LIH provides Chardham yatra tour packages for every age group to make their experience the best.
Where to Book Chardham Yatra by Helicopter Package?
LIH provides multiple Chardham Yatra tour packages for the devotees. You can select your ideal tour package according to your choice. You can visit our website, LIH tours, and travels or can call us. LIH also provides specially designed tour packages for every individual for a better travel experience.
Visit our website, and we'll make sure that you get the best Chardham packages from LIH tours and travels.
Day Wise Itinerary
Day 1: Arrival
Land at the beautiful city of Dehradun, Uttarakhand by flight from your hometown. Our guide will welcome you to the sacred city. After that, our agent will take you to your pre-booked hotel in Dehradun. Take some rest in your hotel and get some energy as you'll be starting your Chardham yatra from the very next day.
Day 2: Yamunotri Dham
It is requested to get ready early in the morning. Get some breakfast as after that; our guide will pick you up from your hotel. You'll be dropped at Sahastradhara helipad in Dehradun for your ride to Yamunotri.
You will land into the 'City of lords,' Yamunotri via Kharsali Helipad. Our agent will pick you up Kharsali Helipad to take you to your next hotel room. Your luggage will get transferred to your hotel room by our guide. Relax for some time and get some food for energy as we will leave for Yamunotri, which is a 5 km trek. There are palki and pony facilities for people at the starting point of the trek. So, if you're not willing to walk, then you can choose other options for your trek. Allure the mesmerizing view of the temple and the surroundings.
After your darshan, get back to your hotel in the afternoon. Get some rest for some time in the hotel room. In the evening, we'll leave for darshan at Shani Temple. Come back after your darshan at Shani Temple to your hotel room. Enjoy the last meal of the day and sleep in the hotel room.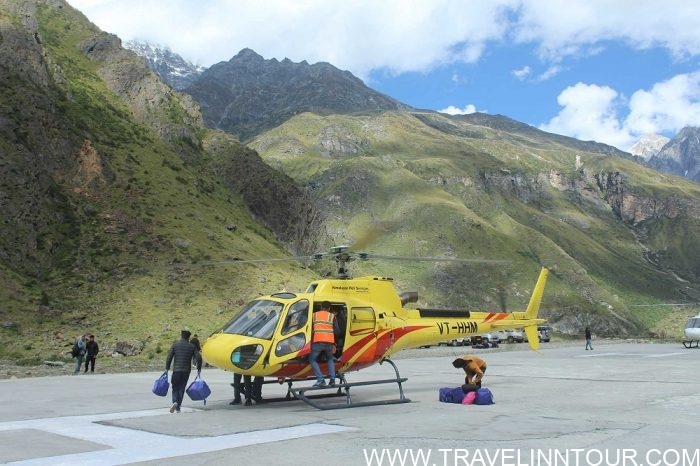 Kharsali helipad…
Day 3: Gangotri Dham
After a divine darshan at Yamunotri, get ready for the next Dham, i.e., Gangotri 'Mini Switzerland of India'. Head towards Harsil helipad from the Kharsali helipad. Our representative will take you from the harsil helipad, and you will be transferred to your next hotel in Gangotri. Get some breakfast and leave for your special darshan at Gangotri temple. Get some memorable shots of the beautiful landscapes and picturesque paradise of the place.
LIH provides the best hospitality and luxurious facilities like delicious cuisines, proper accommodation, and other essential amenities like washrooms.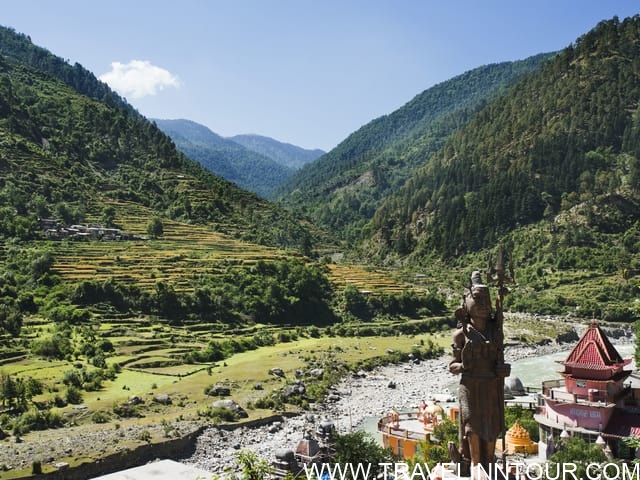 So, enjoy some delicious cuisines with a peaceful bonfire with your family at night in your hotel.
The next day, it is advised to take some substantial breakfast, as you'll leave for Kedarnath directly from the harsil helipad at Gangotri and will return from the temple in the afternoon.
Day 4: Kedarnath Dham
You will land at Guptkashi Helipad from Kharsali helipad. Now's the time to change your helicopter and head to Kedarnath, which is only a 10 minutes ride from guptkashi.
The ride sometimes takes a wait of 10 minutes to 3 hours during the chopper change time because of the diverse weather conditions.
You will get welcomed to Kedarnath, the place with an amalgam of spirituality. Explore and treasure the beautiful valleys of Himalayan Valleys and the color-changing sky.
In the winter, when the mountains on the three sides of the temple get a sheet of snow over them makes this place more beautiful than ever. It feels like heaven on earth. The beauty of this place makes this Dham most loved by tourists.
Enjoy the Jal Abhishek and darshan at the temple.
You will be taken to the next pre-booked hotel in Guptkashi after your darshan in Kedarnath by a chopper ride from the Kedarnath helipad to the Guptkashi helipad.
Now it's the end of the fourth day of your chardham yatra by helicopter. Dinner is arranged for you and your family at your hotel. Get some sleep and energize yourself for the next day.
Day 5: Badrinath Dham
We will land in the city of Narayan, Badrinath, on the 4th-day of your yatra. The town gives the blemishing views of the Himalayan mountains.
After the chopper ride from Kedarnath Helipad, you will land at the Badrinath helipad. Our agent will pick you up from the Badrinath helipad to take you to the hotel. Get freshen-up and fill your tummy as we'll go for the next VIP darshan at Badrinath temple.
Before going back to the hotel after darshan, Mana Village, and Vishnu Sahasranamam's path are some Char Dham yatra places that we will explore in the evening.
Get back to your hotel, and enjoy the last night of Chardham yatra.
Day 6: Back to Dehradun
Enjoy the morning breakfast and pack your bags as we will leave for the Dehradun from Badrinath with some unforgettable memories with your family.
You Chardham yatra will come to end as you land at Dehradun city.
Passenger Guidelines
The maximum no. of passengers allowed in one helicopter is 06.

Every passenger can carry luggage of a total of 5 kg. If the luggage weight exceeds the given one, then we will not allow you to take your luggage further.

It is advised to take your medical kit with you.

There can be a delay of 10 minutes to 3 hours during your helicopter ride at Kedarnath and the guptkashi helipad due to the adverse weather conditions in the particular region.

Trolley bags are not allowed during Chardham yatra. You can opt for duffle or soft bags for a better travel experience.

There are only three helicopters that will fly the same day. So the passengers will be seated according to body weight in each helicopter.

If the passenger's weight is more than 80 kg, then an extra charge of 200 INR per kg will be charged at the Kedarnath shuffle.

It is advised to share the exact bodyweight with us at the time of giving personal details to us. We will check your weight before the helicopter ride, and if the weight comes more than the given one, then the company has full rights to de-board the passenger.

All the properties are 3 to 4 stars, excluding Yamunotri, as it is a rural area.

The passengers will be transferred to the helipads at least one hour before the departure of the helicopter. During that time, you can wait at the government helipad.
Terms and Conditions
It is advised to carry a sim of Airtel or BSNL. As these are the only networks that are available there.

An extra night stay will be charged by the customer only. The company will not bear any charges for additional visits.

It is mandated to carry your Aadhar Card during your Chardham journey for Indians. And passports for foreign countries.

Tips, cost of pony and pithu, and other costs will be borne by the tourists only.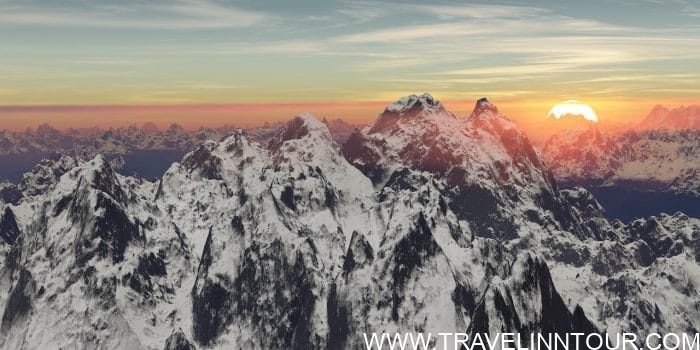 Snowy Mountains of Garhwal Region of Himalayas…
Travel Tips for Chardham Yatra by Helicopter:-
For a better travel experience, carry proper woolens, including gloves and caps. As the temperature is very less and cold.

It is always better to take some snacks while going for your

Chardham journey

. Chocolates and some glucose tablets for instant energy are good to go.

Always take some conventional medicines and a medical kit to make sure that you may not suffer from any difficulties.

It is still good to do some groundwork before going for Chardham yatra. You can start some physical exercise and training at least one month before your journey.

Do not carry heavy luggage during your Chardham yatra. It is effortless and convenient to carry soft bags.

The routes are very long and tedious, so it is important to walk slowly and steadily during your journey. As too much physical exertion is terrible for your body and health.
So these was some of the amazing guidelines to help you on your Chardham Yatra by Helicopter Trip. I hope you will enjoy a lot on your Chardham Yatra trip.
Save It On Pinterest.