As we all know, Singapore and Bali have a vibrant history and diversified culture. Singapore is a major tourist attraction point and here lovely public spaces that attract the tourist most. Although it is a small city, it has a lot more to offer than luxury hotels, fine dining, high-end shopping malls, and many more.
Singapore and Bali is a perfect destination for couples, honeymooners, friends or family, etc…Singapore-Bali has various interesting options when it comes to popular places to visit.so if you are planning a trip then Singapore Bali Packages are the best option for you.
You can just choose the amazing Singapore Bali packages instead of booking everything by yourself. Roaming Routes provides you an affordable and hassle-free trip to Singapore and Bali. You can book a Singapore Bali Package which covers all the places mentioned below.
You will explore the diversified culture, ancient heritage, and vibrant nightlife of this city. Now we know about all the places that will make your Singapore Bali holiday memorable.
Here is a list of places to visit in Singapore and Bali
● Universal Studios Singapore
● Singapore Flyer
● Gardens By The Bay
● Night Safari Nocturnal Wildlife Park
● Marina Bay
● S.E.A. Aquarium
● Sentosa Island
● Mount Batur
● Tanah Lot Temple
● Pura Luhur Uluwatu
● Goa Gajah Gianyar
● Pura Ulun Danu Bratan
1. Universal Studios Singapore
Universal Studio Singapore is an excellent gateway for everyone. It is one of the most amazing theme parks located in Resort World Sentosa. It is spread over 96 acres which have seven different parts. In Universal Studio, you will get amazed by exciting attractions, spectacular shows, with 28 amazing rides, live-action shows, roller coaster rides, the dance party, popular animated shows with mesmerizing setups.
Highlights: This place is famous for its uniquely designed themes and rides.
Timings: Monday to Thursday 10 am to 7 pm
Friday & Saturday: 10am to 10pm
Sunday: 10am to 8pm
Location: 8 Sentosa Gateway, Singapore
2. Singapore Flyer
Singapore Flyer is one of the tallest Ferris Wheels in Asia and the top tourist destinations in the world. The best thing about the flyer is its air-conditioned capsules in which 28 passengers can easily hold and eliminate the fear of people who have height phobia. This wheel is standing at a height of 165 meters from where you can view the city from the top of the wheel. You can spot Some places from the flyer Merlin Park, Singapore River, Raffles Place, Marina Bay, etc.
You can also enjoy the romantic Singapore Flyer's special in-flight dining package and this 30 minutes ride will surely make your day.
Highlights: here you will enjoy the heart-pumping ride and wonderful views from a height of 165 meters.
Location: 30 Raffles Ave, Singapore
Timings: Sunday to Sunday: 8:30 am to 10:30 pm
3.Gardens By The Bay
This place is famous for its unique architecture and the hypnotic Garden Rhapsody, the light and sound show. It covers an area of 250 acres and is also known as Flower Dome. This garden is home to 4,00,000 plants. Gardens By The Bay is divided into 3 major zones namely: Bay East, Bay South, and Bay Central. It's a huge, futuristic and colorful park with oversized seashell-shaped greenhouses. A delightful place in Singapore for family.
Timing: Monday to Sunday 5 am to 2 am
Location: 18 Marina Gardens Dr, Singapore
4. Night Safari Nocturnal Wildlife Park
This Singapore tourist place is a prime attraction for travelers. It was established in the year 1994. This wildlife park is divided into seven zones and has a humid tropical forest in Singapore.
In this nocturnal zoo, it has discovered 2500 animals and 130 species. It is home to Asian elephants, fishing cats, leopards, chital deer, Indian rhinoceros, pangolins, tarsiers, Malayan flying fox, Nile hippo, and red and white giant flying squirrel, bear, slow loris, white African lion.
Night Safari in Clementi is the best place to visit to explore different kinds of animals and their natural habitat. Families, groups of friends, kids or even solo travelers will enjoy this place.
Timings: Monday to Sunday 7:15 pm to midnight (ticket window closed at 11.15 pm)
Location: 80 Mandai Lake Rd, Singapore
5. Marina Bay
Marina Bay is situated at the top of the luxury resort of Singapore. The main attraction of Marina Bay Sands is the infinity pool. The height of Marina Bay is 191meters above the ground. Marina Bay Sands is in the top list of Singapore attractions map.
It has luxurious resorts, high-end hotels, multiple restaurants and bars, the Art Science Museum which gives you a spectacular view and experience of the city. Marina Bay Sands also has the world's largest swimming pool where you can relax and calm your body. You can even walk around the SkyPark as well and explore the dazzling skyline of Singapore.
Highlights: Best place for food lovers and also best for shopping and entertainment
6 S.E.A Aquarium
The Sea Aquarium in Sentosa is a very interesting place for adults as well as kids. Sea Aquarium in Sentosa is the main tourist attraction point in Singapore. This place is home to 1000 different species and 1,00,000 sea cultures.
Every year thousands of people visit this place to view the beautiful architecture, starfish, sea urchins, sea cucumbers, scalloped hammerhead sharks, deadly silvertip sharks, giant sandbar sharks, and many more. Also, there are a lot of things to do in S.E.A. Aquariums can view the habitat and lives of sea animals. It is a must-visit place with family, kids, and friends.
Here you can also attend the educational programs which help you to learn about sea life. Thus, the Sea Aquarium Sentosa is a complete entertainment and educative package for all age groups.
Timings: Monday to Sunday: 10 am to 7 pm
Location: Sentosa Island, Singapore
7. Sentosa Island
Sentosa Island is among the best places to visit in Singapore for couples. Here You can experience many different types of watersports activities. Although it is not particularly a beach destination. It is an underwater lovely aquarium where you can go for blue sea kayaking, surfing or sea-boarding. You can play some games like a beach ball or volleyball on the beach. Overall a must-visit place in Singapore for travelers to experience something new to their life.
Highlights: enjoy many types of adventure and activities and absolve your passion for thrills.
Location: The Sentosa Island is situated in the South of Singapore
Timing: Monday to Sunday: 9 am to 10 pm
8. Mount Batur
Mount Batur is one of the top places to visit in Bali. It is situated on one of the island's most dramatic landscapes. It is an active volcano in Kintamani, famous for trekking and hiking.
Where you can experience various amazing places: A semi-active volcano, beautiful temples, and a peaceful environment. Also, there are a lot of things to do such as Driving Around Lake Batur by Boat, Cycling at the Edge of the Lake and Mount Batur Simultaneously, Natural hot springs baths. Remember to wear comfortable clothing and good grip trekking shoes, carry a camera.
Location: Month Batur bangli residency, Bali.
Price: IDR 470000/INR 2,300per person.
Timing: 3:30 am to 9:30 am
9. Tanah Lot Temple
Pura Tanah Lot is the main tourist attraction of Bali. Visitors can enjoy the scenery, sunset and mesmerizing view of the temple. The best time to visit this temple is in the morning. Tanah Lot Temple is also very famous for its holy water source.
Price:

Price starts from IDR 60000/INR 292 for adults

IDR 30000/INR 146 for children
Opening and closing time: 7 am to 7 pm
Location: Tanah Lot, Beraban, Bali
10. Pura Luhur Uluwatu
Pura Luhur Uluwatu is one of the top places in Bali to see the sunset scene, with the beautiful waves of the Indian Ocean and daily Kecak dance performances held at an amphitheater nearby. This temple is situated 250 feet above the waves of the Indian Ocean making it an ideal spot for catching stunning sunset views. Uluwatu Temple is famous for Balinese architecture and traditionally designed gateways. They are made Uluwatu Temple more beautiful
Location: Pecatu, South Kuta, Badung Regency, Bali
Price: INR 145/IDR 30000 for adult and INR 98/IDR 20000
Timings: 7:00 AM to 7:00 PM
11. Goa Gajah Gianyar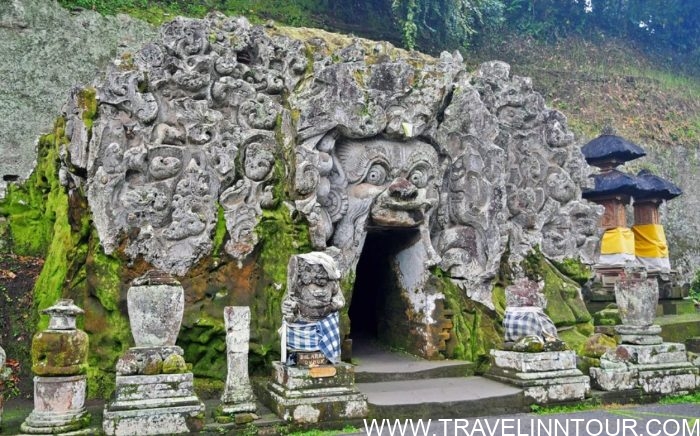 This place is known for its Calm and golden atmosphere and you may find different elephant safaris at the place. The months of July through October are the best time to visit the town because of the sunny weather. Women are prohibited from entering the temple when they are menstruating. Along with this, people have to wear traditional attire to enter the temple. You can also visit here in the month of November to enjoy local festivals.
Location: Goa Gajah, Tampaksiring, Gianyar, Bali
Opening and closing time: 8 am to 4 pm
Price: IDR 50,000/INR 250
12. Pura Ulun Danu Bratan
The Ulun Danu temple is the best temple to visit in Bali. It is situated in the uplands of the mountain. You people should carry warm clothes because this place is very cold. So once you get inside the temple, spend some time and explore the mesmerizing view of the surroundings. This temple is open at 8:00 AM and closes at 6:00 PM. Do visit accordingly. A lot of visitors come to witness the 'floating temple' and take pictures of it. The Pura Ulun Danu Bratan is open throughout the year. The entrance fee for domestic tourists is INR 7500 and for foreigners is IDR 10,000.
These are some of the amazing places which you must visit on your Singapore Bali Trip. It will be really great if you go with one of the best tour agencies to book your Singapore Bali Package.
Save it on Pinterest